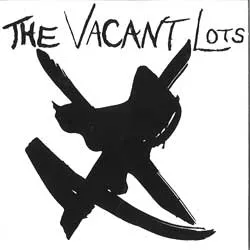 (Ancient Hills Music, CD)
On the back cover of The Vacant Lots' self-titled debut, musician credits read simply: "Jared Artaud, Lightning; Brian MacFadyen, Thunder." For the uninitiated, that information, though typically cryptic, offers a telling glimpse into the mysterious aural alchemy hidden within the album's handmade packaging. Hailed by local patrons and pundits alike as something akin to rock 'n' roll saviors, the duo trades in a timeless brand of minimalist garage rock. Taken out of context, this disc sounds as if it could have been recorded in a dingy New York City basement club some 30 years ago, as opposed to late 2008 in a small studio in Addison County.
Supposed lightning-eer Artaud harnesses electricity not by some otherworldly command of the elements, but rather by a hollow-bodied Gretsch guitar. Similarly, MacFadyen's thunder echoes not from a Saruman-like ability to control the weather, but via an unconventional drum set of floor toms and cymbals. Still, there is dark wizardry afoot here. And it is no doubt rooted in a deep understanding of the elements.
The album begins with the narcotic drone of "Walk of God." Artaud's gritty guitar rambles over a hazy blues-rock riff. MacFadyen obliges with, well, thunderous toms, punctuated by rapid-fire snare hits in perfectly imperfect sync with Artaud's lighting strikes. Like the churlish sonic soup beneath them, Artaud's lyrical exhortations are almost sinisterly Delphian. As if some unholy trinity of Lou Reed, Jack Kerouac and Jim Jones, he delivers lines such as "In the endless night / Now you hear the Devil's flight / It's the walk of God."
"Do You Love More Than You're Loved" follows. Slightly more straight ahead in scope and tone than the previous number, it is nonetheless darkly engaging.
"Babylon" is next and sounds almost cheery by comparison. At least until you examine the lyrical content. "Now trembling inside / Like a wounded horse / Awaiting for life / To climax from pain," sings Artaud. The man certainly has a way with words. Though you might not invite him to your next dinner party. Case in point, the following tune, "Put Your Head on the Floor," in which he offers this chilling nugget, "Put your head on the floor / And step on it now, now, now!" Um, would you pass the peas?
As the lightning-thunder dynamic suggests, symbiotic contrast is a running theme, lyrically and musically. Artaud seems almost possessed by the subtle frailties of life and death, pain and pleasure, light and dark. With MacFadyen's help, The Vacant Lots artfully, if sometimes brutally, illustrate those juxtapositions. Visceral and stark, it ain't always pretty. But then again, it sort of is.
Catch The Vacant Lots this Friday, March 6, at Muddy Waters.