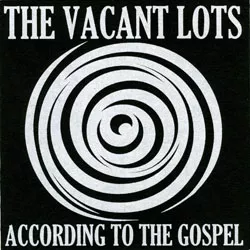 (Self-released, CD, digital download)
"My faith consists of rock 'n' roll and raga."
So begins the Gospel according to the Vacant Lots. That line, taken from the liner notes of the band's newly released second album, According to the Gospel, represents not only a proclamation of faith but a peek into the philosophical foundation of one of Burlington's most artistically provocative and sonically arresting young outfits. And the album itself represents a stunning artistic leap, particularly for a band that released its impressive self-titled debut less than a year ago.
There is something frightening and hypnotic in the sonic swarm that is The Vacant Lots, both on record and in person. Visceral and brooding, the duo helms a churning tempest of dark, foreboding psychedelia. Lead vocalist and guitarist Jared Artaud's tortured exhortations unfurl like the sermons of an unhinged shaman. His swirling, gritty guitar punctuates each bleak rumination in grimy counterpoint. Meanwhile, ever lurking in the background is drummer Brian MacFadyen, who conducts a firestorm of percussive fury with symphonic bombast.
The Vacant Lots' work exudes a dark, timeless quality. Their debut sounded as if it could have been recorded at any time between the late 1960s and the present; so too is Gospel elemental.
The deceptive "Thief of Time" opens the record, drawing the listener into a wash of bright guitar jangle and sparkling tambourine. But just beneath that shimmering exterior lies a hopelessness borne out in the song's only real lyric: "Time is the thief of all dreams. / Love is the thief of time."
This gives way to "Ship Is a Tomb" and "Let Me Out," both of which hasten our descent down the rabbit hole and introduce the narcotic haze that comes to define the album.
"Memory of You" is next and roils with bracing, garage-y intensity. After that, "Land" plods forward unceasingly. It's a perfect setup to the sinister scorcher and album centerpiece, "Walk You Home."
"Fear and Trembling" is a woozy, somnolent trip that may, in fact, leave the listener shaking in manic, druggy confusion. And the affliction is not relieved by the next track, the rolling "Hiawatha Rolls In."
"Days Upon the Mountain" serves as the album's cautionary benediction. In fact, it almost presents an air of hopefulness amid an otherwise stark landscape. "Share your glass of wine," Artaud sings. But of course, there's a caveat, even in this Dionysian delight: "and suffer with someone."