Jeb Wallace-Brodeur
Gov. Phil Scott swears the oath of office
"I'm not involved in politics. I'm not in the administration. I don't have to talk to anyone. And I certainly don't have to talk to you."
Those tender sentiments came last week from Dick Wobby, Republican Gov. Phil Scott's best bud, political consigliere and inaugural gala cochair. And, yes, he was addressing Your Humble Correspondent.
I called Wobby to inquire about the finances of the January 7 charity gala, a heavily subscribed affair that attracted hordes of Vermont's business and political elite to the South Burlington headquarters of the Vermont Air National Guard. The invitation listed Wobby as the contact person for the event, so it seemed appropriate to seek answers from him.
Guess not.
Because the gala was hosted by a 501(c)(3) created for the occasion — and not Scott's campaign committee — its organizers were under no legal obligation to disclose the donors who financed it. So if a corporate interest wanted to curry favor with the new gov by cutting a $20,000 check, we might never know about it — unless he decided to volunteer the information.
Scott's government staffers may yet prove more forthcoming than Wobby.
According to spokeswoman Rebecca Kelley, "The organizers plan to disclose the financial details once finalized and verified, and are hoping that will be completed [this] week."
Fair enough.
In the meantime, a program obtained by Your Industrious Servant provides some clues about who gave what. It features a donor list including all the usual suspects: state and national corporations and interest groups, lobby shops, and Friends of Phil. Donors could choose between three sponsorship levels: Platinum ($5,000), Gold ($2,500) and Silver ($1,000). If all the donors listed on the event program gave the minimum, the organizers raised a cool $263,000 from the high rollers alone.
Add in the proceeds of general-admission tickets at $50 apiece, and the total haul will likely be north of $300,000, the vast majority coming from the Connected Class.
Oh, and just so you know: Because proceeds from the gala are destined for charity, the big donors are getting a nice tax write-off.
The gala's organizing committee was peppered with prominent business leaders, including Burlington real estate magnate Ernie Pomerleau and Green Mountain Power CEO Mary Powell. And it included a host of well-connected lobbyists, such as Jamie Feehan, Adam Necrason, Heather Shouldice and Heidi Mohlman Tringe.
The lobbyists' task, it appears, was to shake down their corporate clients. By far the biggest contributors were those represented by Tringe's firm, MMR. Its clients, including GMP, Blue Cross Blue Shield of Vermont, Microsoft, Omya, ExxonMobil and Vermont Gas, donated a minimum of $54,000 to the event.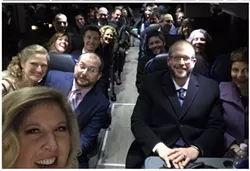 Courtesy of Heidi Molhman Tringe
The MMR crowd traveled to the gala in style. A selfie Tringe posted to her Instagram account featured several fellow lobbyists on a party bus from Montpelier to South Burlington. Seated front and center was none other than Jason Gibbs, Scott's new chief of staff.
"Everybody paid their own way," says Tringe, who organized the caravan.
None of this is illegal — or, for that matter, new. It's the way politicians and lobbyists have long conducted business in Vermont. But for a guy who promised to restore faith in state government, Scott may want to do better than "business as usual."
Right, Wobby?
Ethics, Shmethics
After years of wrangling, Vermont lawmakers are on track to pass legislation that would, among other things, establish a state ethics commission.
The unanswered question: Will that make matters better or worse?
Even die-hard skeptics of the need for ethics reform, such as Sen. Jeanette White (D-Windham), acknowledge the time has come.
"We all agree we need [an ethics commission]," she said last Friday during a meeting of the Senate Government Operations Committee, which she chairs.
The notion attracted broad support.
"Everyone's in favor of this," said Sen. Brian Collamore (R-Rutland), the only Republican on the panel.
While White vows to pass a bill, she appears determined to follow the playbook of antitax activist Grover Norquist: Make it so small and weak you can drown it in a bathtub. She did much the same last year, sending a nothing-burger bill to the Senate floor in the closing days of the session, only to watch the House let it sink.
Over and over last Friday, senators floated imaginative hypotheticals about the potential harm an ethics commission could do — to lawmakers.
"We need to be cautious about mandating financial disclosure," White argued, fearing that good citizens would opt out of running for office if they had to reveal their finances.
She also balked at the idea of funding more than a paltry half-time staffer for the proposed commission.
"If we ask the Appropriations Committee for a high number, we may get nothing," she claimed.
Sen. Claire Ayer (D-Addison) mooted the nightmare scenario of underworked ethics staffers going rogue: "If we have staff sitting around with nothing to do, they'll go looking for things to do."
Horrors!
There was more, but you get the drift.
The discussion followed some pointed testimony from Democratic Secretary of State Jim Condos, who supports a robust ethics commission. His three keywords: "Independence, authority and resources."
That means a commission able to conduct investigations, issue subpoenas and enforce decisions — with enough staff to carry out its work. For Condos, the Senate bill falls short on all three counts.
"As written, the ethics commission would be an educational tool with little authority," he asserted.
In the House, Rep. Heidi Scheuermann (R-Stowe) is preparing to introduce a tougher ethics bill, but she's tempering her expectations.
"I'm glad there's discussion happening on the Senate side," she says, but adds, "There doesn't seem to be a recognition by many that there is, in fact, a need for this."
Indeed, White and some colleagues insist that Vermont doesn't have an ethics problem, even though recent years have seen a sitting senator arrested on the Statehouse grounds, an attorney general subjected to a campaign-finance investigation, plenty of lawmaker-lobbyist trips through Montpelier's revolving door and numerous embezzlement cases in the public sector.
As Condos himself told the committee: If you don't think we have a problem, "just read the papers."
Irony Alert
If somehow, miracle of miracles, Scheuermann's bill became law, it could cause some heartburn for her party-mate, Gov. Scott. And wouldn't that be one for the books?
Last Friday, Scott gave a press conference to discuss his recent sale of a $2.5 million stake in the family business, DuBois Construction. The gov is personally financing the sale, giving the firm a 15-year loan at 3 percent interest. Which means that he will continue to have a direct financial interest in a firm that frequently bids for state contracts.
Scheuermann's bill would create a statutory ethics code for a variety of public officials. Some passages mirror an executive order first promulgated by former governor Jim Douglas and renewed by his successor, Peter Shumlin. That Executive Code of Ethics, which Scott intends to keep, prohibits any full-time administration official from being "financially interested, directly or indirectly, in any private entity or private interest that is subject to the supervision of his or her respective department or agency."
A plain reading suggests that Scott's continued dependence on the fortunes of DuBois Construction fails to meet the code's standards. But Scott, as an elected official, is not technically subject to the code.
Scheuermann's bill would create separate but parallel codes for state lawmakers and members of the executive branch. While her proposal would not subject Scott to the same standard as his staffers, it creates an unflattering context: Why can the big boss have a multimillion-dollar interest in a contractor seeking state business when a much lesser interest would be out of bounds for any member of his administration?
"I've been in politics long enough to know that perception is reality," Scheuermann says. "We have trouble gaining the trust of the people."
The reality might be that Scott is too darned honest to seek an advantage for a firm heavily indebted to him, but what of the perception if DuBois Construction were to land some lucrative projects? Even if they were won purely on merit, eyebrows would raise.
The Stowe Republican acknowledges that Scott's situation "raises the issue, rightly." She adds, "I believe Phil Scott is doing this correctly, but it's raising the issue of appropriate conduct."
Still, you know, perception is reality.
Broken System
Condos has a simple message about Vermont's public election financing law, which grants qualifying gubernatorial candidates up to $600,000 to run their campaigns.
"It's not working," he says.
The secretary of state told the House Government Operations Committee last week that the law should be scrapped and replaced.
"You'll never get it right if you just tweak it," he told the panel.
What's so bad about the state's public financing option? The rules appear designed to discourage its use. Just ask Lt. Gov. David Zuckerman, who initially sought $200,000 in public funds for last year's LG campaign but opted out because the law's onerous requirements would have kept him off the campaign trail for months.
Oh, and one more thing. "There's no funding mechanism," Condos said, explaining that several rewrites of the law had put the onus on his office to come up with the cash.
Condos' call brings to mind Dean Corren, the last candidate to qualify for public financing. He ran for lieutenant governor in 2014 as a Progressive/Democrat, losing to then-incumbent Scott.
During the campaign, the Vermont Democratic Party sent out an email urging recipients to attend a rally featuring Corren. Then-attorney general Bill Sorrell decided that was an impermissible benefit to Corren and launched a prosecution worthy of Inspector Javert. Sorrell sought a ludicrous $72,000 in fines and restitution for an email that he himself assessed at a mere $255.
A new law wouldn't help Corren, who has reportedly paid almost $24,000 defending himself against Sorrell. However, Sorrell's successor just might.
Newly inaugurated AG T.J. Donovan acknowledges that the $72,000 penalty is completely out of whack — and that the prosecution "has been a deterrent to public financing."
Donovan says he's reviewing the case and hopes "to make a decision relatively quickly." Indeed, don't be surprised if he announces a settlement by the time you read this column. And it's likely to be much more to Corren's liking than to Sorrell's.