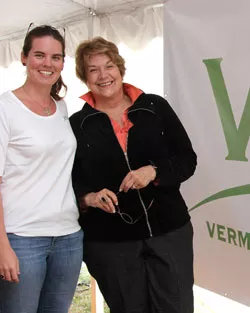 Jane Lindholm and Lynne Rossetto Kasper
If you were hungry and faced with kohlrabi, a block of cumin cheese, cacao nibs, Turkish spice paste and a jar of Vegemite, what would you do? Scratch your head, probably. Not Lynne Rossetto Kasper, the sultry-voiced doyenne of American Public Media's "The Splendid Table." As she sat on an outdoor Brattleboro stage last Saturday, she met the audience's recipe challenge — an in-person version of her show's "Stump the Cook" feature — with mettle and imagination.
Rub the kohlrabi with the spice paste and roast it to get "a lovely crustiness," she suggested, then use hot couscous — cooked in a Vegemite-tinged broth — as the canvas for the kohlrabi, the cacao nibs, some raisins and spices, cubed cumin cheese, sweet paprika and "a ton of black pepper."
The listeners applauded. They had gathered under an enormous white tent for Vermont Public Radio's annual Listener Picnic, this one timed to coincide with the debut of a new VPR transmitter in Brattleboro the previous day. Kasper had flown to Vermont as the honored guest and traveled to Brattleboro that morning with the rest of the VPR crew. After a live interview with Jane Lindholm, Kasper stayed onstage for a few rounds of "Stump the Cook," conjuring on-the-spot recipes from five disparate ingredients suggested by audience members.
A middle-aged woman offered the next challenge: cocktail sauce, Vermont goat cheese, frozen naan, Worcestershire sauce and arugula. Even this combination was little trouble for Kasper. "Oooh," she cooed. "This is really nice. I mean, I like this." She advised blending cocktail sauce with the goat cheese, a bit of Worcestershire sauce, chopped onion, scallion and fresh basil, spreading the mixture over the naan and baking it in a "super-hot oven," for a few minutes. To finish it off, Kasper suggested arranging the dressed arugula over the flatbread, so that it would "wilt right into the bubbling cheese."
Such original and seemingly effortless dishes are Kasper's forte, both on her program and in her four books. The Parsippany, N.J., resident was an award-winning cookbook author when, in 1994, she was approached by radio producer Sally Swift about putting together a food program. Over lunch, they began to hash out the idea, and later that year "The Splendid Table" — named for Kasper's first book of the same name — debuted as a live call-in show on Minnesota Public Radio.
That was long before the nation's explosion of farmers markets, and long before most Americans had even handled kohlrabi or chèvre. Kasper, a pioneer of conscious eating, had to define such terms as "organic" and "sustainable" for listeners.
Over the years, "The Splendid Table" has earned two James Beard awards and a smattering of other honors. Kasper's guests have run the gamut from celebrity chef Mario Batali to food author Michael Pollan to writer and humorist Amy Sedaris. Along the way, Kasper has written three more books, including two with longtime collaborator Swift.
In Vermont, fans get their weekly dose of her spin on recipes, food history, science, politics and pairings every Saturday at noon on VPR. (The show is planned on Tuesdays and taped on Thursdays.) On the eve of the Listener Picnic, Kasper lunched at VPR's Colchester studio, and Neal Charnoff interviewed her for a segment on "All Things Considered." After chatting about food sustainability, school-lunch guidelines and the Vermont food "mystique," Kasper revealed that Chunky Monkey is her favorite flavor of Ben & Jerry's.
The packed schedule of her trip seemed not to faze Kasper, who looks to be in her late fifties. The next day, when she arrived in the field adjacent to Brattleboro's Vermont Agricultural Business Education Center, she hit most of the 20 or so food vendors, sampling everything from aged cheddar to sea-salted caramels to hot switchel.
In person, Kasper exuded the warmth one might expect from her vivacious on-air personality. Curvaceous and earthy, with cropped brown hair and chocolate-brown eyes, she was clad in a black velveteen jacket with a pink, collared shirt. After "Stump the Cook," she fielded a few questions from the crowd. When one fan asked her about the "controversy around extra-virgin olive oil," Kasper gave props to her favorite brands: California Olive Ranch and, in summer and fall, Southern Hemisphere varieties such as Moutere Grove from New Zealand — fresher during our warmer months. "Premium olive oil tends to fade after a year," she said.
Kasper cheerfully signed books for nearly two hours, leaning in to listen to people's stories as a band played loudly behind her. On line was Jacob Edgar, a Charlotte resident and founder of the Cumbancha record label, who had tried to stump Kasper with the kohlrabi-based concoction. He said her recipe sounded "really good," and he planned to try it this week.
Signing a copy of her Italian cookbook for another fan, Kasper gushed about Sicily, waving her hands as she tried to describe the mélange of culinary influences. "I'm losing words to describe it," she said finally. When Kasper removed her glasses, she revealed long, elegant eyelashes.
Despite the long bus ride from the VPR studio in Colchester, the four-hour picnic and the marathon signing, Kasper agreed to a short interview with Seven Days. As she tried to find a seat, she graciously shooed off vendors offering her free samples for the ride home, demurring, "I really can't."
The last time Kasper was in Vermont was more than a decade ago, she said, when she needed a break from working on her show and a new cookbook. Kasper has always loved the Northeast: "I see six-over-six windows, and my heart eases," she said.
Even back then, Kasper realized that Vermont had the makings of a unique food culture. "I think you people have a leg up," she said. "I'm speaking as an outsider, but here there has always been a great regard for the small, for independent, for quality. It feels like what has become fashionable elsewhere has been going on here all along."
Vermont's holistic food ethos goes hand in hand with the mission of "The Splendid Table," Kasper added. "It was never intended to be a show about cooking. This [eating] is the only thing we have to do to live. What we eat becomes a part of us, on a conscious or unconscious level."
After 17 years, she sees no end for the radio show. "We're never going to exhaust it," Kasper said. "It's such a broad topic, with all of these different doorways that we humans go through to live."
Even in a seemingly private moment, everyone wanted a piece of Kasper. One man stopped to ask her how to make the perfect hash browns. (Shred the potatoes after cooking, she advised, and "Get the fat really hot … get them crusty.") A vendor, dismayed that Kasper hadn't tried her sweet-potato dip at the beginning of the picnic, practically swooned when the host appeared to be fond of a version with ginger.
Kasper lit up as she recalled the dishes she'd eaten on this trip to Burlington. For the mock eel at A Single Pebble, she said, "I would walk to Vermont." She reported that, as she noshed on El Cortijo's Camote taco with organic sweet potatoes, braised kale, guajillo salsa and pepitas, she'd felt "like I was back in Mexico City."
With that, her ride back to Colchester rolled up, and Kasper was gone. Later, photos posted on Facebook showed her smiling on Saturday night at the Farmhouse Tap & Grill — still eating well.
"The Splendid Table's How to Eat Supper: Recipes, Stories and Opinions From Public Radio's Award-Winning Food Show" by Lynne Rossetto Kasper and Sally Swift, Clarkson Potter, 352 pages. $35.