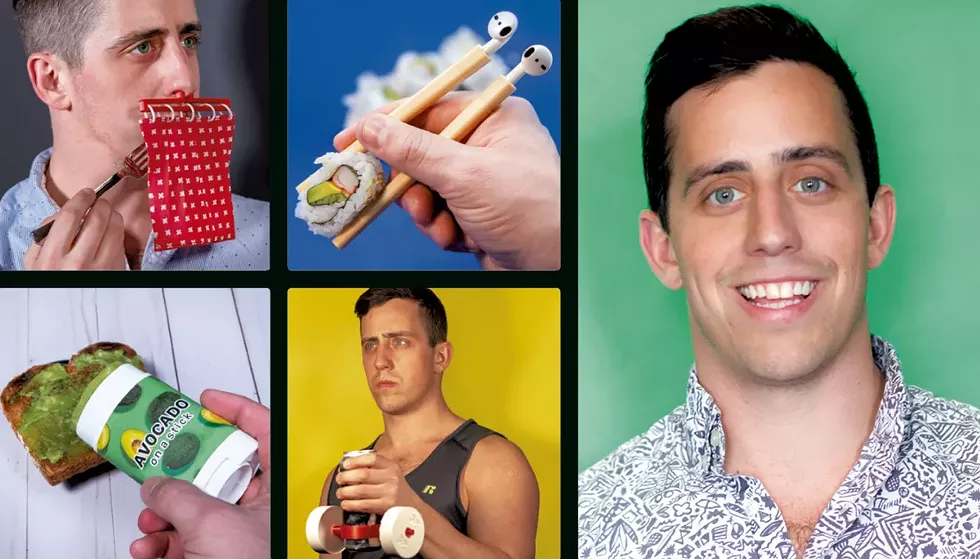 Courtesy Images
Matt Benedetto and his Unnecessary Inventions
And now, a late-night TV commercial for a product that doesn't (quite) exist. We open on a well-dressed couple enjoying a candlelit dinner at a fancy restaurant. As the camera closes in, we see them gaze tenderly into each other's eyes.
NARRATOR
Does your loved one constantly ruin romantic dinners by chewing with their mouth open?
The camera closes tighter on the partner on the left, who chews obnoxiously, oblivious to the bits of food tumbling out of their mouth. The partner on the right is visibly nauseated.
NARRATOR
You should try the Cuisine Curtain.

DINER WITH FULL MOUTH
Cwuhvine Cuhrfain?
Cut to a group of friends in the stands at a ballgame. They're all laughing except for one guy with a stuffed mouth who gazes sadly at his half-eaten hot dog.
NARRATOR
Are you tired of having the perfect joke at the ready, only to realize your mouth is stuffed with food?
HOT DOG GUY nods slowly.

NARRATOR
You should try the Cuisine Curtain.

HOT DOG GUY
Cwuhvine Cuhrfain?
Vermont entrepreneur MATT BENEDETTO rises from a seat in the stands and begins walking down the aisle past HOT DOG GUY.
MATT BENEDETTO
Hi, I'm Matt Benedetto, inventor of the Cuisine Curtain. No longer do you need to live under the tyranny of chewing with your mouth closed or swallowing before you talk. My patented technology provides an elegant solution for open-mouth dining and is perfect for any occasion, including date nights, business lunches, picnics and, of course, big family dinners.
Cut to a large family happily eating at a dinner table with a white Scottish terrier sitting obediently nearby. They're all wearing Cuisine Curtains, including the dog.
FAMILY (in unison)
Thankff, Cwuhvine Cuhrfain!

DOG
Farf!
---
There has never been — nor, sadly, is there ever likely to be — a TV commercial for the Cuisine Curtain. The product exists solely in the form of a single prototype, which isn't for sale: Red with white polka dots, it's essentially a mouth-size shower curtain that hangs from your nostrils. Beyond that, it's simply an exceedingly meme-able product of Matt Benedetto's exceedingly active imagination.
The Cuisine Curtain is among the most popular of Benedetto's Unnecessary Inventions, which the 29-year-old Burlington resident started showcasing on social media in March. It's an increasingly viral line of essentially imaginary products that are wildly overdesigned to solve problems that don't need solving or could be solved in much simpler ways. If Rube Goldberg had teamed up with Steve Martin (during his early prop comedy days) to settle modern society's most banal conundrums, they might have produced something like Unnecessary Inventions — though they'd have had an easier time if, like Benedetto, they'd had a 3D printer.

Take Benedetto's Hoverbrella, an umbrella attached to a drone that hovers above the user, leaving their hands free and dry. Or the iDangle, a "NASA-grade" suction cup on a plastic wire that hangs from your ceiling and holds your smartphone so you can scroll through Twitter and Instagram in bed without awkwardly craning your neck or making your screen do that annoying rotate-flip thing. And don't forget the FlopFlips, sandals that leave backward footprints on the beach to confound would-be stalkers.
Those jokey inventions and dozens more have made Benedetto something of an overnight online sensation, though not one of them will ever see commercial production. Since Unnecessary Inventions launched in March, it has attracted more than 117,000 followers on Instagram and 40,000 combined likes and follows on Facebook. Unnecessary Inventions videos for LADbible and other online media outlets have been viewed millions of times.
Luke Awtry
Matt Benedetto and his Unnecessary Inventions
Every week, Benedetto rolls out two to three new inventions, producing mock to semi-functional versions of them using the 3D printer at his Burlington headquarters in the Hood Plant. Each gets posted online with a catchy name, a catalog-style description and professional-looking product shots, often featuring a deadpan Benedetto. Though his creations aren't for sale, the upscale presentation makes it look like they are.
Clearly, Benedetto is more than just a funny guy with high-tech toys. He's a serial entrepreneur and marketing whiz who started his first business, a crocheted ski hat company, at age 14 in the New York City suburbs. By the time he arrived at Saint Michael's College in Colchester, he had expanded into all kinds of ski apparel, much of it worn by the X Games athletes he was then sponsoring.
Benedetto switched gears just as iPhone accessories were exploding. You may have seen his fabric-wrapped charging cables at J.Crew, Urban Outfitters, Nordstrom and other global retailers. Lately, he's begun courting the jet set with a sleek line of boutique travel items. And he's got side gigs on top of side gigs, from drone photography to interior design.
"People who only know the Unnecessary Inventions are always really shocked when they find out I do real stuff, too," Benedetto says with mild chagrin.
Despite its popularity, Unnecessary Inventions is the one pursuit from which he hasn't made a cent — though he hasn't yet tried.
"What's unique about Matt is how quickly he can take an idea and turn it into something, whether it's the hats or iPhone cables," says Joe Tyson of Burlington, Benedetto's best friend and former college roommate. "Unnecessary Inventions is a more whimsical example, but it's the same idea."
If Benedetto's FingerTrack (a miniature treadmill for your fingers) or FingerBeanies (tiny knit caps to keep your fingertips warm) were real, one could easily envision them being hawked on late-night TV alongside such modern marvels as the Shake Weight, the Tiddy Bear and the Snuggie — real items that likewise offer elaborately dumb solutions to what are, at best, negligible problems.
That almost-realism is part of the appeal: You might purchase Avocado on a Stick as a gag gift, right? At the very least, you have one fashion-backward friend who would earnestly buy a CargoMAX — an oversize cargo pouch that Velcros to your pants, naturally.

Could one reason for Unnecessary Inventions' popularity be that we can't have them?
"I do think the fact that I give people a little bit, and they're reaching for it but can't quite get it, helps," Benedetto says, trying to make sense of his viral sensation. He suggests picturing a Venn diagram of utility, entrepreneurial savvy, believability and sheer idiocy.
"And right in the small dot in the center is the Unnecessary Invention," Benedetto says.
Matt's Big Break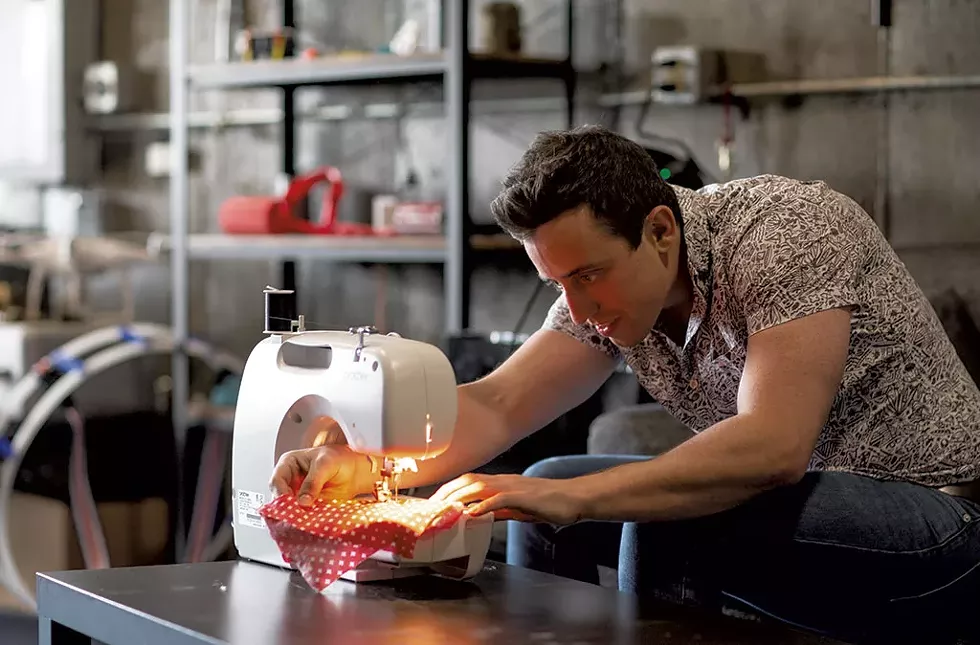 Luke Awtry
Benedetto sewing a Cuisine Curtain at his Hood Plant headquarters in Burlington
When he landed at St. Mike's in 2008, Benedetto had already been running his hat company, EC Headwear — originally East Coast Headwear — for about four years. His mom taught him to crochet when he was 13 because, he recalls, "crocheted hats were kind of a thing." A serious freestyle skier, he started making hats and selling them to his buddies at Gore Mountain Ski Resort. Word got around, demand grew, and he soon set up a website to take custom orders.
"I was crocheting my fingers off," Benedetto says.
Eventually Benedetto started researching overseas manufacturing options. He began designing hats and having them made in China. He remembers the first time he and his mother drove to the port at New York City's John F. Kennedy International Airport to pick up his wares.
"It's all these tractor trailers, and we show up in a Suburban, like, 'Uh, we're here for a shipment of hats?'"
After high school, Benedetto followed his older brother to St. Mike's. He pitched the school's business department on his company and was given an office in an administration building, from which he ran EC Headwear for all four years.
Such arrangements have become more common as more first-year students arrive at school with their own online businesses, according to Robert Letovsky, a professor of business administration and accounting at St. Mike's. But in 2008, he says, Benedetto's situation was rare.
"He's very resourceful," Letovsky says of his former student. "He's always been persistent and resilient, which are the traits all successful entrepreneurs have. Entrepreneurs are doers, and he's a doer."
"He just has that natural flair and always has," says Benedetto's father, Peter. He goes on to tell a story about when Matt attended a big ski race at the age of 8 or 9. The boy approached world-class racers and asked them for their race bibs.
"To make a long story short," Peter says, "Matt got four or five bibs and then turned around and sold them to his friends for a profit."
At St. Mike's, Benedetto roomed with other serious skiers and skied for the school in his first year. As a sophomore, though, he began traveling to ski events to promote EC Headwear rather than compete on the slopes. One such event, at Loon Mountain in New Hampshire, altered his trajectory forever.
Benedetto was taking a run on the freestyle course after the races were over. He hit a jump but missed the landing. That's when he started screaming.
"I shattered my whole leg," he recalls.
His right leg mangled, Benedetto had to be helicoptered off the mountain. He endured 17 surgeries over the course of a four-and-a-half-month hospital stay and was lucky just to keep the leg.
"The doctors said that if he hadn't been young and in such good shape, they would have had to amputate," his mother, Mary Anne, recalls.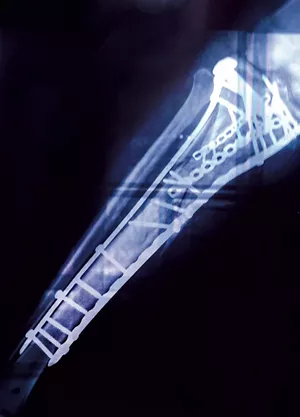 Courtesy Image
Benedetto's leg X-ray after 17 surgeries
Benedetto keeps an X-ray on his phone. With five metal rods and 21 screws, his leg almost appears to have been fixed by a mad inventor with an erector set.
Benedetto didn't walk again for almost two years. He maintains the fit physique of a high-level athlete and is still an avid skier, but the injury will stay with him for the rest of his life. His right foot is still paralyzed, so he drives using his left to work the gas and brake pedals. "At this point, it's like second nature," he says.
Unable to ski during his recovery, Benedetto eventually found his enthusiasm for the industry waning. Some people's careers are derailed by trauma, but for Benedetto, obstacles have always been sparks. Just ask his mom.
"When he was a little kid, no matter what he did, I could never come up with a punishment that would work," Mary Anne recalls. "Because, as soon as I'd send him to his room or whatever, he'd just flip to plan B and come up with something amazing. It's just who he is."
Plan B
During his senior year at St. Mike's, Benedetto transformed his company from a ski apparel brand into a lifestyle one and rechristened it Eastern Collective. He landed an internship at Winooski's Fuse Marketing, where he took a job upon graduation in 2012. That's also when he hatched an idea for a better iPhone charging cable.
"The accessory market wasn't as enormous as it is now," Benedetto explains. "There were a ton of cases, so you could customize your phone that way." Options for cables, however, were slim. Plus, they were kinda chintzy.
"Everybody has the cable that ends up fraying at the end, right?" he says.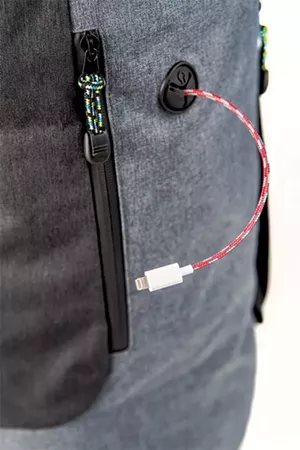 Courtesy Image
The Voyage Cable from Sondre Travel
Leaning on his clothing background and his manufacturing connections in China, Benedetto developed fabric-woven cables and branded them as more rugged, longer lasting and more attractive than the white-plastic stock cables that come with new phones. "My theme was mixing textiles and technology," he says.
He launched his first cables in September 2012. By the following March, Benedetto had left Fuse to focus on Eastern Collective full time.
"I did more sales in that first month than I ever did in a year of selling clothing," he reveals.
He had already designed his 2013 winter clothing line. Once he sold through that stock, he transitioned Eastern Collective to phone accessories exclusively. J.Crew and other retailers picked up his cables, on which tech taste makers at GQ magazine and Condé Nast Traveler bestowed rave reviews. Benedetto's new venture was growing exponentially. But there was one problem.
Because Apple's connectors are proprietary, he couldn't secure a patent for his cable designs. Even if he could have, his lawyers advised, it wouldn't have been hard for another company to produce legal knockoffs. "All you'd have to do is move the weaves a little bit to get around it," Benedetto says.
Which, of course, is exactly what happened.
A Softer Landing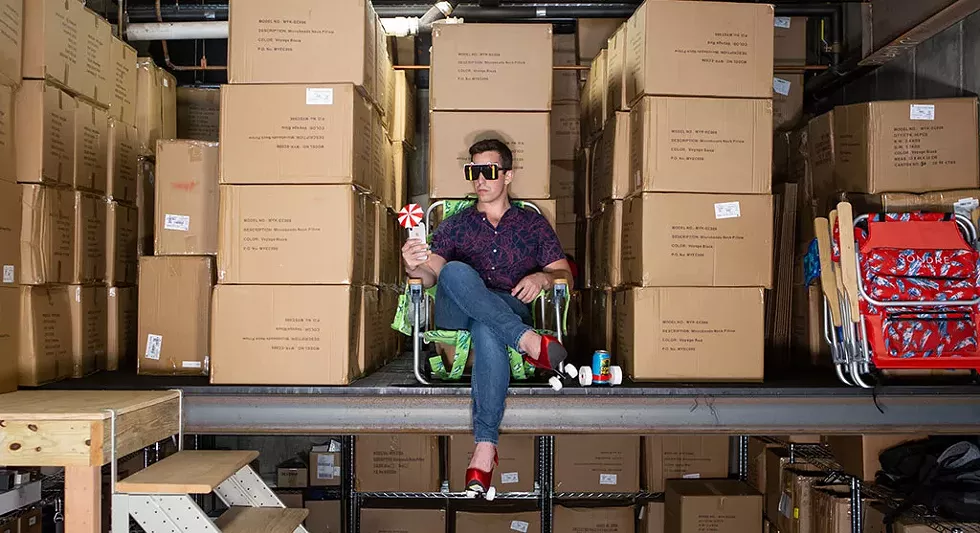 Luke Awtry
Benedetto seated in the Voyage Chair wearing EyeWiped sunglasses and Heels Wheels. Also pictured: the InstaParasol and the Sip N Curl (foreground)
As accessories giants such as Belkin began issuing their own woven cables, Benedetto's business cooled. J.Crew killed its accessory line, and other retailers were dropping him for cheaper alternatives.
"It wasn't as unique anymore," Benedetto says. "And I was just in the mood to do something new."
So he reinvented his business yet again, this time as Sondre Travel, a boutique travel accessories line. The company's first product was the Voyage Pillow, Benedetto's reimagining of the ubiquitous, bulky U-shaped travel pillow. His is both compact and stylish — for a pillow.
To unveil his new product, Benedetto turned to that great equalizer of capitalism: Kickstarter. He launched a campaign for the Voyage Pillow in February 2017 and secured $125,000 in preorders in the first month. As the boxes of pillows stacked in the storage loft of his office reveal, the pillow has remained popular — it was among the top 25 best-selling travel pillows on Amazon last year.
Given his track record, Benedetto might have had a successful launch without crowdfunding, but he says the method offers certain advantages that traditional business models lack. For one, he never has to worry about overruns, since his backers fully fund his initial production run.
Also, he reveals, Kickstarter is basically free advertising.

"A lot of people would be surprised that 30 to 40 percent of people who back Kickstarter campaigns are just browsing Kickstarter for things to back," Benedetto explains. "Instead of making a Facebook ad to try and get people to my website for a company they've never heard of, Kickstarter already has a reputable name, there's already people browsing the site, so it's a free way to get customers."
And, more importantly, repeat customers. Benedetto has launched each of Sondre Travel's subsequent products through Kickstarter, including a travel bag, a travel organizer, a toiletry bag and a beach chair. In total, his five completed campaigns have yielded more than $325,000 in preorders. He is currently crowdfunding the Voyage Sleep Mask, a companion to the pillow.
As with his iPhone cables — which he still produces — and his crocheted hats, Benedetto isn't reinventing the wheel with his travel line so much as finding ways to make the wheel roll better.
Courtesy Image
The Voyage Bag from Sondre Travel
"Ideas are worthless," says Letovsky, the St. Mike's professor. "What's important is to have a business concept. Matt's ideas aren't groundbreaking products, necessarily, but he puts a spin on it, and then he gets up and does it."
That spin is key to the success of Sondre Travel. The versatile Voyage Bag, for example, works as either a duffel bag or a backpack and features interior shoe compartments, separate spaces for dirty clothes, a laptop sleeve and a charging-port hole — all handy features for the frequent traveler. The Voyage Dopp Kit is a dual-sided toiletry bag for traveling with a partner. The Voyage Chair is a beach chair equipped with insulated can holders and cooler compartments and "tech pouches" perfectly sized to keep smartphones and small tablets out of the sun and sand.
"I try to look at existing products and think, Why doesn't this work, and what can I do to make it better?" Benedetto says.
In essence, Benedetto is simplifying and improving on preexisting designs. Put another way, he's solving problems his customers probably didn't know they had. That's not far off from how he approaches Unnecessary Inventions — albeit with markedly different outcomes.
The Bare Un-Necessities
Benedetto draws an important distinction between "unnecessary" and "useless." "Those are two completely different words," he insists. And understanding the difference is key to understanding the quirky brilliance behind his Unnecessary Inventions.
"They all do something. They solve a problem, whether it's a made-up problem or an actual problem," he says. "However, there's always going to be an easier way to solve the problem."
That's undoubtedly true. Still, items such as StubStoppers — tiny yellow hard hats that fit over your big toes to guard against painful stubs — have easier solutions beat when it comes to entertainment value.
Unnecessary Inventions was itself the solution to a problem. "I'm always coming up with ideas, and I'll run them by my friends, and they'll be like, 'Oh, that's stupid,'" Benedetto says. "So then I'm like, 'OK, well, I'm not gonna make that.'"
Every now and then, though, his endless curiosity gets the better of him, and he orders a sample product made in China based on one of those supposedly stupid ideas.
"And I'm usually like, 'Yup. This is a stupid idea,'" he says.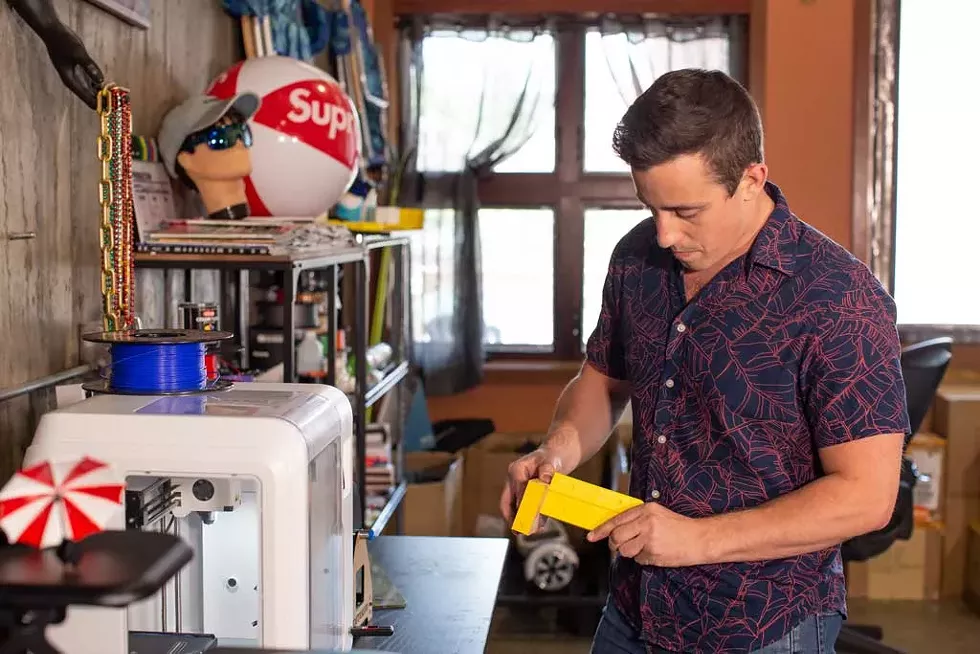 Luke Awtry
Benedetto preparing for a 3D print at his Hood Plant headquarters in Burlington
Benedetto's large Burlington office/workshop is littered with examples of those one-off ideas, stupid and otherwise. Take the bright yellow emoji doormats he had made in 2011, or the gaudy sunglasses crafted from a single wraparound lens that look like something from a bad 1980s sci-fi action flick.
"I thought these sunglasses were so cool," Benedetto admits. "But now I realize they're so ugly."
He rarely has any intention of putting such sample products into production. "I just want to see it in its physical form, because I always have such a vivid picture of what this idea looks like," he says. "So let me just make it, and I'll get it out of my head. Even if I'm just enjoying it, that's enough for me.
"My brain is just never off, and it's always firing for something, taking two unrelated problems to create a new problem," Benedetto continues. "It's just how my brain operates."
Randy Violette, Benedetto's boyfriend of four years, agrees.
"His mind works at the speed of light, and it continually amazes me," he says of Benedetto. Violette is often the test audience when Benedetto comes up with an idea. He also sometimes names them, as he did with the Heels Wheels — high heels on roller-skate wheels. "He can go from concept to action amazingly quickly," Violette continues. "He'll tell me in the morning about an invention idea, and then by the end of the day it's posted online and getting reviews."
Which means that when Benedetto doesn't have something to occupy his mind, he gets antsy.
That tends to be a problem every February, when manufacturing in China essentially shuts down in observance of Chinese New Year, he says. This year, Benedetto spent the downtime studying 3D design via YouTube tutorials, hoping to improve his 3D printer skills so he could produce all of his mind's strange desires himself.
One day, he was messing around with 3D designs and pondering, of all things, AirPods.
"When AirPods first came out, everybody made fun of them for how stupid they looked," he explains. "Now, two years later, they're ubiquitous. So I always had thought of calling out the design a little more and just making it more ridiculous."
So he did.
The first Unnecessary Invention Benedetto produced was the AirSticks, chopstick extensions that attach to wireless headphones so you can always have chopsticks on hand — er, ear.
Tickled with how the AirSticks came out, Benedetto bought sushi at City Market, Onion River Co-op to pair with them in product photos. He posted the pics to Reddit, where they promptly blew up.

On the suggestion of a Reddit user, Benedetto made his next invention, the Anywhere Hook: a plastic coat hanger that attaches to the back of your shirt collar so you never have to tie your coat around your waist. He started an Instagram feed devoted to his creations, and Unnecessary Inventions was born.
"I woke up the next day and had 1,600 followers, and I was like, What the fuck?" says Benedetto. Then he realized, "OK, I guess I have something here."
He kept cranking out ideas and gaining followers and attention. His two biggest breakouts were the Cuisine Curtain and Avocado on a Stick, and the latter indirectly inspired another of his greatest non-inventions.
Benedetto enjoys interacting with his fans online. But, the internet being the internet, sometimes not everyone gets the joke. When he released Avocado on a Stick — smashed avocado that comes in a plastic roll-out dispenser, sort of like a deodorant stick — certain commenters were outraged by what they perceived as environmental waste.
"They were like, 'Avocado already comes in a shell!'" says Benedetto. "So I was like, 'Well, I'm gonna make you hate me even more!'" The result was the Straw2Go, an oversize plastic carrying case for planet-saving metal straws.
"I always purposefully put something in or leave something out, because I know what people are going to comment on," Benedetto continues. "'Why are you eating a burrito sideways?'" he says, quoting a common reaction to the BurritoTrough, which looks a lot like a harmonica holder but holds a burrito sideways instead.
"A lot of it is just to create fun conversation," he continues. "I give them just enough to connect the dots themselves ... or watch people argue over which way to eat a burrito."
Those fan interactions are often positive, too. Benedetto frequently crowdsources ideas. He estimates that 30 percent of his Unnecessary Inventions are based on fan suggestions — about one in every 300 suggestions he receives.
"I get 'iPhone case for your iPhone case' all the time," he says, rolling his eyes.
"It's a very nuanced thing," he adds, explaining what separates a good Unnecessary Invention idea from the rest. "Like someone will say, 'A blanket for when you get cold shitting.' Well, that's just a blanket." (In case it's not obvious, Benedetto is far lighter and more bubbly in person than his stern-faced product shots for Unnecessary Inventions might suggest.)
Even when the ideas are bad, one element might spark a new train of thought. That was the case with the FurRoller — which, instead of removing pet hair from your clothes, adds hair so that everyone will know you have a pet. Benedetto based the idea on a fan suggestion that just needed a little extra something to become a true Unnecessary Invention.
Benedetto says he constantly receives inquiries about purchasing his inventions.

"Every post, someone comments or DMs, like, 'I know these are fake, but can you please just make one for me? I need to buy it. My dad always chews with his mouth open, and I need this.'"
So far, though, he insists he has no intention of producing his Unnecessary Inventions commercially.
"I just kinda love telling people no," Benedetto says with a chuckle. "I'm an artist, and it's an art ... ish. And I think that's part of the reason why it's blowing up: If I was just another brand trying to hawk products at you, you'd scroll past because it's stupid."
The inventions might also not be that profitable, he suggests: "I think, the people that say they want to buy and the people that actually would, there's probably not a huge overlap."
Book Smarts
While Benedetto doesn't plan to sell Unnecessary Inventions, he does have a plan for profiting from the prodigious amount of time he spends working on them. It involves doing what he does best: improving on an existing idea.
In the 1990s, Japanese inventor Kenji Kawakami started a fad he called chindogu, which translates to "unusual tool" — though Kawakami described his inventions as "unuseless." He designed a series of joke inventions that didn't quite work, such as a combination feather duster/cocktail shaker to reward yourself while cleaning, and the "baby mop," which turned crawling babies into cleaning implements. In 1995, Kawakami published a book that appeared in an English translation by Dan Papia called 101 Unuseless Japanese Inventions: The Art of Chindogu.
Benedetto plans to publish a book of his own by Christmas — when, working at his present pace, he expects to have 80 to 100 completed inventions.
"I've got to monetize at some point, at least a little bit," he concedes.
Benedetto readily admits that chindogu is an inspiration for Unnecessary Inventions, sometimes a direct one. My Perfect Hogan, a jig used to shave a perfect Hulk Hogan mustache, is his take on a chindgu lipstick mold. Avocado on a Stick is based on the push-up butter stick, one of a few chindogu inventions that eventually became a real thing. Another unuseless invention that became reality is the selfie stick, though Kawakami used a large disposable camera in his version, since smartphones hadn't been invented yet.
"I know I have something," Benedetto says of Unnecessary Inventions. "I don't really know what it is yet. And that's sort of how my whole life has been.
"When I was 13, it was hats; then it was cables and then travel," he continues. "So whatever is occupying my mind, I just sort of peck away at it until I figure out how to make money and make a living at it."
Could that mean he'll stumble on his own version of the selfie stick one day?
"It could. I mean, I like the turn signals," Benedetto says, referring to the WhichWay, his shoulder-mounted blinkers. Like so many Unnecessary Inventions, those sparked debate; commenters wondered whether the signals indicate which way the wearer is turning or which way other pedestrians should go.
The beauty of Unnecessary Inventions is that, for now, Benedetto doesn't have to decide; going viral online is all about inspiring people to debate and wonder. Of his inventions, he says, "They all have a few kinks that need to be worked out before they go mainstream."