This is what tree hugging looks like in the Northeast Kingdom: A green, crane-like harvester crawls into a stand of trees. With a belch of black smoke, its hydraulic steel arms embrace the trunk of a towering white pine.
Within seconds, a 200-mile-per-hour rotary blade the size of a manhole cover has sheared through the tree's base like a weed whacker mowing down a dandelion. The tree doesn't fall, but stays upright in the harvester's metallic grip. The feller buncher, as the rig is called, grabs a second tree, then a third, severing trunk from stump with a quick puff of sawdust. With three trees in its grasp, the crane lays its bundle down on the forest floor.
Twenty yards away, a crab-like machine called a grapple skidder emerges from the bushes on huge, knobby tires wrapped in chains. A single dangling claw grabs the pile of freshly cut timber and drags it across the deeply rutted landscape strewn with broken limbs and stumps.
In a clearing a quarter-mile downhill, two more pieces of heavy machinery process the timber with assembly-line efficiency. A delimber strips each tree of its leaves, limbs and bark in one stroke. Then a slasher loader lifts the denuded trees with a knuckleboom crane, cuts them to length with a 400-pound slasher saw and sorts the logs by market value. Large-diameter logs go to sawmills to be made into lumber; smaller logs become firewood or wood chips.
Aaron Martin, operator of the slasher loader, climbs down from the cab. Lanky, tattooed and shirtless, he has worked in the woods for about six years and doesn't want to do anything else.
"I never did like being indoors," Martin explains over the roar of diesel engines. "I don't care if it's 20 below and windy. I'd rather be outdoors doing this than in some shop breathing stagnant air."
In several respects, Martin isn't a typical Vermont logger. For one thing, he's working on a fully mechanized operation, while many loggers are still using chainsaws and skidders. More importantly, he's only 27, a relative youngster in an industry where the average age is 55.
More representative is Martin's father, Harold, who's been logging for 45 years. The 62-year-old Hardwick native operates the delimber wearing a grease-stained ball cap and a T-shirt riddled with holes. Daisy, his 10-week-old beagle, naps at his feet in the cab, seemingly oblivious to all the noise. When asked why he's still working this job at an age when many men retire, Harold Martin just shrugs and smiles.
"Something to do, I guess," he says in a sing-song Northeast Kingdom accent. "Once you get sawdust in your veins, you never get rid of it."
Actually, both father and son are lucky to be working on this 15-acre private timber lot just outside Groton. Record-setting spring rains delayed many Vermont logging operations for more than a month; heavy machinery can bog down and tear up soggy soil. Worse, an extra-long mud season followed an unusually snowy winter. That's typically the busy season for loggers, as it's easier to skid logs over frozen ground, but too much snow is a curse. By last March, many loggers were dropping trees into snow that reached their chests.
Loggers are a hearty breed, averse to griping. Still, Mother Nature's one-two punch this year couldn't have come at a less opportune time. Vermont's wood-products workers are still reeling from the economic downturn that hit them in 2005, when the housing market began its inexorable slide. By 2008, new construction had ground to a halt.
The state doesn't track the number of loggers working in its forests, but logging jobs tend to rise and fall with sawmill demand. Since 2005, the number of sawmills in Vermont has plummeted, from about 200 to 130 today. During that same period, lumber production fell from 220 million board feet per year to about 170 million board feet, according to data from the Vermont Department of Forests, Parks and Recreation. Those numbers are consistent with the trend throughout the Northeast, where the sawmill sector has shrunk by nearly a third, according to USDA Forest Service estimates.
Many Vermonters may not know about the decline in their state's forest-products industry. Far more common are news stories about flooded croplands, tanking milk prices and agricultural policy changes that adversely affect small family farms.
Yet many Vermonters whose families have worked in the woods for generations say that, in the last few years, they have suffered at least as much as farmers. And, while they consider themselves to have a similar work ethic and commitment to land stewardship, many say their plight gets far less attention than does agriculture in Montpelier and Washington.
"It's an invisible industry," notes Paul Frederick, a wood-utilization specialist with the Vermont Division of Forestry. "People talk a lot about the working landscape, and it's easy to see the farmers. But there's a lot of logging going on that most people never notice."
For Ken Davis, of Davis Contracting Service of Hardwick, there's a lot less logging going on than there used to be. Davis employs the Martins, two of only four full-time loggers on his payroll.
Davis, 60, has logged in the Northeast Kingdom since he graduated from high school. By 1997, he had as many as 19 full-time loggers cutting and processing timber, as well as 19 skidders running and 15 truckers hauling wood from four different job sites at a time. Does he expect Vermont's timber industry ever to rebound to that level?
"No, never," Davis says. "It's probably the hardest time to make a living as a logger that it's ever been in my career."
When asked about the biggest challenges facing his industry, Davis shakes his head and laughs cynically. "How much time do you have?" he asks. Then he ticks off a list of grievances: cheap competition from Russia and China, diesel costs that are topping $4 per gallon, high insurance rates and low prices paid by corporate paper mills, to name a few.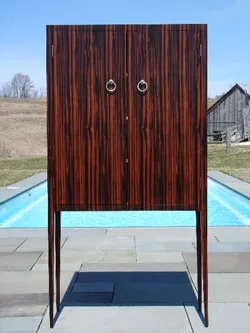 For example, Davis says he used to sell timber to the International Paper mill in Ticonderoga, N.Y. That ended when it cost him more to cut and transport his product to the mill than he could make on it.
"In the international chess game, loggers are the pawns," Davis says. "When they need us, they pay us really good. When they don't need us, they pay us really bad."
Make no mistake: Davis, a self-described libertarian, isn't asking for government handouts, just some easing of the strict environmental regulations and time-consuming permitting processes that cut into his already razor-thin profit margins. In 1999, Davis was accused of violating the state's 40-acre clearcut law. Though the fine would have cost him $22,000, Davis claims he spent more than $100,000 on legal fees defending himself for three years. The state later dropped the charges.
"I've never applied for a low-interest loan. I've never applied to the [Small Business Administration]. Believe it or not, since 1976 I've had only one guy draw three weeks of unemployment," Davis claims. His message to the government is "You don't need me and I don't need you. So get out of my face and let me do my job."
Already, many Vermont loggers have called it quits. Definitive numbers are hard to come by, but everyone in Vermont's forest-products industry knows someone who's moved on to other work.
In Burlington, one of them is Larry Altman, 47, who was a logger for 20 years, including the last 12, when he worked for himself. Originally from Massachusetts, Altman was "totally green" when he got hired by a Milton logging crew during college. (Logging has no formal apprenticeship program.)
As he puts it, "I was in a dangerous spot from the get-go." Logging consistently ranks as one of the most hazardous jobs in the United States; it's as deadly as mining and commercial fishing, according to the Bureau of Labor Statistics. Almost every year, at least one Vermont logger dies in the woods.
Altman, who often worked alone, had his share of injuries. He has pins in his ankle from the time a tree fell on him. On another occasion, his arm was crushed between two logs. Fortunately, he was working that day with a buddy, who freed him 45 minutes later. All that time, Altman was never able to afford health insurance.
"I feel like I got out pretty clean," he says. "I lost one friend [to logging]. Another is quadriplegic. You'll get hurt bad at least one time logging."
But it wasn't the fear of death or mutilation that ended Altman's career — it was the bottom line. Several months ago, he sold off tens of thousands of dollars' worth of logging equipment because the combination of bad weather, high fuel costs and the low prices of saw logs made his job untenable.
"I would still do it if you could make money at it, but you can't," he says. "In this whole picture, there's a ceiling, and that ceiling is the price paid at the mill. There's very little wiggle room for the individual logger."
The roots of logging run deep in Vermont. The state's first sawmill opened in Westminster in 1739; a century later, there were nearly 2000 mills statewide. By the mid-19th century, logging had become Vermont's largest and most lucrative industry. At one point, timber traffic on Lake Champlain made Burlington the third-busiest lumber port in the United States.
Yet, despite a once-great past, Vermont's timber industry doesn't command much attention or respect anymore. Why not? Altman suggests that many people, especially in Burlington, have no idea logging still goes on in Vermont. "I get asked sometimes whether I ride the logs down the river," he says.
A bigger public-relations challenge, say Altman and Martin, is that many Vermonters lump the local timber industry in with large-scale, ecologically devastating logging operations in the Pacific Northwest, Canada, South America and Asia.
"Every day I run into somebody who hates what I'm doing. They hate that I'm cutting down trees," says Aaron Martin. "But the forest is nothing but a garden. You take out the weeds and the mature stalks, and you're going to get new growth. If you don't, it'll just grow up, choke itself out and die, and you'll end up with a poorly managed forest. Animals don't eat 40-foot trees."
It's common to hear Vermont's forest workers compare logging to gardening. After all, for much of the state's history, trees were seen as a crop. (It's worth noting that the Forest Service, which owns as much timberland in the Green Mountains as the state does, is part of the U.S. Department of Agriculture.) Milk, cheese, maple syrup and Ben & Jerry's ice cream may be Vermont's most iconic commodities, but the timber industry contributes more than agriculture does to the state's gross domestic product.
In fact, when taken as a whole, Vermont's forest-products industry is second only to electronics in total manufacturing revenues, and it pays the highest manufacturing wages outside of Chittenden County. Technically, tourism brings more dollars into the state. However, tourism and woodlands are linked, as Robert De Geus, a wood-utilization specialist with Forests, Parks and Recreation points out. "There is a clear connection between managed and harvested forests and tourism," he says, "just as one is perceived to exist between agriculture and tourism."
Interestingly, timber operations in Vermont tend to stay small scale, says Frederick of the Division of Forestry, a former county forester who's worked for the state for 27 years. Today, he says, the vast majority of local loggers are sole proprietors, as Altman was, working alone in the woods, usually equipped with little more than a chainsaw, skidder, bulldozer and truck.
In the last 10 to 15 years, Frederick continues, Vermont logging operations have become increasingly mechanized, which has boosted productivity but reduced job opportunities. It's also increased start-up costs: A feller buncher can run $300,000 to $400,000; a skidder, $200,000. "It's hard for somebody coming out of high school or college to make that kind of investment in equipment and still make a living logging," says Frederick.
How do Vermont's logging operations compare with those out west? Frederick says they look negligible, both in size and environmental impact. A typical state timber sale is about 100 to 150 acres, which can produce 100,000 to 200,000 board feet of lumber. (A federal timber sale in Idaho, Oregon or Montana can be five times as large.) However, most logging jobs in Vermont are even smaller, more akin to the 15-acre job that Davis and the Martins are working.
And, while clearcuts are occasionally permitted in Vermont, large-scale harvests like those seen in British Columbia and the rainforests of South America don't happen here. A "heavy cut" of 40 acres or more requires a state permit, as well as strict environmental safeguards, such as water-quality measures and buffers that make the clearing less visible from the roadside. Frederick notes that much of the logging now happening in the state is correcting the mistakes of the 19th and early 20th centuries, when large swaths were clearcut for pasture. Today, Vermont is now 78 percent wooded, far more than it was a century ago.
Where does Vermont's wood go? Since the American furniture industry has moved most of its operations overseas in the last 30 years, Frederick says the vast majority of lumber ends up as saw logs. (Vermont is still home to some high-end furniture makers who use local wood for its cachet; see sidebar.) The highest grades are hardwoods, such as red oak and sugar maple, which are used for trims, veneers and facing for kitchen cabinets and door panels. Slightly lower grades, such as white pine, are turned into structural lumber for homes or become crates and pallets.
Not surprisingly, Vermont's biggest timber trading partner is Canada. Many Vermont saw logs are shipped across the border, where they're milled, then returned for sale in the United States. In recent years, Vermont has seen an increasing number of its logs loaded into containers and shipped to China, Vietnam, Indonesia and other Pacific Rim nations where labor costs are much lower.
"We're not going to see huge mills [in Vermont] like the ones in the past, or out west," Frederick adds. "Folks here are going to be looking for niche markets ... and they've got to do the best they can with what they've got."
If Vermont's wood-products industry has a profitable and sustainable future, it will probably look something like Goodridge Lumber of Albany. Nestled on a hillside overlooking the Black River Valley is the small family sawmill, owned and operated by Colleen Goodridge and her three sons, Doug, Mark and Brian.
It's a quaint and picturesque spot, with a spacious log cabin that doubles as Colleen's home and office. A covered porch running the length of the house is decorated with flower boxes, birdhouses, Adirondack chairs and a wood-carved lumberjack holding a handsaw in one hand and an axe in the other.
To the left of the cabin sits a high-ceilinged, open-sided shed, where newly milled pallets of lumber are left to dry in the breeze. To the right is an open-air mill, swirling with sawdust and buzzing with the high whine of a 48-inch saw ripping through white cedar logs. Behind it are towering piles of those logs stacked like matchsticks more than 20 feet high.
Colleen Goodridge, 58, is a slight, friendly woman who resembles a librarian more than a mill operator. One almost expects to see her sporting a pair of bifocals on a chain around her neck instead of the plastic safety goggles and heavy-duty earmuffs she wears during a recent visit.
But looks are deceiving. Goodridge, who grew up on a dairy farm, knows the meaning of hard physical labor and is as rugged as any of her boys, who all have the arms of prize fighters. In the winter, Goodridge can be found "scaling logs," or measuring each one for length and diameter, on her hands and knees in subzero weather.
Goodridge Lumber was founded in 1974, when Colleen and her then-husband bought a $500 circular saw from a farm in Glover so they could mill their own wood and build the family house. After bringing the saw across Albany Mountain, they quickly discovered it needed major repairs, so they had to sell off all the timber they'd cut to buy spare parts. Soon the Goodridges were milling logs for local farmers and loggers and selling railroad ties to the local railroad when the sawmill in nearby Hardwick couldn't keep pace with demand.
In 1985, the Goodridges made a savvy business decision: They switched to buying strictly white cedar, a slow-growing species native to swampy areas in the Northeast Kingdom. Today, Goodridge Lumber may be the closest thing to the locavore movement in the wood-products industry: It sells about 1.4 million board feet of white cedar lumber annually, all of which is harvested within a 70-mile radius. The mill buys logs year round from about 110 different loggers, truckers and local farmers. Most were cut on private lands under strict forest-management plans.
Colleen Goodridge says she knows the amount of timber her mill processes annually can be harvested sustainably for years to come.
"We're always trying to keep an eye out for the next generation," she says. "If my granddaughter wants to go into the business, it'd be nice to know that we're not taking something today that won't be available tomorrow."
Goodridge isn't just planning for her own family's future but for that of others in her industry. As a board member of the Vermont Forest Products Association, a statewide advocacy group, Goodridge held a meeting in late April to hear from loggers, truckers, foresters and fellow mill owners about the challenges facing them.
Among their most common complaints, she reports, were falling profits, rising fuel and insurance costs, loss of markets to foreign competitors, an aging workforce and unduly burdensome regulations that block access to new markets. Basic safety and environmental rules are vital, Goodridge emphasizes. But when layers of regulations prevent people from doing their jobs, she believes, "that will cripple us."
Watching Goodridge's sons work, it's readily apparent that they try to squeeze every ounce of profit out of the wood they process. What isn't turned into boards, decking, siding or fence posts is sold for garden mulch or wood chips.
Is the growing use of low-grade wood for heating and electricity a promising trend for the wood-products industry? A first glance suggests so. Currently, about 50 schools in Vermont are heated with state-of-the-art wood-chip and pellet systems, which consume between 20,000 and 23,000 tons of wood annually, according to Adam Sherman, director of the fuel supply program at the Biomass Energy Resource Center in Montpelier.
Middlebury College also operates a biomass system, which burns about 20,000 tons annually. The East Ryegate energy facility burns as much as 250,000 tons of wood to generate electricity; Burlington's McNeil Generating Station, about 400,000 tons, and the IP-Ticonderoga paper mill, about 1 million tons. Just weeks ago, Montpelier voters approved an ambitious plan to move ahead with a wood-fired district heating system that will save the city more than 100,000 gallons of heating oil a year and lower heating costs by 20 percent.
Sherman says the growing market for low-grade wood will benefit some loggers who do "integrated harvests" that include both high- and low-grade wood. However, he cautions that biomass shouldn't be seen as a cure-all for an industry that is still suffering from an anemic construction market and a regional pulp and paper industry that has "tanked."
"Biomass is helping them somewhat," Sherman concludes, "but it's not going to be the knight in shining armor that comes in and saves the day."
For her part, Goodridge just wants state lawmakers to acknowledge the value of Vermont's timber industry as they do that of agriculture. After all, the two share similar concerns: weathering rising property taxes, high workers' compensation fees and rising health care costs; and maintaining the integrity of the current-use program, which allows landowners to keep their forests in sustainable production.
In no way does Goodridge want to pit farmers against loggers and mill owners, she says. Her own father, who is 86, and mother, 79, still own and operate a 400-acre dairy farm in nearby Irasburg.
"I just think we have a story to tell, too," Goodridge says of Vermont's loggers and millers. "It's not all doom and gloom, but if you wait too long, we're all going to be gone."
All photos by Jordan Silverman. View the gallery on Flickr.