Caleb Kenna
Pete Guendel
The signs start appearing along Route 7 just outside Vergennes about a week before Thanksgiving. They're crudely made and kind of cryptic. "Trees!" reads one made of cardboard, with an arrow hand-drawn in black marker pointing left as you head south. Another, pointing south and visible from the northbound lane as you travel from New Haven, tests the limits of Vermont's anti-billboard laws. A large sheet of weathered plywood assures travelers with a spray-painted message: "Yes I will be open the day after Thanksgiving!"
For folks in this part of Addison County, these primitive placards are welcome signs of the holiday season. They mean that Pete's Pines and Needles Tree Farm is open again, bringing with it a unique Christmas tree-buying experience. (Where else can you buy a Christmas tree with a root ball so you can plant it after the holiday?)
When you pull into the driveway from Plank Road in Waltham, Pete's Pines and Needles initially resembles the Island of Misfit Toys more than a winter wonderland. Beyond the narrow, muddy parking area, along the way to the choose-and-cut trees, sit the crumbling remnants of a horse-drawn sleigh. An army of old, faded Christmas decorations leans against a ramshackle warming hut.
Beyond that, strings of ancient Christmas lights climb to the top of a rickety pole some 20 feet above rows of precut trees, each of which rests in a water-filled plastic jug. In the middle of this scene, decked in red and holding court with an electric chain saw and a big ball of twine, is the man himself.
"Christmas in Vergennes is never complete without the annual pilgrimage to see Pete," Vergennes resident Doug Hartwell wrote in an email.
"Pete" is owner Pete Guendel. For regulars, he's as much of an attraction as his trees or the free homemade ornaments he gives out with each one.
"Some people call me 'Pine Needle Pete,'" Guendel, 60, revealed on a recent Thursday afternoon at his tree farm.
That's not his only nickname. Hartwell and his daughter, Bella, who have been getting their Christmas trees at Pete's for a decade, affectionately refer to him as "Crazy Pete the Christmas Tree Guy."
"Everybody knows me, but I don't know everybody," Guendel said with a chuckle.
It's not clear that's true. On the two occasions this reporter visited Pete's lot last week — including once to buy a tree — Guendel seemed to know most of his customers by name, chatting as he loaded trees onto their cars and tied them down. Those he didn't know, he joked with as though he did. Pine Needle Pete is a whirling force of personality.
"Pete definitely leaves an impression," Lori Towle of Vergennes said. She became a regular two years ago, when her daughter demanded she buy a real tree instead of putting up a fake one. Towle was about to buy a tree at a hardware store when she remembered seeing Pete's signs on Route 7.
"I thought we should go for the experience," Towle said.
She chatted up Guendel about his love of old Volkswagens and came away with an experience, a tree and a tree stand.
"We didn't have one, so he gave one to us," Towle said.
Hartwell reported having a similar experience 10 years ago. "The first year I confided in him that we didn't have a stand yet, he gave us one," he wrote, "along with extra branches to make a wreath."
Guendel has been a holiday fixture in the area for 25 years. In 1987, he bought 13 acres on Plank Road, across from Woodman Hill Orchard, for $17,000.
"Before I even started building my home, I started planting Christmas trees," he recalled. He's been selling those trees since 1995, with help from his partner, Fran O'Connell, on the weekends.
"Without her, it wouldn't be a success," Guendel said.
Owning a Christmas tree farm was a childhood dream, Guendel said. But actually growing the trees involved some trial and error for the self-taught tree farmer.
Early on, he joined a couple of Christmas tree associations in Vermont and asked members for advice. "But it was more like a powwow drinkin' session than an informational session," Guendel said.
Helpful tips from local competitors were hard to come by, so he joined an association in New Hampshire.
"When they realized I was 100 miles away, they were like my best friends," Guendel said. "They'd tell you everything you did wrong and how to do it right. It was a really cool thing."
Guendel's choose-and-cut trees tend not to be as manicured as those at other farms, which both is and isn't by design. He admitted he should probably shear his trees more often, but not doing so serves a devoted clientele who prefer their trees more natural — including, he said, a handful of buyers who light their trees with candles.
"We loved Pete's trees since they were more natural-looking than trees you would find at other places," Rodney Olsen of Vergennes wrote in an email. He was a Pete's regular until he bought forested land from which he can harvest his own trees. "Since we like trees that you can easily hang an ornament on, rather than others that are too thick and fake/unnatural looking," Olsen added, "Pete's was the place to go."
He has another reason to admire Guendel. Some years ago, Olsen was teaching students at the Hannaford Career Center in Middlebury about migratory birds of prey; they operated an owl-banding station on Snake Mountain.
"The kids wanted to enhance the forest surrounding our banding station so that migrating birds would have a place to roost," Olsen wrote. "The owls prefer pine trees, so off we went to Pete's."
Guendel offered a dozen trees for the project. "Not only that, he made a day of it," Olsen recalled. "He provided shovels for the kids, a tractor to haul them, and he even paid a visit to the banding station. He was generous and genuinely interested."
At his peak a few years ago, Guendel said, he was selling about 300 trees per season. Though sales have been brisk this year, he expects to sell about half that. Once he sells out, which may be soon, he'll close for the year rather than restock precut trees.
"It'll disappoint some people," he admitted.
Guendel said he plans to keep selling trees on Plank Road for "at least one more big year," but then he'll replant his field, sell the business and retire.
"I'm not broke, so I don't need the money," he said. "It's a full-time job and part-time pay. It's just a lot of effort and time."
But he won't go full Grinch in his retirement. Guendel said he could envision running a smaller operation, perhaps weekends only or by appointment, from his home on his second farm in Bridport.
"I'll probably always sell trees, because it's in my blood," he said.
As long he does, it's a good bet his fans will keep buying them.
Like many of Pete's customers, Vergennes' Jory Raphael was initially lured by the hand-painted signs. "But we've remained loyal customers for the better part of a decade," he wrote via email, because Guendel is so helpful.
"We live in an old house with incredibly short ceilings, so getting a tree that fits is pretty key for us," Raphael explained. "As Pete often says, 'I can always cut the tree shorter, but I can't make it taller.'"
Spruced Up: Tree Sales Soar in Vermont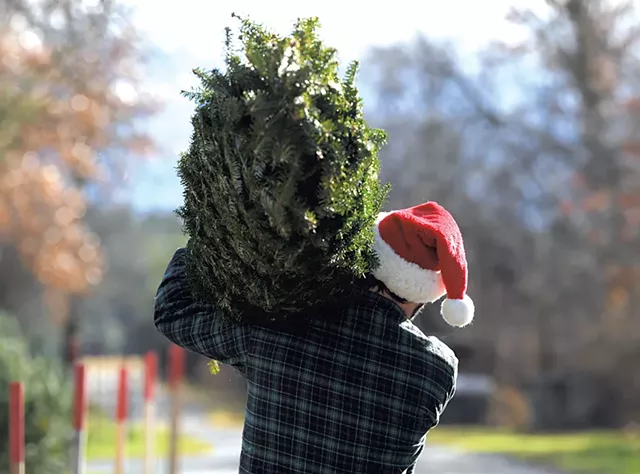 Courtesy Of David Seaver
Will Werner at Werner Tree Farm
If you're one of those wait-until-Christmas Eve tree buyers, you might want to rethink that strategy this year — unless a Charlie Brown tree is your thing. Christmas tree farms and lots around the state are reporting a dramatic early-season surge in sales in 2020, and inventory is already running low.
"It's been a bit crazy," said Amanda Werner of Werner Tree Farm in Middlebury.
By December 3, that farm had completely sold out of choose-and-cut trees; it's currently selling only precut trees. Several other tree farms in the area have closed or limited access to their choose-and-cut fields. Some, such as Meadow Ridge Farm, have closed altogether. The Middlesex tree farm ended its season on December 5 after selling out of both choose-and-cut and precut trees.
While it's not unusual for Werner Tree Farm to close its choose-and-cut fields, doing so a week after Thanksgiving is unprecedented, Werner said.
"And we're quite sad about it," she added. "It's hard telling people they can't go cut their own tree when they've done it with us for 25 years.
"Some of that is [due to] more people than normal cutting their own trees, and some of it is that a lot of people are decorating early," Werner surmised. She said that wreath sales are "way up," suggesting that "people are decorating way more than normal."
Could Gov. Phil Scott's "Vermont Lights the Way" initiative, aimed at getting people in the holiday spirit, be inspiring a Christmas miracle? Or maybe the pandemic-fatigued masses are just looking for anything shiny and bright to fend off the coming bleak midwinter.
"People say they're doing it because they need to do something to make themselves feel better," Tom Paine of Paine's Christmas Trees said. He estimates that sales at his Morristown tree farm are up 10 percent. A post on the business' Facebook page urges shoppers to consider precut trees, as the farm's cut-your-own stock has thinned.
"A lot of people started buying early," Paine said, though he cautioned that the early spike doesn't necessarily indicate a bigger season overall. "A lot of it is people we see normally, but we see them later in the season," he explained, "so it's hard to say if the numbers will be way up."
Paine added that other tree sellers in his area haven't opened at all this year, which has driven additional business to him. So it could be that Vermont's $2.6 million Christmas tree industry has simply contracted to fewer sellers in a shorter time frame.
Thanks to his position on the board of the Vermont Christmas Tree Association, however, Paine can corroborate reports of a nationwide run on trees. He said that the state's wholesalers, many of whom sell out of state, are selling more trees than they can cut.
"And everyone keeps calling looking for more trees," he said. "The price of wholesale trees is way up, and next year it's gonna be even higher."
Paine estimated that, between increased demand and swiftly rising labor costs, a six- to eight-foot Fraser fir will run about $46 to $48 wholesale in 2021, up from about $32 this year. That means buyers can expect to pay between $70 and $80 at retail next year.
Merry Christmas?