Ben Deflorio
VLS students swim in the White River
Empty offices and unoccupied desks — Brett Hubbard noticed both when she enrolled at Vermont Law School in South Royalton last year.
Now a second-year student in an accelerated juris doctor program, she recalled her line of inquiry. "I'd ask because I'm nosy," said Hubbard. What was up with the deserted desks?
The answer: It had been a rough couple of years, punctuated by cutbacks, a few layoffs and voluntary employee buyouts at the only law school in Vermont.
Second-year JD candidate Jordan Carpenter didn't need to see the physical evidence to learn about VLS's troubles; admissions officers at competing institutions had warned the Tennessee native against enrolling.
"They'd say, 'It may not be there when you finish,'" said Carpenter. "It made me take a step back at first."
But Carpenter was undeterred — and, apparently, so were all of the first-year students who started at Vermont Law School last month. The entering class is a moderately healthy 146 students, an 11 percent increase over last year.
That's a long way from the class of 2009, which had 233 students, but represents progress from last year's uncomfortably small class of 129 students. (Entering class sizes have typically hovered between 150 and 170 for the last 20 years.)
"I'm cautiously optimistic," said Doug Ruley, the director of the school's Environmental and Natural Resources Law Clinic. "We've now started bucking the trend."
That trend is a declining number of applications and enrollments at law schools across the country: With fewer students to go around, law schools — criticized in recent years for high price tags and dwindling employment opportunities after graduation — are feeling the squeeze.
VLS has a stellar reputation for environmental law; its program ranks first in the country in U.S. News & World Report. But it's also an independent school without the backstop of a larger university to cover costs — and its location in South Royalton, a village of fewer than 700 people, can be a tough sell for some would-be students.
"It's a pretty shoestring school," said Sarah Buxton, a VLS grad, former employee, and now state representative for Royalton and Tunbridge. Relying so heavily on tuition dollars — more than 83 percent of its revenues were derived from tuition in 2013, according to an independent audit — in a shrinking market has placed VLS in a precarious position.
In April, Moody's downgraded the school's revenue bonds from a Baa2 to a Ba1 rating — which represents the "speculative" bracket of Moody's investment rankings.
The downgrade triggered a technical default on a $10.7 million revenue bond held by TD Bank. VLS entered into an agreement with the bank in May, promising to provide the lender with quarterly financial statements, a consultant's report about the school's finances, a "plan of action" and a worst-case scenario budget assuming just 110 new students.
Ben Deflorio
Students at Vermont Law School
What's at stake? "We have to have the law school here," Buxton said of Vermont, arguing that VLS is the training ground for many who go on to state jobs at the Agency of Natural Resources, the Secretary of State's Office, the Department of the Administration, and of course non-profits and private firms.
"It's a way to attract some of the best and brightest to come to this state, fall in love with it and decide they want to dedicate their service to making it a better, more sustainable place," Buxton said.
From Lavish to Lean
Ten years ago, Vermont Law School was living large. Like many law schools in the country, it grew steadily through the early and mid 2000s. Anthony Iarrapino, who graduated in 2003 and once served as a student liaison to the board of trustees, recalls open bars and high-end menus at school receptions.
Iarrapino also remembers being concerned about tuition increases that were double the rate of inflation, and about the risks of growing beyond the law school's historic size. "There was a lavish feel to a lot of events that seemed out of step with what the institution's resources were," he recalled. In the years after his graduation, VLS continued to pour money into facilities upgrades, including a $1.4 million gym, state-of-the-art, energy-efficient buildings and composting toilets.
Iarrapino's concerns turned out to be prescient. The Great Recession didn't deter students from law school, at least not initially; graduate study provided an option for students looking to defer entrance into a sluggish job market. Roughly two dozen new law schools sprang up to accommodate them, and in the fall of 2010, law school enrollment reached an all-time high.
Then the bubble burst. The recession, it turned out, spelled demise for more than 15,000 attorney and legal-staff jobs at large firms between 2008 and 2011, according to a Northwestern University School of Law study. Other companies were outsourcing legal work to temporary contract employees. The headline of a 2011 New York Times article asked, "Is Law School a Losing Game?"
It took a few years for the new reality — too many law schools graduating lawyers who couldn't find work — to sink in. First-year enrollment in U.S. law schools dropped 11 percent from 2012 to 2013, according to the American Bar Association. That same year VLS saw a 25 percent decline.
In 2014, national matriculation in JD programs hovered around 38,000 students — the lowest number since 1977 and a sharp decline from the historic high of more than 52,000 in 2010.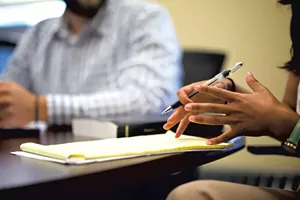 Ben Deflorio
Students at Vermont Law School
"We're not lavish anymore," said Marc Mihaly, president and dean, who came to VLS in 2004 from a job as a practicing environmental lawyer. He stepped into the dean's role two years ago and has since proven to be an effective belt-tightener.
"Almost entirely voluntarily, we reduced the financial footprint of the school by about one-third," said Mihaly.
His strategy goes beyond cost cutting. VLS is carving a clear niche, doubling down on its identity as a "mission-driven" institution and working harder to reach the kind of student for whom VLS is a good fit. The school rebranded last year with the Norwich-based agency Flannel. A slick new admissions brochure entreats prospective students, "A small, committed law school in rural Vermont is quietly changing the world. Join us."
The school has also prioritized lowering the cost of legal education. It has both an accelerated JD program, which students can complete in two, instead of three, years and a new "3 + 2" program with the University of Vermont — the first of its kind in the country — that lets students earn a bachelor's degree and a JD in a combined five years. The first 11 students in the accelerated JD program will graduate this spring.
The overarching goal: Get lean, creative and stable — and bring more students in the door.
"I don't think they see themselves out of the woods yet," said Dan Richardson, who graduated from VLS in 2003 and is the incoming president of the Vermont Bar Association. "They've got to make it for the next few years."
But Richardson, too, ventured into the "cautiously optimistic" territory.
"I've seen different institutions facing change in different ways, and I'll give the law school a lot of credit for this point: They seem to be embracing change ... [rather than saying], 'How can we keep it the same?'" said Richardson. "They're trying to survive."
UVM Law School?
VLS doesn't fit the law-school stereotype, which presents some unique challenges in today's education market. The campus is tucked away on the banks of the White River in the tiny and bucolic village of South Royalton. Students are more likely to be wearing Birkenstocks than high heels. Instead of holing up in dim, hushed library carrels when classes resumed in late August, they were outside studying in Adirondack chairs. The vibe is congenial, not cutthroat.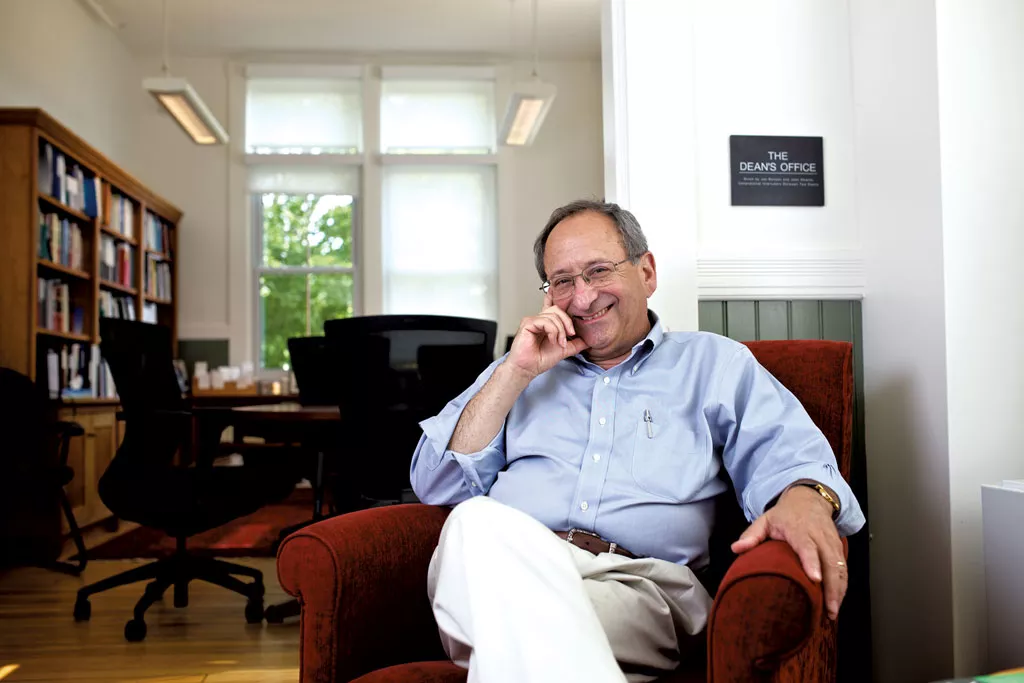 Ben Deflorio
Marc Mihaly
VLS is also a relatively new school, founded in 1972, and its grads tend to gravitate more toward lower-paying, do-gooder jobs than lucrative "big firm" positions. Long-term, that results in fewer donations and a smaller endowment.
Further, it's one of roughly 15 independent law schools in the country; the vast majority of law schools fall under the umbrella of larger universities. In recent years, other independent law schools have sought out partnerships and affiliations to weather the storm. New Hampshire's only law school — formerly known as the Franklin Pierce Law Center — signed an affiliation agreement with the University of New Hampshire in 2010 and is now the UNH School of Law.
Would such an arrangement work in Vermont? UVM's board of trustees set up a work group earlier this year to examine just that: the possibility of a merger between the state university and VLS. After two closed-door meetings, it reached a conclusion. UVM spokesman Enrique Corredera sent an email statement saying the group had determined it made "good sense" to pursue mutual programs — like the existing joint master's and law degree with UVM's Rubenstein School of Environment and Natural Resources, and the 3 + 2 program.
But the merger idea didn't get sufficient traction. Corredera wrote, "After examining the organizational complexities involved, the strategic priorities of the university, and the very challenging and evolving nature of legal education and the legal profession at this time in the U.S., the work group determined that this issue should not be pursued at this time."
The work group disbanded in June.
Buxton said she was disappointed that the conversations between VLS and UVM stalled. A former UVM trustee, she resigned from the board because of a potential conflict of interest.
But it's generally viewed as good news for South Royalton, for which VLS is a major economic driver. Mihaly says the school pours "something like $28 million a year in direct costs into the economy of this region."
"If UVM should have taken over, and decided to have just one campus, that would have been a big hole in the town of Royalton," said Larry Trottier, the chair of the town's selectboard.
Current students, too, weren't generally enthused about the idea. Many are fiercely loyal to South Royalton; they know the postmaster and the people who work at the local co-op. And they worry that even if a partnership didn't mean a geographic move for VLS, the additional bureaucracy of a larger parent institution might change the character of their school.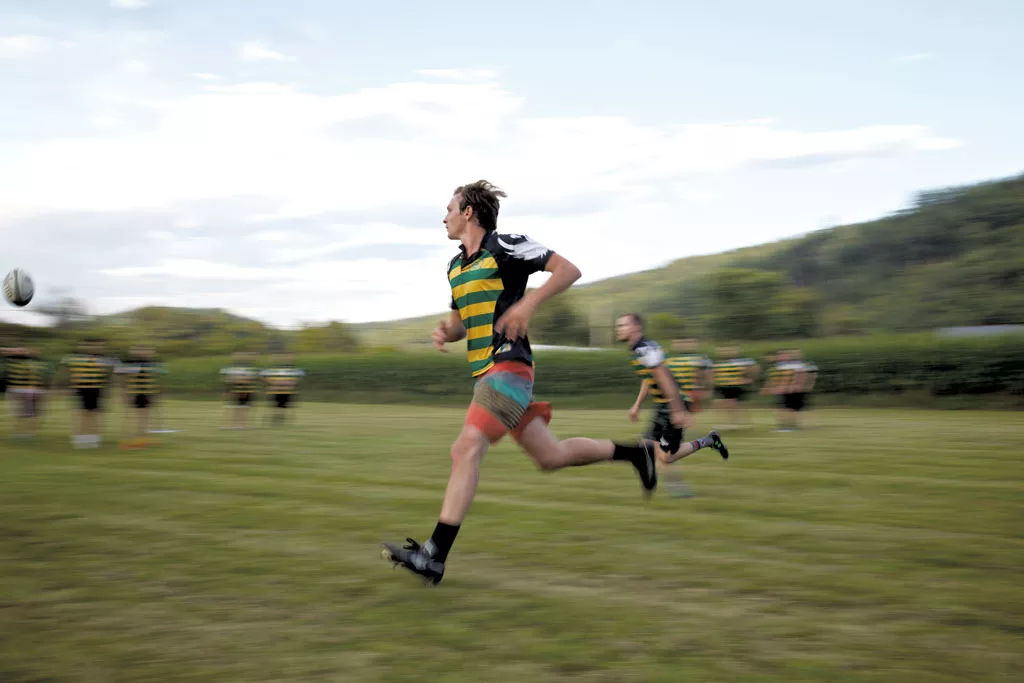 Ben Deflorio
VLS rugby practice
"You're not a number here," said Shanna Bailey, a second-year student and the president of the Student Bar Association. "You can walk into the dean's office and say, 'I need to talk to you right now,' and I fear losing that."
Ashlee Stetser, a third-year student and a student representative on the board of trustees, sees it differently. "It seems like a natural synergy to link the schools," she said. "It doesn't have to be all or nothing." If there were a "hypothetical merger," she told her fellow students, it would be "at least five years" before any major changes came down the pike at VLS.
A closer relationship isn't necessarily off the table, say officials at VLS. Mihaly points to the existing partnerships — like the 3+2 program — as examples of what works best when it comes to linking the schools.
"Our view here is that a partnership between UVM and us really makes sense on a lot of levels," said Mihaly. But a partnership looks a lot different than a merger, he cautioned. "There aren't plans for us to merge, to formally affiliate, to move anything. We're here. We're us. We're independent. But we like this relationship a lot."
VLS Ventures
VLS has made some recent strides toward sustainability, but it can't afford to let up. That's the advice from the Parthenon Group, independent consultants who scrutinized the law school's financial position and compiled a confidential report for the board of trustees. (Seven Days obtained a copy of the report via a public records request to the Vermont Educational and Health Buildings Finance Agency, the state agency that orchestrated VLS's bond with TD Bank; Mihaly said the group was just one of a few consultants the school has engaged in recent years.)
The Parthenon Group recommended VLS take a balanced approach to cutting costs and generating revenue — making "deep cuts" to faculty (axing seven positions) and renegotiating the school's distance-learning contract, while also hosting corporate training events and summer pre-law immersion programs for would-be law students. The strategy called for increasing the entering class to 140 students — a target VLS exceeded this year by six students.
Parthenon suggests that VLS consider partnering with a notable environmental organization — for instance, the Environmental Law Institute or the Environmental Protection Agency, a move the consultant predicts could prompt a 5 percent increase in class size. The consultant also recommends starting a one- or two-week corporate training program designed for environmental executives who need to stay up-to-date on legal and policy matters in their field. VLS would bring that expertise to the table; the execs (or their employers) would supply the cash.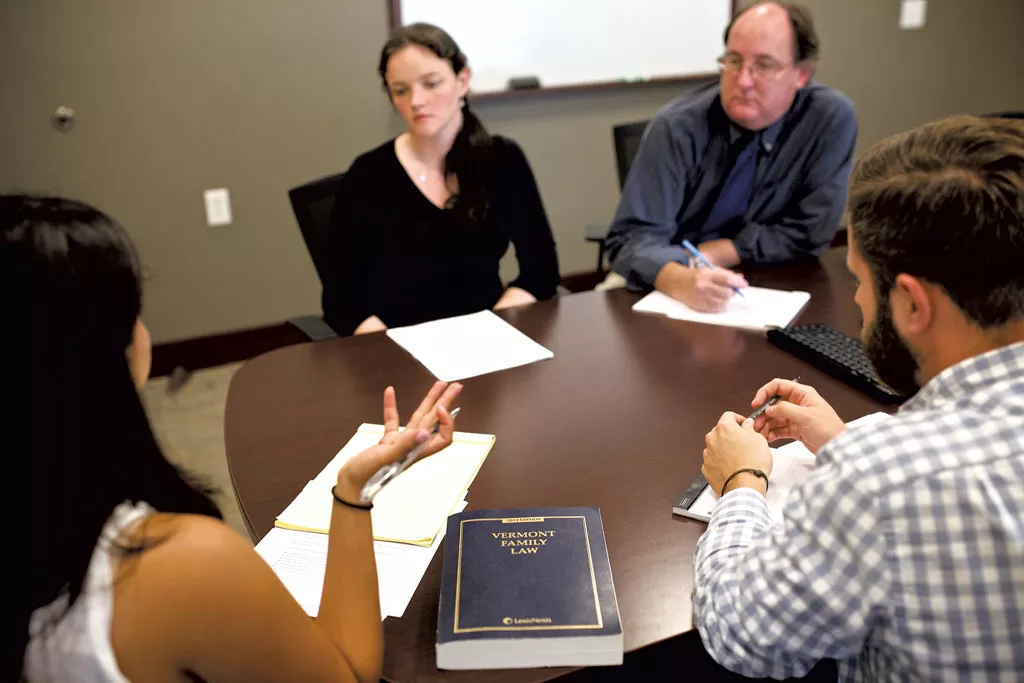 Alex Banks workswith students
Additionally, Parthenon recommends VLS create a distinct, for-profit partner organization — VLS Ventures — that would allow the school to invest in spin-off business endeavors. It's a model that other schools have adopted — for instance, the for-profit subsidiary Drexel eLearning of Drexel University, and Middlebury Interactive Languages, an independent LLC that incorporates Middlebury College language course content.
VLS is already an entrepreneurial-minded institution. "We're almost in the vein of a startup," said Melissa Scanlan, the director of the Environmental Law Center.
And independent of the Parthenon report, it's already been cutting and spending. "At the very same time that you're getting smaller, you need to invest," said Mihaly.
Many of the most recent investments have been in recruitment. John Miller, the new assistant dean of admissions, took the reins in his office about a year ago. He borrowed some of the strategies of successful undergraduate admissions offices that, unlike law schools, are more accustomed to fighting for students.
"Law schools have never had to work for it," said Miller. That's changing. "The millennials need a little more hand-holding," said Miller.
So the department added staff and increased phone and face time with applicants and potential students. The school revamped its website. VLS started partially subsidizing trips to campus and ramped up the number of events throughout the year targeting prospective students. They took visitors apple picking, and shipped out maple syrup to students who decided to attend. The school also instituted a formal system for applying for need-based scholarships — something law schools traditionally haven't awarded.
Apparently, it's paying off. The school's yield numbers — meaning, the percent of those accepted who actually said yes to VLS — jumped from 20 to 29 percent this fall. Applications were down 11 percent from the year before, but the school was able to be more selective, accepting 72 percent of applicants versus 80 the year before.
Another investment: VLS hired KSE Partners in January to lobby on the law school's behalf in Montpelier. "I want us to have a higher profile in Vermont," said Mihaly. "I want Vermonters to know that we have this little gem in South Royalton."
VLS is also aggressively pursuing non-tuition sources of revenue. Several programs — including the Institute for Energy and the Environment and the relatively new Center for Agriculture and Food Systems — are entirely or substantially funded by grants.
A River Runs Through It
Neither Carpenter nor Hubbard was sweating the future of VLS over coffee at the Barristers Bookshop. Nearby, some law students peered at laptops and others chatted with professors, of which there are fewer at VLS this fall. In late 2012, 10 staff members took buyouts, and VLS laid off two more. Nine faculty members took subsequent buyouts in 2013.
Faculty and staff claim the losses haven't adversely affected the school's academic programs. "We've been relatively lucky," said vice dean of faculty Jackie Gardina, noting that a few of the professors who took voluntary buyouts stayed connected to the school and continue to teach on a part-time basis. In other instances, the school has cut the number of sections for a given course but managed to keep various class offerings on the books.
There were no complaints from the students gathered at a picnic table under bluebird skies — about either the quality or the price of the education they're getting at VLS.
"I know how much debt I'm getting myself into," said third-year student Jeremy Walker, who is paying $46,110 to go to VLS this year, the same as last year. "You sort of resign yourself to the debt," agreed his classmate Stetser.
They pointed to VLS law clinics, where students get hands-on experience working on real-world legal cases, as a major advantage. Theirs isn't the purely theoretical law education for which many law schools have been criticized in recent years, they said. Students at Ruley's Environmental and Natural Resources Law Clinic are managing a docket of roughly a dozen active cases.
They helped the city of Portland, Me., draft an ordinance to prohibit the shipment of Canadian tar sands through their port — and stand at the ready to help the city defend a likely lawsuit against the ban. They advised Vermont legislators on the hotly debated GMO labeling law and are assisting the state in its defense of that legislation.
Nearby, at the South Royalton Legal Clinic, students help local Vermonters at or near the poverty line with matters such as bankruptcy cases, unemployment compensation, family and probate court proceedings, and legal services for veterans.
VLS students talked up the feel-good stuff, too. Unlike many law schools, they said, VLS isn't overly competitive. Students share notes, and grab beers at the Worthy Burger after class.
And it sure doesn't seem like they view the rural setting as a negative.
Nearby, a student dozed in a hammock. A passerby asked about an upcoming rugby practice. Other schools had more impressive auditoriums, or a "new, modern university feel," Carpenter recalled of his law-school search. But, he pointed out, "there was no White River," referring to the winding waterway that flows through the village of South Royalton and the campus of Vermont's do-good, go-it-alone law school.
"I don't think you could study law in a more perfect place."
Correction, 9/11/14: An earlier version of this story incorrectly stated the year the law school was founded, and also gave an incorrect title for John Miller.