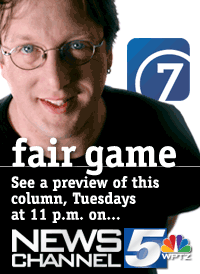 When Gov. Peter Shumlin signed into law changes to Vermont's public-records law — making it easier for citizens to see the inner workings of state government — he said his administration's role was to "take care of Vermonters, not hide things from Vermonters," and to create a "transparent, open government that lets people know what we're doing and why we're doing it."
Sounds great, right?
The gov may need to repeat that quote to some of his appointees, particularly the folks at the Agency of Natural Resources — an agency led by former Secretary of State Deb Markowitz, whose previous job was to oversee the state's public-records law.
ANR is refusing to release more than 500 emails, and countless other documents, that the agency exchanged with Green Mountain Power between January and July.
ANR staff claim the records must be kept secret because the documents pertain to a mitigation agreement between ANR and GMP that is part of an ongoing legal proceeding. The February agreement spells out how much land GMP must buy and conserve to offset the environmental impact of its 21-turbine wind project on Lowell Mountain.
ANR general counsel Jon Groveman and Shumlin's chief legal counsel Beth Robinson argue that since the agreement is being reviewed before the quasijudicial Public Service Board, and any decisions could be appealed, it's too soon to go public.
"Until the appeal period runs, we view the matter as being in litigation," Robinson explained. Once any legal proceedings are over, Groveman and Robinson say the emails and other correspondence will likely be released.
How convenient. By the time the appeals process runs out, all 21 turbines could be up and running.
For now, ANR and Shumlin's office are offering very few emails about the deal — and have rejected a request to release more than a dozen emails between Robert Dostis, GMP's external affairs manager, and several key Shumlin aides, from the weeks leading up to the February agreement.
Dostis told "Fair Game" he first reached out to Shumlin's Secretary of Civil and Military Affairs, Alex MacLean, in January to set up a meeting between ANR Secretary Markowitz and top GMP officials — including GMP CEO Mary Powell.
"This was just our attempt to get everyone in the same room and for us to ask, 'What do we need to do to get your approval?'" said Dostis. "The real details of the agreement happened at the staff level. However, I wasn't directly involved in those negotiations."
Since Dostis wasn't involved, you'd think Team Shumlin would release their communications with the administration, right? Wrong. Emails between Dostis and MacLean, and Dostis and Groveman, have been deemed off limits.
Asked for a complete list of the confidential records, Groveman said ANR would charge as much as $1200 for the goods.
Didn't realize freedom of information could be so pricey.
Annette Smith, of Vermonters for a Clean Environment, received a comparable price quote. Smith has wrangled more embarrassing public documents from regulators in her day than have most full-time Vermont journalists.
"I'm appalled. I've been doing this for 12 years and I've never seen anything like this — we've never been [refused] information about agreements and permits before," said Smith. "ANR is acting as though GMP is their client — or vice versa. It's hard to tell just who is representing whom. But they certainly don't seem to be representing the public."
No Laws Were Broken
Outgoing University of Vermont president Dan Fogel and his wife, Rachel Kahn-Fogel, made personnel decisions that created a "an environment negatively affecting morale." Kahn-Fogel's relationship with a top UVM administrator was "inappropriate and imprudent."
Those are the major findings of the university's internal investigation, prompted originally by a Seven Days records request that called public attention to the relationship between Kahn-Fogel and Michael Schultz, associate vice president of development. When that story broke in May, UVM immediately removed Kahn-Fogel from her duties, including in the fundraising office.
The UVM review determined that Kahn-Fogel didn't break any university policies or state laws. It also revealed that no policies were in place at UVM to govern either Kahn-Fogel's "job" or her interactions with staff.
"I want to express both my regret that this situation was allowed to continue for as long as it did, and my confidence that we will effectively address these types of issues going forward," said UVM Board of Trustees chairman Rob Cioffi.
Cioffi admitted that some board members likely knew of strife between Kahn-Fogel and some staff.
"I don't think the board was completely unaware. People may have been aware of individual pieces of this, but it took this internal review to show the overall picture," he said.
Cioffi admitted employees left UVM as a result of the bad morale, but declined to say how many, or how much the university forked over in severance pay to keep the departures quiet and lawsuit free.
UVM did announce last week that Schultz will be paid his $155,000 salary through the end of 2012, and that his three kids can attend the university tuition free. UVM also agreed to pay up to $15,000 to Schultz's attorney, Burlington lawyer Richard Cassidy.
In return, Schultz agreed not to sue the university — you know, for not breaking any laws or violating his rights.
Rehabilitating Reputation
While Gov. Peter Shumlin urged outgoing president Dan Fogel to rehab his reputation with Vermonters, UVM was shelling out more cash to renovate Fogel's new office, in the Old Mill building. So far, UVM has spent $5200 on:
• $1882 to purchase and install shelves
• $1388 for movers
• $699 for a chair
• $683 to remove old/install new carpeting
• $247 for a printer
• $170 for a two-drawer filing cabinet
• $130 for cleaning and recycling
Almost $700 for one chair? Sheesh, hasn't UVM ever heard of IKEA?
Musical Legislative Chairs
Five Democrats are vying for Burlington Rep. Mark Larson's recently vacated House seat after Gov. Shumlin appointed the five-term lawmaker commissioner of the Department of Vermont Health Access.
The five are: former Ward 7 city councilors Jean O'Sullivan and Carmen George, current Ward 2 councilor David Berezniak, Kate Neubauer and David Lines.
Neubauer is executive director of the Lake Champlain Community Sailing Center. She starred in a pro-choice campaign ad for Shumlin.
Lines, former co-owner of the Oasis Diner, lobbied on health care issues for the Vermont Public Interest Research Group in the 1990s. "I think I have a pretty good background as a small business owner who is engaged on health care issues," said Lines.
"I absolutely would love the job," said O'Sullivan. "I've run, and won, four times in this part of the city and served on the city council."
George, who is the communications and development coordinator at Burlington College, served one two-year term on the city council.
"We have a dynamic governor dedicated to job creation and I want to support his efforts to provide financial security for Vermont families," said George.
Democrats who live in the legislative district will caucus in mid-September. They'll pick three people, and the governor will appoint one of them as Larson's successor.
Miro Who for Mayor?
Chittenden County State's Attorney T.J. Donovan has decided not to run for mayor of the Queen City. That has opened the door for at least one more Democrat to join the field: airport commissioner Miro Weinberger.
Weinberger, 41, is not exactly a household name in Burlington, but he's no stranger to Vermont Democrats or state politics.
Born in Hartland, Weinberger worked for U.S. Sen. Patrick Leahy (D-VT) while he earned his BA in environmental science at Yale. He got a master's in urban planning at Harvard's Kennedy School of Government. In 1996 Weinberger worked as the state senate campaign coordinator — with then-Senate Minority Leader Peter Shumlin — to flip the senate from a 19-11 GOP majority to an 18-12 Democratic majority. He chaired the Chittenden County Democratic Party in 2004 when the party picked up six House seats to gain control of the body.
Does he have what it takes to put the Dems back in control of City Hall?
Weinberger said he'll make a final decision within a few weeks. "Clearly I'm not well known throughout he city and would have to start relatively early," said Weinberger. "As I see it, the job is in large part a mix of financial, economic development and entrepreneurial skills. Given what we have seen over the past six years, it's painfully obvious what happens when you have a mayor who doesn't have those skills, and I don't think Burlington can make that mistake again."
Weinberger runs a community development and consulting firm — the Burlington-based Hartland Group.
Only one candidate — Democrat State Rep. Jason Lorber — has officially entered the race. He was recently spotted sauntering with former Gov. Howard Dean in Burlington's Old North End.
Is Dean supporting Lorber? "I am neutral," the gov told "Fair Game." "I will be happy to talk to any potential candidate."
Republican councilor Kurt Wright — a two-time loser in the mayoral race — said he'll announce soon whether he's in or out.
"I've been talking to supporters and people who have supported me in the past to determine if they are still backing me," said Wright. "I just began doing that in the past two weeks."
Other candidates mulling a run include State Sen. Tim Ashe (D/P-Chittenden) and incumbent Progressive Mayor Bob Kiss.