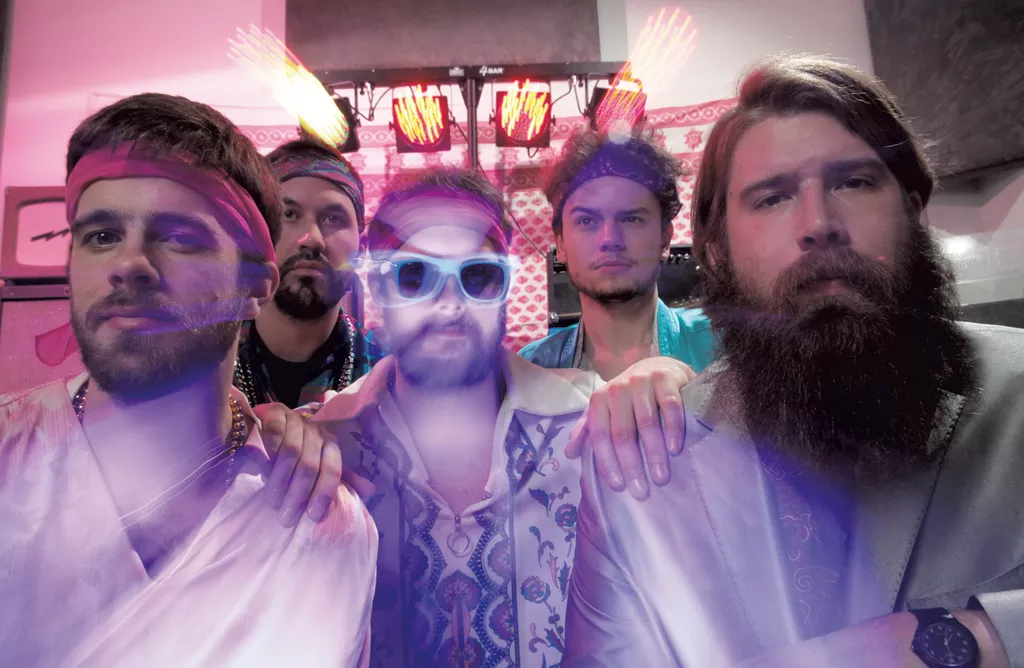 Matthew Thorsen
Madaila
Mark Daly's shirt is a little disappointing. There's nothing wrong with it, exactly. The muted gray cotton Henley is stylish enough, with blue sleeves pushed up to reveal a modest forearm tattoo. It's just kind of drab, is all, at least compared to the getup you might expect from the flamboyant and often garishly attired Madaila front man. But in his civvies, Daly is wholly unassuming. Seated in the shadows of a dimly lit booth, he's easy to overlook in a bustling Burlington coffee shop — and I almost do, nearly walking right past him. Here he's just another bearded twentysomething with thick-rimmed glasses, huddled over a notebook sipping fair-trade coffee.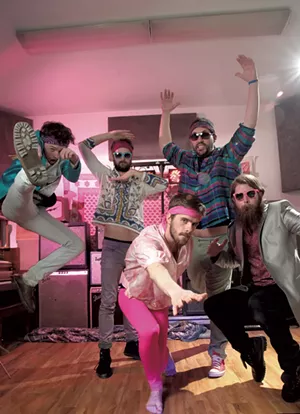 Matthew Thorsen
Madaila
Onstage, though, Daly is a dynamo, a whirling dervish of neon Spandex and goofy dance moves. Backed by his powerhouse Burlington pop band and typically sporting the loud, confetti-blasted blazer that has become a signature, the man is almost a caricature — or, at the very least, a character.
"When I first started this I was trying to be Tat Fader, who was this character I'd made up," reveals Daly, a wry grin creasing the corner of his mouth. "For a while I thought I'd be Tat Fader and not Mark Daly. But then the two sort of intersected and I didn't have to play a part all of the time. Which is good, because I imagine that could get tiresome."
Depending upon your taste for high-strung rock-and-roll theatrics, Daly's stagecraft could be seen simply as gleeful showmanship or an example of post-hipster irony gone awry. It may be a little of both. But there's another, equally likely possibility: The man seen bounding across local stages like the love child of Barry Gibb, Ziggy Stardust and a Flashdance extra is Mark Daly distilled to his essence.
"When you strip it down, it's really just me," he says.
Live, Madaila are composed of Daly and Burlington scene veterans Jer Coons, Eric Maier, Dan Ryan and Willoughby Morse, and often "extended family members" Haley Ahearn and Josh Weinstein. Each will be onstage — in all likelihood bedecked in headbands and neon Spandex — for "The Dance," the band's blowout release party for its debut record, also called The Dance, at Burlington's City Hall Auditorium this Friday. But the album, for the most part, really is just Daly.
Coons and Maier, the cofounders of Future Fields, the local label/recording studio that is releasing The Dance, engineered and produced the record. And each contributed some minimal degree of instrumental help. For example, Coons, who also performs with songwriter Caroline Rose and, along with Maier and rapper Learic, is in the hip-hop band the Precepts, plays exactly one note on the record. "But he played it really well!" says Maier.
Otherwise, every smooth, Miguel-like melodic turn, every pulverizing Arcade Fire percussion breakdown, every snarling guitar solo, synth orchestration and chorus of voices (see: Prince, Radiohead, Fleet Foxes, respectively) is conceived of and executed by Daly. And despite an array of influences as colorful as his amazing Technicolor dream coat, it's all designed for a singular purpose. Daly lays it bare with a statement of intent on the first line of the album's first song, "International Lover."
"I'm here to make you moooooove," exhorts Daly over a swelling crush of beats both organic and synthetic. It's not the last time on the album his multilayered falsetto bears an eerie resemblance to Bon Iver's Justin Vernon. But the upbeat sentiment and danceable feel is more in line with another of Daly's influences: Justin Timberlake.
MADAILA - "Give Me All Your Love" - (Official Music Video) from Hammer & Saw Films on Vimeo.
"I love JT," says Daly, beaming. But that's an admiration he was previously unable to indulge, at least through his own music.
Daly, 28, was formerly the lead singer of the Vermont indie-rock band Chamberlin. In 2011 that band ranked among the state's few nationally known commodities, thanks in part to its association with Grace Potter & the Nocturnals. GPN guitarist Scott Tournet produced the group's debut, Bitter Blood, which was recorded in a remote Vermont cabin. He also brought Chamberlin on tour with GPN.
Before hardly anyone in the Green Mountains knew who they were, Chamberlin were playing to thousands at major venues such as the Fillmore in San Francisco. But the band's overnight success was a case of too much too soon. Almost as quickly as they ascended, Chamberlin fell apart. By late 2012, they had broken up.
"Who knows if it would have been better to lead up to all of that?" wonders Daly of Chamberlin's rapid rise and fall. "It started out so surreal and amazing, then harsh realities hit us."
In the aftermath of the breakup, Daly retreated again to a remote Vermont cabin — this one, coincidentally, just down the road from the Chamberlin cabin. He holed up for a month to write his way through his emotions. The session proved therapeutic, even though he never released the album he wrote.
Daly then lived for a short while with his dad in his hometown, Middlebury, which he calls a "strange transitional period." That's true beyond the Beautiful Girls-like nature of grudgingly going home. He began to transition musically, too, experimenting with many of the same danceable electronic elements that now characterize Madaila.
"Through all the vulnerability and uncertainty came the freedom to explore," Daly explains. "I was purely writing for myself, which felt really cool."
"He's always had a freakish knack for visualizing something and bringing it to life," says Maier of Daly. Maier, who was also a member of Chamberlin, grew up with Daly in Middlebury. The two were bandmates in a high school group called Pale Moon — a "classic Vermont jam band" named, says Daly, for its members' tendency to moon unsuspecting Middlebury College students. Maier says Daly has always had a certain, ahem, cheekiness about him. But with Madaila, he's truly explored that trait, musically speaking.
"This feels like the music he was designed to make," continues Maier. "Chamberlin was really cool music, but there was always a tension between who he was as a person and the themes of the music."
Where his writing with Chamberlin was often moody and downcast, Daly's new stuff had a markedly lighter, buoyant feel.
"I was using the material to lift me up and out of that rut," Daly says. "And it worked."
In early 2014, Daly reemerged as Plato Ears, a mostly solo act in which he — or maybe Tat Fader — played guitar and sang and pranced around in gaudy outfits over prerecorded beats.
"It was definitely goofy," says Daly. "But I was like, 'Screw it. I'm just gonna be myself and have fun.'"
"Mark's a unique person," says Maier. "He's super upbeat. The theme of this music is so celebratory and up, which matches who he is as a person more than anything else he's made."
Plato Ears was goofy. But it was also a critical coming out for Daly. As importantly, it set the table for Madaila ... eventually.
In August 2014, Daly unveiled DALY, a full-band version of Plato Ears, at Burlington music festival the Precipice. In short: They killed it. Following a bombastic set, DALY were the stars of the festival and instantly became one of the Queen City's buzziest bands. Then, during a successful October residency at Nectar's, DALY learned of Daley, a British singer who, weirdly enough, also specializes in falsetto R&B-flecked indie-pop. Ceding to the time-honored showbiz rule of "The band that's done singles with Gorillaz wins," and wanting to avoid confusion around their impending debut album, DALY became Madaila.
"It's obviously a play on my name," says Daly of the latest — and hopefully last —moniker. "But it doesn't really mean anything. To me, Madaila just sounds like a flower."
As spring approaches, and with a dynamic record and touring plans in hand, it seems Mark Daly and Madaila are ready to bloom.