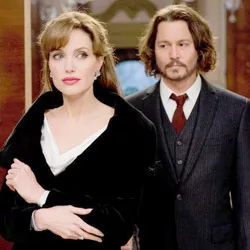 KOHL TRUTH Jolie appears to have bought out all the eyeliner in Venice in this romantic thriller.
What a pity that the folks at Smoke Free Movies — who ferociously campaign against nonnegative depictions of smoking by Hollywood — don't seem to have seen The Tourist yet. When the film introduces us to Johnny Depp's character, a mild-mannered Wisconsin math professor named Frank Tupelo, he's puffing on an electronic cigarette. The prof eagerly explains the smoke-free tobacco-delivery contraption to his seatmate on a train to Venice, who just happens to be the ridiculously glamorous Elise Clifton-Ward (Angelina Jolie).
Her response? An arched brow and a sultry "I like a man who does exactly as he pleases." An hour deeper into the film, Frank tosses his e-cigs and lights up a real cancer stick with a look of dark satisfaction. The message: Can you really see Cary Grant using an inhaler?
With apologies to the antismoking advocates and their allies at the Centers for Disease Control and Prevention, I must say this is one of the most authentic moments in The Tourist. For the most part, the film bears less resemblance to the vintage international-intrigue movies it tries to imitate than, well, an e-cigarette does to a Gitanes.
Set amid the canals and palazzi of Venice, The Tourist is handsome, but it's an unthrilling thriller and only a middling caper. That's a surprise coming from director Florian Henckel von Donnersmarck, who won international acclaim for his genuinely unsettling The Lives of Others, and his coscreenwriters Christopher McQuarrie (The Usual Suspects) and Julian Fellowes (Gosford Park).
What went wrong? Well, for one thing, the central pairing looks like an interspecies romance. Elise gives Frank her attentions at the behest of her mysterious ex-lover, a gentleman thief, who asks her to take up with the innocent tourist in an effort to get Scotland Yard (personified by agent Paul Bettany) off his trail.
But makeup artists have done things to the already surreally gorgeous Jolie that make her resemble a live-action version of the Na'vi in Avatar. (People don't have eyes that size.) Her performance style is just as big and broad in the femme fatale mode, while Depp, rumpled and crow's footed, seems to be Method acting. Watching them interact is kind of fascinating, but sexy? No.
It doesn't help that our pedigreed screenwriters have failed to provide much in the way of sparkling, sophisticated dialogue. If you've seen the trailer, you've seen the best bits.
Perhaps a deeper problem lies with the film's failure to give viewers someone to root for. We start out following the detectives, who are bumblers at best. Bettany has already spent millions of pounds seeking his quarry and has no problem sacrificing bystanders in pursuit of Her Majesty's tax revenues. As for Elise, she's as cryptic to us as she is to Frank. And nebbishy Frank, who would normally be the viewer's stand-in ... well, let's just say the movie is twisty. But to no very exciting ends.
It's a shame, because the borderline-ludicrous plot — based on French thriller Anthony Zimmer — has the potential for fun psychodrama. If you want a recent film that features irreverent intrigue and good actor chemistry in breathtaking European locations, I suggest The Brothers Bloom (on the caper side) or the not-enough-seen In Bruges (on the thriller side). Too bad the makers of The Tourist wasted their naughty impulses on giving Johnny Depp a cigarette.