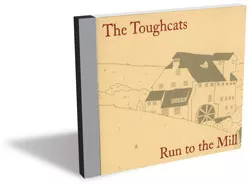 (Self-released, CD)
I would like to propose that we adopt The Toughcats as honorary Vermonters. First, they play the Green Mountain State fairly regularly. In fact, they were something of a staple at the late, great Middle Earth Music Hall in the Shire, er, Bradford, before it closed its doors two years ago. They have since made Burlington and Montpelier regular stops on their touring itinerary. You may have even seen them playing on Church Street a time or two. At least, before they were booted from the pedestrian mall for busking without a license — a Vermont musician's right of passage if ever there was one. But more than that, the rootsy trio from Fox Islands, Maine. simply sounds like they belong here. For proof, look no further than their recently released sophomore album, Run to the Mill.
The disc begins with "Honk Town," a jaunty little banjo-fueled rag that ably introduces the group's inviting, back-porch appeal.
Mid-tempo acoustic rocker "Sunlight" is next. Vocalists Jacob Greenlaw and Joseph Nelson harmonize nicely over a driving guitar groove and Colin Gulley's rippling banjo. Throughout the record, Gulley's instrumental work is among The Toughcats' calling cards. He is an obviously talented player. And on this tune as elsewhere, his crackling lines are tastefully restrained.
"Bluegoose" showcases the band's collective chops. Where previous songs exhibit an appropriate degree of casual looseness, here the trio is in toe-tapping, finger-picking lockstep, with Nelson and Gulley trading nifty bluegrass licks. The half-time breakdown toward the instrumental's conclusion is especially impressive.
A swinging version of the gypsy-jazz standard "Dinah" is next, highlighted by some truly searing guitar work from Nelson.
"Happy Day" represents the group's finest overall composition, bearing elements of the preceding gypsy-tinged fare as well as a clear pop sensitivity. It's an intriguing combination.
The instrumental "Joshua Chamberlain" almost steers the album into heady prog-grass territory. While The Toughcats can certainly impress with rootsy instrumental prowess, they're at their best when Nelson and Greenlaw indulge their pop proclivities. There is no better example than "In the Middle," which paints the group as a sort of North Country answer to The Avett Brothers.
"Mill Song" provides a nice interlude prior to the album's conclusion. Both "Harlet Marie" and "Somebody Old" reveal The Toughcats as inventive and unique songwriters.
Catch honorary Vermonters The Toughcats at Montpelier alt-venue The Lamb Abbey this Friday with another pseudo-local favorite, Rusty Belle.