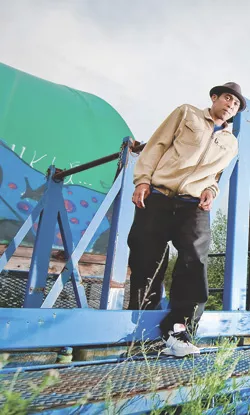 With another calendar about to close, it's time once again to look back and reflect on the year in local music.
2013 got off to a disturbing start as we learned in January that longtime area DJ Andy Williams, aka DJ A-Dog, had been diagnosed with leukemia. A slew of benefit shows followed in an effort to offset the astronomical cost of treatment as Williams — like so many musicians, especially pre-Obamacare — did not have adequate health insurance.
His recovery in the months since has been turbulent. Williams received a bone marrow transplant, which itself was something of a miracle, given the difficulty of finding a multiethnic genetic match. But following the procedure, he has experienced several setbacks, some life threatening, including pneumonia and bacterial infection. Williams is currently undergoing treatment in Boston, where he and girlfriend Josie Sourdiffe keep the DJ's legion of fans and friends posted on Facebook. No word yet on when Williams might be healthy enough to man the turntables again. But expect more benefit shows and general support for A-Dog in 2014.
[UPDATE: Andy Williams passed away on December 26. For more on Williams, visit Seven Days' arts blog, Live Culture.]
Also in January, the Montpelier music scene was dealt a blow when the Black Door closed, adding yet another name to the roster of defunct venues in the capital city. However, in February we learned that a new Montpelier club would soon open in the vacated Langdon Street Café space. Sweet Melissa's opened in July, filling a much-needed niche in a vibrant music town.
February saw the end of a grand experiment — and the closure of another nightclub — as Burlington comedy club Levity shuttered its doors after an 18-month run. However, despite the loss of the state's only comedy-specific venue, standup has continued to flourish in Vermont. More on that in a bit.
In March, the documentary film A Band Called Death, by VT expats Mark Covino and Jeff Howlett, about Detroit protopunk band Death, caused quite a stir at SXSW. The film has since seen a nationwide theatrical release and garnered adulation from critics and fans the world over.
In May came the third installment of the Waking Windows festival in Winooski. The two-day event was an unbridled success. Curated by Angioplasty Media, with an assist from MSR Presents, Friends + Family and others, it proved to be a pitch-perfect showcase of local and regional underground talent. Other local festivals may have attracted more marquee star power. But Waking Windows staked its claim as the coolest music fest in the state.
Also in May, the Green Mountain Comedy Festival enjoyed its biggest and best year yet. The five-day laugh riot featured more than 100 local standup and improv comedians at venues in Burlington, Winooski, Montpelier and Vergennes. It also included several professional improv comedy troupes and national standup headliners, the most notable being Todd Barry.
In June, the Burlington Discover Jazz festival celebrated its 30th anniversary with headliners such as Bobby McFerrin, Poncho Sanchez, Gretchen Parlato and Branford Marsalis. Betcha didn't know that Phish and the BDJF were the same age, did you?
Also in June, the local music community was saddened by the sudden death of Mike Deutsch, a terrific musician known for his work with bands such as Black Sea Quartet, Cccome?, Outer Mongolia and, most recently, Space Tiger — the last alongside his son, Aidan Patterson Deustch. At a memorial at Radio Bean — an establishment he almost singlehandedly saved from financial ruin — Deustch was remembered as a wonderful musician and even better friend. We miss you, Meistah.
In July, a pair of seminal 1990s Burlington bands, Guppyboy and Hover, reunited for a show at the Monkey House. Later in the year, Strangefolk and viperHouse, two other beloved local acts from that same era, also got their respective bands back together.
In late July, another local music festival made waves as the second annual Precipice music and arts fest took up residence in the fields behind Burlington College on North Avenue. The three-day fest featured, well, almost every band in the area. Though it didn't quite meet expected attendance goals, it was widely regarded as a unique and special event.
The Art Hop in September was accompanied by the opening of a fantastic new venue on Pine Street, ArtsRiot. In the months since, ArtsRiot has teamed up with the crew from Signal Kitchen and quickly established itself as a marquee performance space.
Also in September, Grace Potter & the Nocturnals, celebrating their 10th anniversary, returned home for their annual end-of-summer blowout, Grand Point North. The two-day, two-stage rock fest at Burlington's Waterfront Park featured some major names, such as Charles Bradley, Shovels & Rope, the Felice Brothers, Gov't Mule and Trombone Shorty. It also presented a strong lineup of local acts, including Alpenglow, the DuPont Brothers, Paper Castles, Kat Wright & the Indomitable Soul Band and Rough Francis, among others.
Finally, one of the strangest stories of the year emerged in October when a city attorney discovered that many of the seemingly draconian blue laws regarding cabaret and special-events licensing at Burlington nightclubs don't actually exist and never did.
As Seven Days' Ken Picard reported, for years local bar owners and the Burlington City Council's liquor committee have essentially been operating under an urban legend: that a bar or restaurant needed a special license to allow dancing or charge a cover at the door for entertainment. But in reevaluating the policy earlier this year, the liquor committee discovered that no such law was on the books on either city or state levels. In July, a single liquor license was created, covering all restaurants, bars and clubs in the city, with no cabaret exceptions whatsoever.
That's a boon to venues such as the recently expanded Skinny Pancake, which can now charge a cover and book bigger acts. However, the current licensing situation is due to be reevaluated by April 2014, when all local watering holes undergo the licensing process again. Stay tuned.
The original print version of this article was headlined "2013 Year in Review"