Illustrations by Tim Newcomb
Welcome to Vermont! Now what do you do? Probably pick up a local publication such as this one and try to figure out what's going on. Good thinking. And you can find plenty more things to do in the calendars of BTV's weekly sister paper, Seven Days, available free on racks throughout the airport and around the state. But, for the most part, you won't find a mention of those summer pastimes that locals consider de rigueur.
That's why we're going to share our top-10 list with you here. It doesn't include everything Vermonters try to squeeze into our short warm months, but it's a fine sample. Now, go out there and do what the natives do.
1. Boating on Lake Champlain
Whether you prefer a sailboat or kayak or paddleboard, going with the float is part of summer's fun. If you're visiting, the Community Sailing Center at the Burlington Waterfront can help you get on the lake in a variety of vessels. In addition to boat and gear rentals, the center offers classes and events for adults, youth and corporate groups.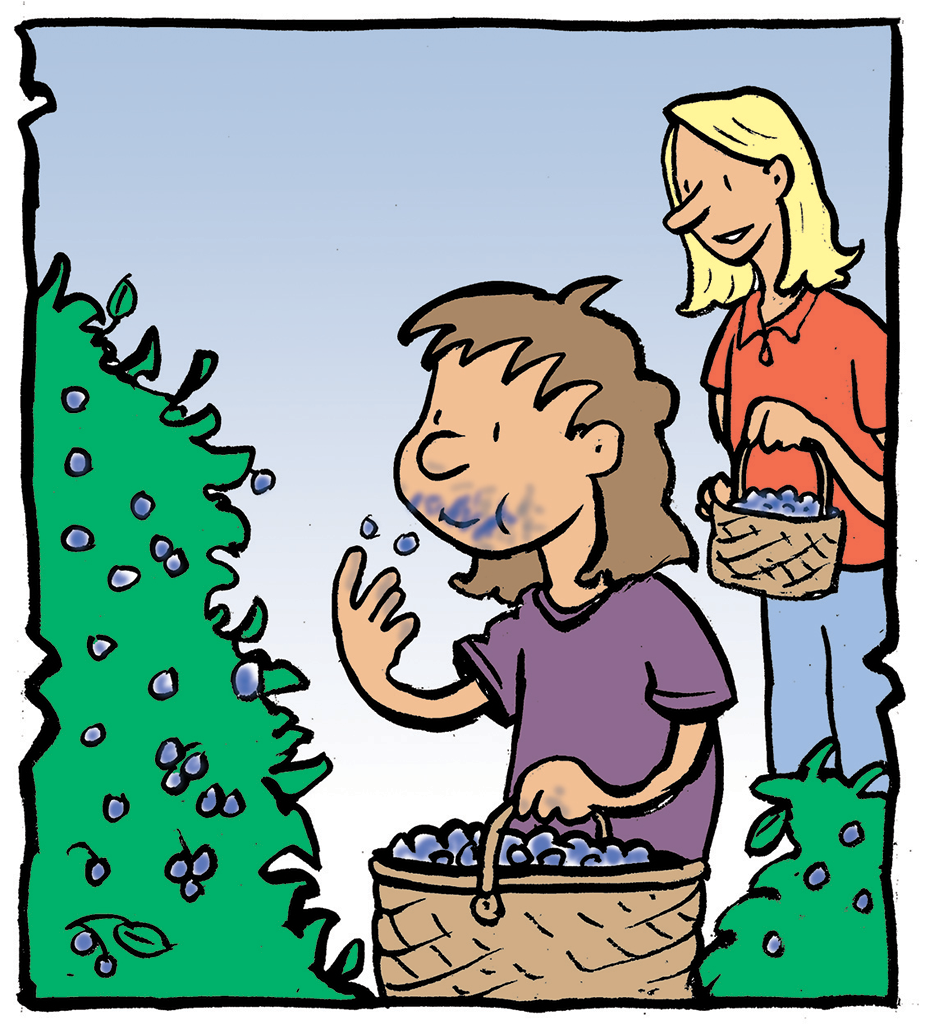 Illustrations by Tim Newcomb
2. Berry picking
Nothing says summer like picking a plump strawberry, popping it into your mouth on the spot and letting the juice run down your chin. Vermont is teeming with pick-your-own farms — including one in Burlington, just a short bike or car ride from downtown: Adam's Berry Farm in the Intervale, which grows organic strawberries, raspberries and blueberries. The Vermont Agency of Agriculture has a complete list of farms and orchards, with maps, on its website. In many places you can also get prepared goodies, such as homemade pies and jars of jam. And some have free, live outdoor concerts weekly during the picking season.
3. Riding the bike paths and trails
There's a whole feature on biking in this issue, but it bears repeating: Two-wheeling it in the summer is the way to go. See page 8 for more info and resources.
4. Swimming in Vermont rivers
Sure, you can jump in the lake to beat the heat, but locals swarm to more out-of-the-way spots where the water runs really cold. Whether you're looking for privacy — skinny-dipping, anyone? — or prefer people-watching, there's a Vermont swimming hole for you. And there's an app to help you find one. More info at swimmingholes.org/vt.html.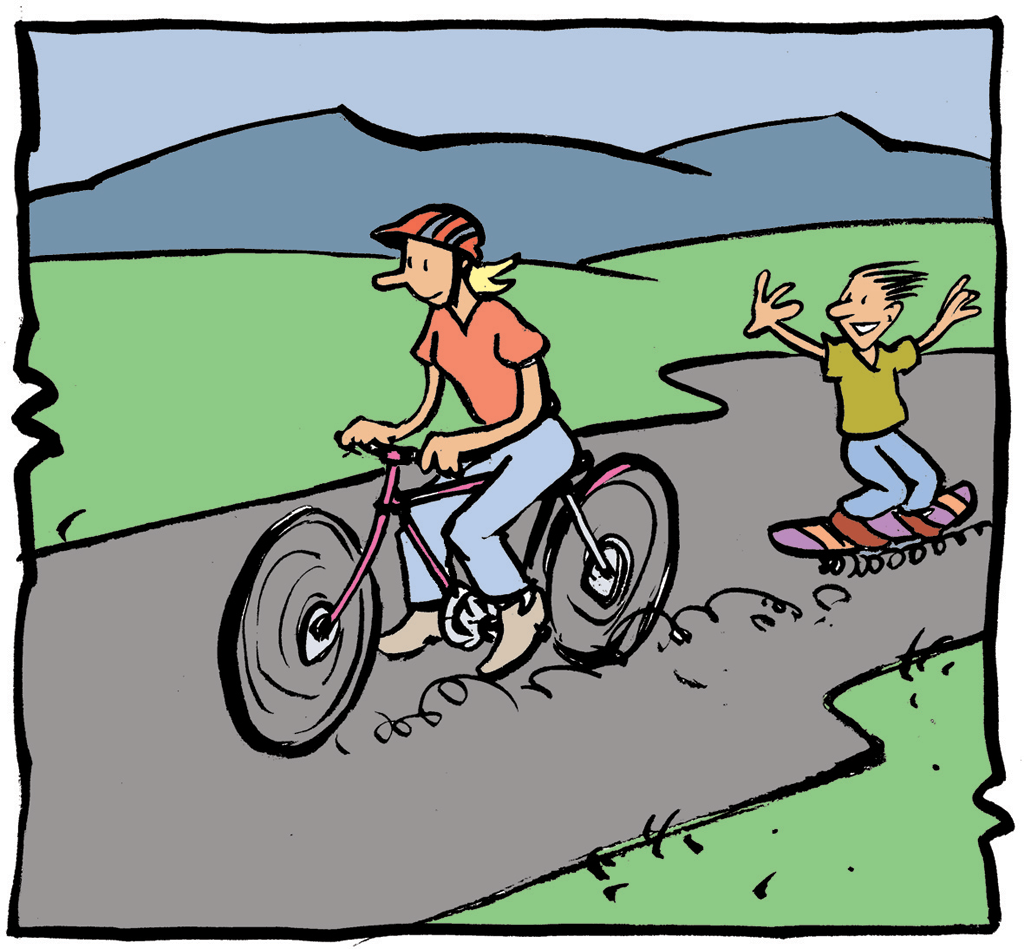 Illustrations by Tim Newcomb
5. Snack bars
Burgers. Chili dogs. Popcorn chicken. Pizza by the slice. Creemees. We travelers sure do like our snack foods, even if "traveling" means riding our bike to Beansie's Bus at Burlington's Battery Park for some French fries. And even if we normally wouldn't think of ordering food from a Fryolater. But in summer, we're more willing to forgive the occasional indulgence, especially if it includes creemees (aka soft-serve ice cream). Don't know where to go? Ask a local, because all Vermonters have their favorites.
6. Camping
Whether you just want to take a walk in the woods, pitch a tent and spend the night, or rent a lodge, Vermont's state parks are great getaways. Some have rivers for canoes or kayaks; others, such as the remote-feeling Burton Island State Park, are right on Lake Champlain. Camping is the best way to get close to nature, while you listen to flowing streams and chattering birds. Just don't forget your mosquito repellant. And, yes, there's an app for this, too: Download Oh, Ranger! VT State Parks, available free at the App Store. More info at vtstateparks.com.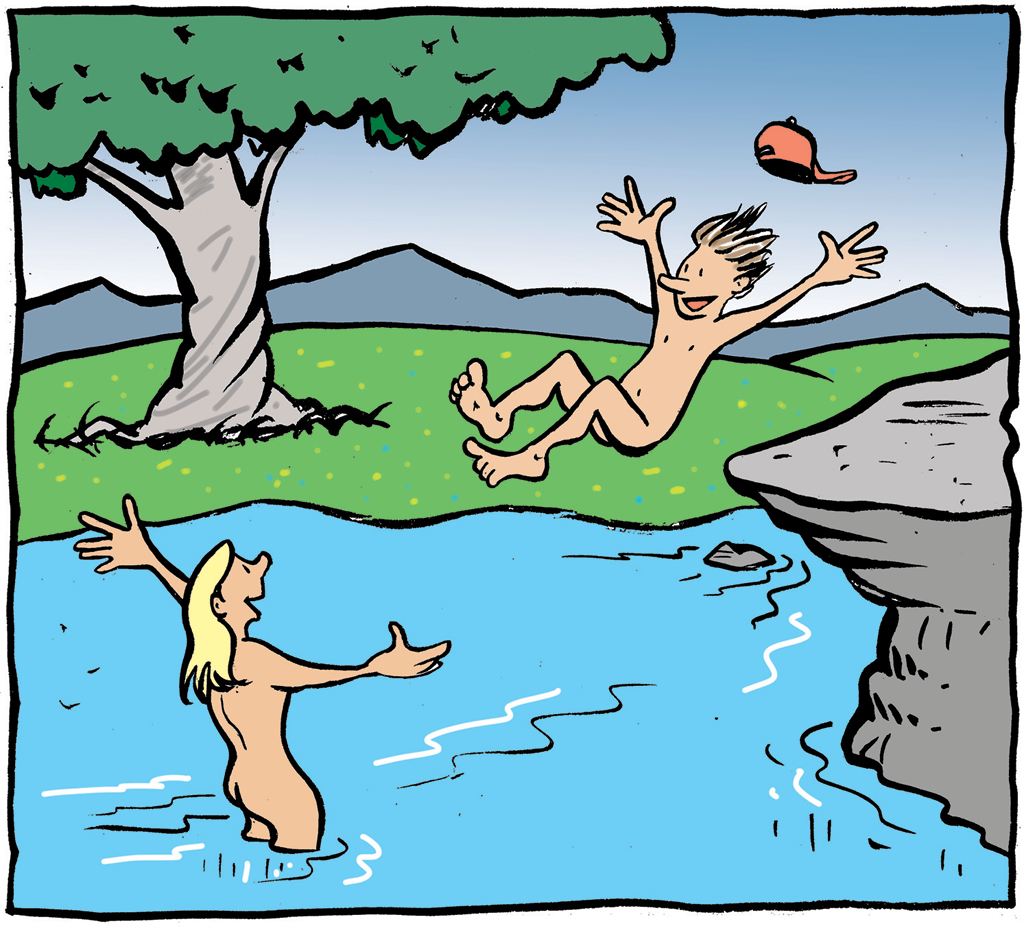 Illustrations by Tim Newcomb
7. Hiking Camel's Hump
Hiking anywhere in the Green Mountains is rewarding, but in northern Vermont, there's just something about the distinctive Camel's Hump, the state's third-highest mountain — at 4083 feet (1244 meters) — and highest undeveloped peak, that beckons. Its hiking trails were among the first cut in the Long Trail system; it can be a great day hike or part of a longer one, and its summit offers stunning views. The Vermont state parks website (see #6) has a section on hiking, or you can find more info at greenmountainclub.org.
8. The Vermont Lake Monsters
Take me out to the ball game... Named for the mythical creature that allegedly lives in Lake Champlain, the Lake Monsters are a minor-league baseball team affiliated with the Oakland Athletics. The team plays every summer at Burlington's Centennial Field and, as far as locals are concerned, they're what American baseball is all about. The vintage field, owned by the University of Vermont, is a local treasure, and fans pour in every game day to root for the home team. Kids of all ages love its mascot Champ — a friendly, neon-green caricature of the mythical underwater serpent. For a season schedule and other info, click here.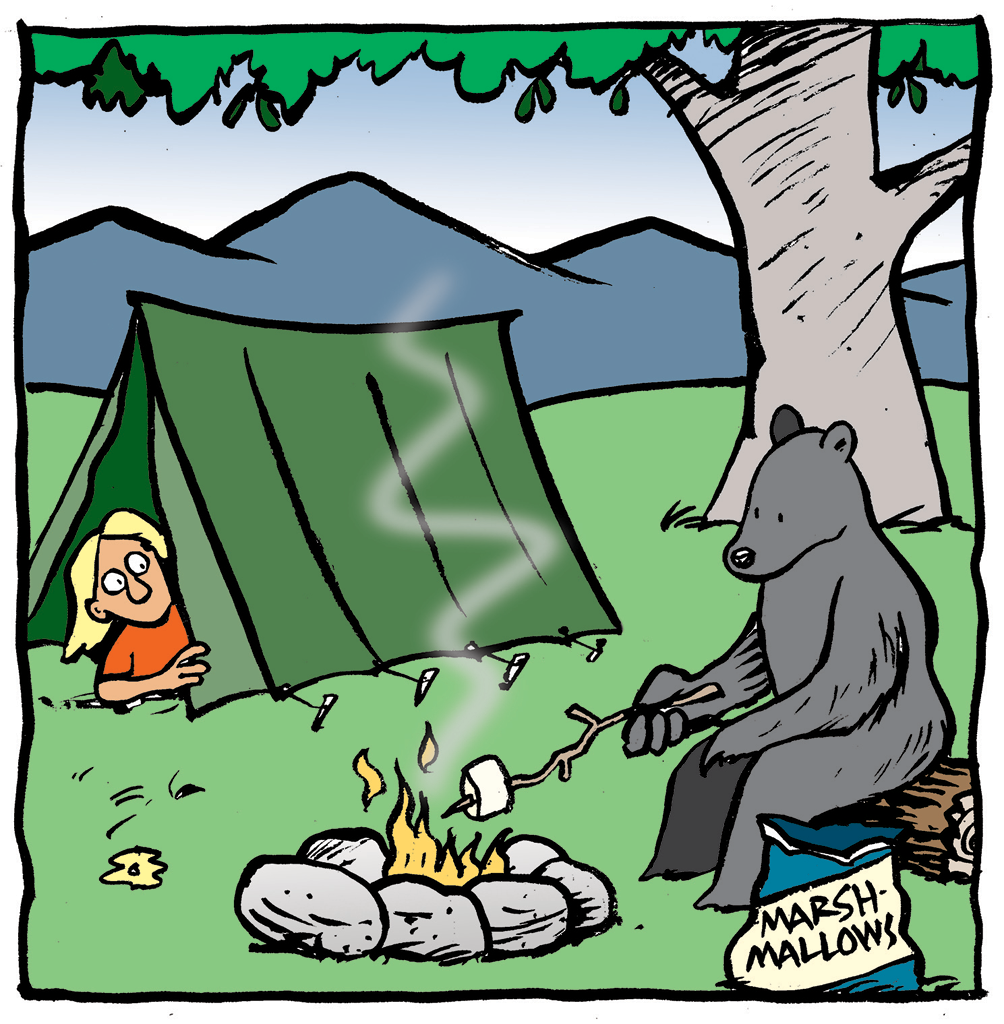 Illustrations by Tim Newcomb
9. Farmers markets
Summer would be a sad affair without a farmers market to stroll through, sampling along the way. This is locavore nirvana and a treat for all the senses, whether you're looking for veggies grown just a few miles away, organic meats, eggs and cheeses, or a fresh bouquet of riotously colored flowers. Every Saturday, 8:30 a.m. to 2 p.m. at City Hall Park, the Burlington Farmers Market offers all this along with plenty of à la carte foods and other Vermont products, such as maple syrup, breads and spirits. Oh, and there's an Artist Market, too, courtesy of Burlington City Arts.
(Traveling throughout Vermont? Find farmers markets all over the state here.
10. Indoor mini tours
It's bound to rain on your parade sometime. Or it's so hot out that you just have to go in. What better time to check out the Burlington area's galleries, museums, craft breweries and chocolate makers? We recommend starting at the University of Vermont's Fleming Museum of Art (uvm.edu/~fleming) to check out the exhibits, then rolling all the way down the hill to the ECHO Lake Aquarium and Science Center (echovermont.org) to visit the critters and learn more about Lake Champlain. By then you'll likely need chocolate, so drive down Pine Street and get a factory tour along with your truffle or ice cream at Lake Champlain Chocolates (lakechamplainchocolates.com). Or, if beer is more your thing, a quick zip down Shelburne Road will take you to the Magic Hat brewery and Artifactory (magichat.net). Then, rain or shine, head back to the Church Street Marketplace for lunch, shopping and more art gawking at the BCA Center. Now you've earned a nap.
Les 10 choses à faire pendant votre séjour à Burlington
Bienvenue au Vermont! Vous vous demandez maintenant ce que vous allez faire? Le mieux est sans doute de prendre une publication locale comme celle-ci et de voir quelles activités sont prévues. C'est une bonne idée, en effet. Vous pouvez aussi trouver toutes sortes de choses à faire dans les calendriers de Seven Days, l'hebdomadaire cousin de BTV, que vous trouverez partout dans l'aéroport et ailleurs dans l'État du Vermont; c'est un journal gratuit. Ce que vous ne trouverez peut-être pas dans ces publications, toutefois, ce sont les activités estivales que la population locale considère comme incontournables.
C'est pour cette raison que nous vous proposons une petite liste des 10 choses à faire sans faute pendant votre séjour ici. Cette liste ne comprend pas tout ce que les Vermontois essaient de faire pendant la courte saison estivale, mais c'est un bon échantillon. Allez-y, suivez l'exemple des gens du coin. s intéressez, vous arriverez par Shelburne Road à la brasserie Magic Hat (magichat.net). Puis, qu'il pleuve ou qu'il fasse beau, retournez au marché de la rue Church pour dîner, magasiner ou voir d'autres œuvres d'art au BCA Center (burlingtoncityarts.org/bcacenter). Vous avez maintenant droit à une petite sieste.
1. Faire du bateau sur le lac Champlain
Que vous préfériez le voilier, le kayak ou la planche à bras, l'idée est de profiter du lac pendant les mois d'été. Pour vous procurer une embarcation, vous pouvez vous adresser au Community Sailing Center, qui se trouve au bord du lac à Burlington. En plus de louer des bateaux et divers équipements, ce centre offre des cours et organise des activités pour les adultes, les jeunes et les entreprises. Info à 802-864-2499. communitysailingcenter.org
2. Cueillir des petits fruits
Rien ne fait plus penser à l'été que l'idée de cueillir une belle fraise juteuse et de la savourer sur-le-champ. On ne compte plus les fermes qui offrent l'auto-cueillette au Vermont. Il y en a même une à Burlington, à quelques minutes à vélo ou en voiture du centre-ville; il s'agit de la ferme Adam's Berry, située sur l'Intervale, qui cultive les fraises, les framboises et les bleuets bio. Le ministère de l'Agriculture du Vermont a une liste exhaustive des fermes et des vergers, incluant des cartes géographiques, sur son site Web. À bien des endroits, vous trouverez aussi des plats cuisinés tels que tartes et confitures maison. Certaines fermes organisent des concerts gratuits en plein air toutes les semaines pendant la saison des petits fruits. vermontagriculture.com, pickyourown.org/VT.htm
3. Faire du vélo sur les pistes et les sentiers cyclables
Un article complet est consacré au vélo dans ce numéro, mais répétons-le, l'été, le Vermont est le royaume de la bicyclette. Voir page 8 pour trouver plus d'information et diverses ressources.
4. Se baigner dans les rivières du Vermont
Bien sûr, vous pouvez vous jeter dans le lac pour vous rafraîchir, mais les gens du coin adorent sortir des sentiers battus et aller se baigner dans l'eau froide des rivières. Que vous ayez envie de vous baigner loin des regards – en tenue d'Eve ou d'Adam, peut-être? – ou que vous accompagniez simplement des amis, nul doute que vous trouverez un petit coin pour sauter dans l'eau. Il existe même une application pour vous aider à en trouver un : VTswimmingholes ne coûte que 99 cents sur l'App Store. Plus d'info à swimmingholes.org/vt.html
5. Manger sur le pouce
Hamburgers. Hot-dogs au chili. Poulet popcorn. Pointes de pizza. Crème glacée molle. Inutile de le nier, nous aimons tous manger sur le pouce quand nous sommes en voyage. Même si le « voyage » consiste à se rendre à vélo jusqu'à Beansie's Bus, au parc Battery de Burlington, pour manger des frites. Et même si, en principe, nous ne sommes pas des adeptes de la friture, l'été – avouons-le –, nous avons tendance à nous pardonner ces petites fringales, surtout les cornets de crème molle. Vous ne savez pas où aller? Demandez à un habitant du coin, il vous dira quels sont ses endroits favoris.
6. Faire du camping
Que vous vouliez faire une promenade en forêt, monter votre tente pour la nuit ou louer un chalet, les parcs du Vermont sont tout indiqués. Certains d'entre eux ont des rivières sur lesquelles on peut faire du canot ou du kayak, tandis que d'autres, comme le Burton Island State Park, où on se sent très loin, sont directement sur le lac Champlain. Le camping est le meilleur moyen d'être près de la nature, et d'écouter le bruit des ruisseaux et le gazouillis des oiseaux. Il suffit de ne pas oublier sa lotion antimoustiques. Et encore une fois, il existe une application ici aussi : téléchargez donc Oh, Ranger! VT State Parks, offerte gratuitement sur l'App Store. Plus d'info à vtstateparks.com.
7. Faire une randonnée à Camel's Hump
Ce ne sont pas les parcours de randonnée intéressants qui manquent dans les Montagnes vertes, mais au nord du Vermont, l'ascension de Camel's Hump, troisième plus haute montagne de l'État – à 1 244 mètres (4 083 pieds) – et plus haut sommet non développé, a quelque chose de particulièrement attirant. Ses sentiers ont été parmi les premiers de la Long Trail à être tracés; on peut y faire une très belle randonnée d'une journée ou intégrer ce sentier à une plus longue expédition. La vue du sommet est spectaculaire. Le site Web des parcs du Vermont (voir plus haut) comprend une section sur la randonnée. Vous pouvez aussi trouver plus d'information à greenmountainclub.org.
8. Aller voir jouer les Vermont Lake Monsters
Nommés par référence à la créature mythique qui, selon la légende, vivrait dans les eaux du lac Champlain, les Lake Monsters sont une équipe de baseball mineur affiliée aux Athletics d'Oakland. Ils jouent tous les étés au Centennial Field de Burlington et, selon les habitants du coin, ils incarnent parfaitement l'esprit du baseball américain. Le terrain, qui appartient à l'Université du Vermont, est considéré comme un trésor local et les fans remplissent les gradins à chaque partie pour encourager leur équipe. Les enfants de tous les âges adorent sa mascotte, Champ, un sympathique serpent de mer vert fluo. Pour obtenir le calendrier de la saison et d'autres informations, visitez le site milb.com/schedule/index.jsp?sid=t462.
9. Courir les marchés de producteurs
L'été ne serait pas complet sans un marché où on peut déguster les produits du terroir. C'est le nirvana pour les locavores et un plaisir pour tous les sens, que vous cherchiez des légumes cultivés à quelques kilomètres, des viandes, des œufs et des fromages bio, ou encore un bouquet de fleurs aux couleurs vives. Tous les samedis, de 8 h 30 à 14 h, au parc City Hall, le Burlington Farmers Market vous offre tout cela, plus des aliments à consommer sur place et d'autres produits du Vermont tels que sirop d'érable, pains et alcools. Ah oui, il y a aussi un marché des artistes, gracieuseté de Burlington City Arts. burlingtonfarmersmarket.org, burlingtoncityarts.org/Artist_Market
(Vous allez ailleurs au Vermont? Découvrez les marchés de tout l'État à vermontagriculture.com/buylocal/buy/farmersmarkets_map.html.)
10. Faites des visites à l'intérieur
Impossible d'y échapper, il arrive qu'il pleuve ou que la chaleur devienne insupportable. C'est le moment idéal pour visiter les galeries, musées, microbrasseries et chocolateries de Burlington! Nous vous recommandons de commencer par le Fleming Museum of Art de l'Université du Vermont's (uvm.edu/~fleming), puis de descendre jusqu'au ECHO Lake Aquarium and Science Center (echovermont.org), où vous apprendrez toutes sortes de choses sur le lac Champlain et découvrirez diverses créatures. Après cela, vous aurez sûrement besoin d'un peu de chocolat, alors prenez la rue Pine et faites la visite de la fabrique de chocolat qui s'y trouve tout en savourant vos truffes ou votre crème glacée à Lake Champlain Chocolates (lakechamplainchocolates.com). Si, en revanche, c'est à la bière que vous vou
The original print version of this article was headlined "Hot List"