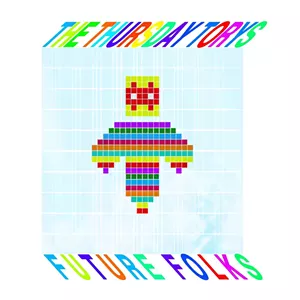 The Thursday Torys, Future Folks
(Self-released, digital download)
This review is a long time coming. Lyndon's the Thursday Torys originally planned to unveil their debut album, Future Folks, in early 2018. But you know how these things go. Best-laid plans always get shit on by Murphy and his dumb law, try as we might to evade it. Whatever the holdup was, it did little to stifle the band's creative spirit.
The Thursday Torys cover a lot of ground stylistically in a relatively short amount of time. Purveyors of acoustic folk, chamber-pop, country, psychedelia, electro-pop and good ol' indie rock, they tend to drift between sonic flavors, and it's one of their greatest strengths. And the band introduces its many shades gradually, like shapes that appear in shadows cast from the sun as its light moves along your bedroom wall.
"Cold Wind," the album's first of 12 tracks, is unhurried lounge-pop with a folksy soul. Guitar and keyboard roll into a swell of whirring synth, concluding with a momentarily stripped-down, a cappella breakdown.
"A Falte De" picks up the pace after the album's contemplative opener. Briskly strummed guitar adds mounting tension in the first verse, which unfurls into a percussive explosion. Alien synth-bass, glockenspiel, chorally inspired vocals and gobs of cymbals converge in a beautiful mess of sound.
After the brief "Morning's Interlude," "Stone" waltzes in with seasick harmonies and sparse, finger-plucked guitar. Twinkling synths pour over the shuffling acoustic tune like falling stars.
One of the album's early singles, "Love in the Afternoon," begins with a meditative rainfall field recording. As the song reaches its ethereal hook, a solitary trumpet sweeps in atop a glowing bed of atmospheric synths. Toward the album's end, the song returns even fuller and richer as an imposing, mostly instrumental piece, "Love Reprise."
"Driving Song" sounds like an outtake from Björk's Vespertine. Icy, reverberating electronics and overdriven drum-machine beats ensconce singer Brayden Baird's unintelligible, heavily filtered murmurings.
Arpeggiated synths usher in "Don't You Wanna Know," a glorious exercise in chamber pop. A dazzling string ensemble supplants the track's synthetic sounds, which ascend to heavenly heights as the song intensifies.
It undoubtedly takes a long time to complete an album as ornately appointed at Future Folks. No song enclosed herein is simple, and every chance to add embellishment is taken. But what's most impressive about the album isn't the quantity of instruments used or the various styles touched upon. It's how they work in congress to create such a dreamy yet vivid world.
Future Folks is available to stream on Spotify. The Thursday Torys perform on Thursday, August 30, at SideBar in Burlington.