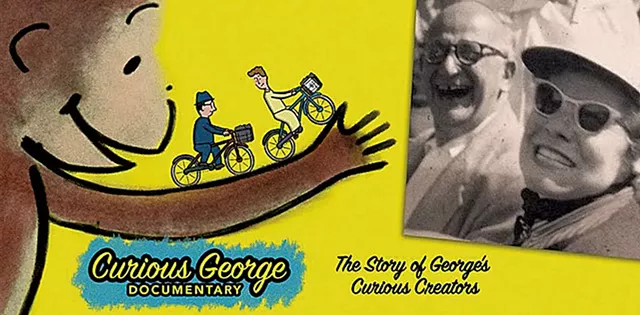 Courtesy Of The Stowe Jewish Film Festival
Detail of a poster for Monkey Business
Who knew that the "parents" of Curious George were German Jews who escaped the Holocaust? Hans and Margret Rey developed the first tale about the mischievous little chimpanzee as they were fleeing the Nazis in 1940. The couple, who eventually ended up in the U.S., went on to create seven Curious George books. The series later inspired an animated television series and a franchise of "New Adventures" books that are still in print.
That's just one of the stories brought to light at the Stowe Jewish Film Festival, which kicks off this Thursday, July 12. Monkey Business: The Adventures of Curious George's Creators is the first of four films to be screened, two each in July and August. The other three are Itzhak, about the life, work and music of violinist Itzhak Perlman; a sneak preview of the new Shekinah Rising, which visits young Hasidic women "who are beginning to assert themselves"; and On the Map, an unlikely sports film centered on the Maccabi Tel Aviv basketball team's 1977 victory in the European Championship.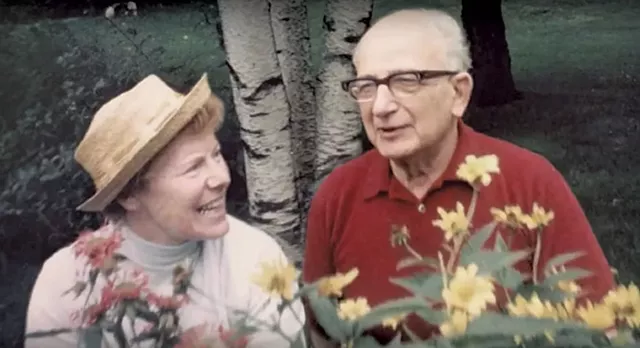 Courtesy Of The Stowe Jewish Film Festival
A still from Monkey Business
"We try to have a variety," says Edee Simon-Israel, founder and cochair of the 3-year-old film fest and longtime summer resident of Stowe. She and fellow cochair Sara Tauben sift through dozens of film recommendations, many from friends who've attended Jewish film fests elsewhere, and winnow down the list to 20 or 30. "We send that with links to trailers to our committee of six or seven people," Simon-Israel explains. "They watch the trailers, read the reviews and then vote."
Why only four films, and why spread them out over two months? Simon-Israel says she felt the schedule would "be more successful in this community" — that is, a town with many seasonal residents and visitors. "If we try to squeeze it into one weekend, they might miss it."
Since the fest launched in 2016, reception from both local viewers and sponsors has been enthusiastic, according to Simon-Israel. "The reach is way beyond the Jewish community," she says. "We averaged between 80 and 100 people per showing." The audiences represent "people from all walks of life" and come from as far as Burlington and Montréal, she adds.
Two visitors from the latter city this summer will be filmmakers Abbey Jack Neidik and Irene Angelico, who made Shekinah. They'll appear on Thursday, August 9, for a Q&A following the film.
The festival has been "an interesting experiment and has turned out more successfully than I expected," says Simon-Israel. "We love doing something that resonates with the community. It's very gratifying."