Stefan Hard
Dave Bennett (right) explains features of the sugar bush to kids from the Community Connections afterschool program, as Elise Bennett and program coordinator Drew McNaughton (second from left) look on.
Kids spend most of their waking hours at school or at home. When they're not at one of those two places, many Vermont children and teens — 79 percent of whom have no stay-at-home parent — go to afterschool programs, known in education circles as the third learning space.
"I think we're hampered by a bifurcated view of kids' lives — home and school, and we cut out everything else," said Holly Morehouse, executive director of Vermont Afterschool, a public-private statewide partnership that supports innovative afterschool learning opportunities. "Yes, we need formal learning, but there's this whole other piece of discovery and development in that third space that needs to be elevated... We're never going to make progress if we're not looking at that space."
Studies show that quality afterschool programs boost kids' school attendance, engagement in learning, rate of homework completion and likelihood of attending college, Morehouse said. They also help kids develop social and emotional skills, like problem solving and cooperation — and they help prevent risky behaviors.
According to Fight Crime: Invest in Kids, a program of the national, bipartisan nonprofit Council for a Strong America, school days between 3 and 6 p.m. are peak hours for youth to commit crimes, be in or cause automobile accidents, smoke, drink alcohol or use drugs. To that end, in October, the Vermont Agency of Human Services pledged $600,000 over three years to increase access to afterschool programs, using funds earmarked for substance use disorder programs.
A main source of current afterschool funding in Vermont is the 21st Century Community Learning Centers federal grant program, which awards more than $5.7 million a year to Vermont communities with high-poverty or low-performing schools. The Vermont Agency of Education administers the competitive grants, which currently fund programs in around 100 communities. Another 70 to 80 communities are eligible, but they either didn't apply or didn't get a grant. There are "way more applications than federal funding," said Morehouse.
And there are more kids who would participate in afterschool programs if they could, continued Morehouse. She cited a 2014 national study by the Afterschool Alliance which found that 22,000 additional children in Vermont would participate if not for barriers like financial constraints and lack of transportation.
In the face of such challenges, some Vermont communities get creative to provide afterschool services. Sometimes they struggle to sustain them. Below, we spotlight programs in three different parts of the state — Burlington, Montpelier and the Northeast Kingdom — looking at the unique ways they address the needs of young people.

—A.N.
Digging Deep
Every Tuesday after school, Drew McNaughton — director of the afterschool program at Main Street Middle School in Montpelier — drives a minivan of students to a hillside farm at the end of a dirt road in nearby Worcester. There, the kids dig into basic homesteading chores. They've cared for pigs, fed tilapia in a greenhouse tank and worked in the garden. Last spring, they sugared.
The program is part of Community Connections, a community-school partnership that provides afterschool, before school and preschool programs in towns including Montpelier, Worcester, Middlesex, Berlin, East Montpelier and Calais. For older kids, the Washington County Youth Service Bureau/Boys & Girls Club runs the Basement Teen Center, a drop-in center in the basement of Montpelier's City Hall that's open after school Monday through Friday, and on Friday nights.
On a sunny and cool October day, six 10- and 11-year-olds fed and watered chickens in Worcester. Dave Bennett — who owns the farmstead with his wife, Elise — asked the kids to recall the five basic needs for all creatures, a repeated theme in their farmwork: physical health, freedom of self-expression and movement, good food, clean water and shelter.
The group then headed to the garden and enthusiastically unearthed fingerling potatoes. There, surrounded by blooming calendula, McNaughton said that when he first started as the afterschool director, 14 years ago, he took the kids to talented local people he knew, including a blacksmith, who had the kids hammering nails from red-hot steel. Over the years, the program has evolved, guided by McNaughton's goals of helping kids develop resilience and the ability to focus, and creating an opportunity to experience the therapy of nature. Designed to appeal to a range of interests, offerings now include woodworking, kayaking, art, cooking and wilderness skills. While some programs take place at the school, others are held off-site, at locations including Montpelier's Hubbard Park and Kingdom Trails in East Burke.
McNaughton estimates his program reaches 70 to 90 percent of Montpelier's middle school students. Participants come from different social and academic groups, and they have varied home lives; some are well-off financially, while others struggle with poverty or family drug use. For all of them, McNaughton said, middle school is an intense time when "physical, social, psychological and situational differences converge on kids just at the time their bodies are in the most flux." He explained that his program utilizes creative exploration, movement and wilderness to create "a therapeutic endeavor which can armor kids with self-awareness and confidence." He aims to help kids differentiate between healthy and unhealthy risk and to become aware of their own behavior. When a student who's out of control in school is able to expend energy through an activity like mountain biking, he or she can begin to build deeper relationships with staff and peers, McNaughton said.
Five years ago, his program lost 21st Century grant funding because the segment of the student population qualifying for free or reduced-price school meals dropped below 40 percent. Now, it relies on a contribution from the Montpelier-Roxbury Public Schools, a smaller amount from the city of Montpelier and parent fees — generally in the range of $45 to $60 for a six- to eight-week session that meets once a week. The staff thinks creatively to find low-cost, enriching learning opportunities. Students are never turned away for lack of funds; approximately one in 12 receives some form of fee waiver, and McNaughton accepts payments in installments.
Back at the farm, the Main Street middle schoolers washed their hands at the Bennetts' kitchen sink. While the children devoured savory potato wedges — hot from the oven and harvested from the garden they helped tend — Bennett and McNaughton asked questions to get them thinking about the benefits of growing and eating vegetables.
Kids paired up, sprawling on the couch with the Bennetts' two dogs or hanging out beside the crackling blaze in the fireplace, to ponder two questions: "How does growing your own food help with your nutritional health?" and "How does growing your food help with climate change problems?"
After a short time, Bennett and McNaughton pulled the group together and asked for answers. The kids nailed the connection between health and food from the garden immediately — less processed, less sugar, tastier. One boy thoughtfully noted that if more people grew their own potatoes, the factories that put so much work into boiling and skinning potatoes would work less. Those factories would then produce fewer greenhouse gasses.
Before the kids pulled on their jackets, McNaughton remarked how good it felt "jamming our hands into the soil, even though it's cold." Not a single kid complained all afternoon.
Reflecting on his student-centered job, McNaughton said, "I could not, at this point, imagine a better way to pursue what I am passionate about with deeper meaning. While not the most financially lucrative work, the intrinsic benefits far exceed those of any other profession, from my perspective."

— B.S.
A Collection of Cultures
Courtesy of Sara Holbrook Community Center
Kids in Sara Holbrook's elementary afterschool program bike in the center's back lot
The Sara Holbrook Community Center occupies a modest brick building on Burlington's North Avenue. It doesn't look like much from the outside, but this institution — which was founded 81 years ago and is located in one of the most diverse neighborhoods in the state — offers a wide range of afterschool programs to youth in Burlington's Old and New North Ends.
Started by University of Vermont professor and clinical psychologist Sara M. Holbrook in 1937, and modeled after the New York City settlement houses where Holbrook had worked, the center initially provided English classes for Irish, Italian and French-Canadian immigrants, as well as a nursery school for their children. It still offers English classes for adults every morning, as well as a small food pantry that provides groceries to families in need.
It's been an invaluable resource for the youth it serves. More than two decades ago, the center played an important role in Ahmed Foco's life. In 1994, when he was 14 years old, the Bosnian refugee settled with his family in the Old North End and soon found Sara Holbrook. At that time, Foco recalled, the center ran a drop-in program for teens. On Fridays, high schoolers would meet at the center, near the intersection of North Avenue and North Street, and a van would take them to the Greater Burlington YMCA, where they'd swim with their friends for a few hours. Foco became a Sara Holbrook regular and eventually began working there as a counselor in the center's New Arrivals summer program for English Language Learners. During his college years at the University of Vermont, he served as the assistant teen program director. He joined the center's board, moved to California for six years to earn his MBA and work, then rejoined the board when he moved back to Vermont two years ago.
Now a technical support consultant for healthcare company Allscripts, Foco speaks earnestly about the impact the Sara Holbrook center had on him. As a Muslim American, he said, there was "always a bit of hesitation I experienced throughout life." Sara Holbrook was an open and inclusive space where — at the time Foco was growing up — kids from the Bosnian and Vietnamese refugee communities, as well as longtime Old North Enders, hung out together and explored different places in Vermont. "It gave me a sense of community," he explained, and the "ability to go different places without any sort of fear."
More than two decades after Foco first discovered Sara Holbrook, it continues to provide opportunities for social development, education and recreation for local youth, whose families now hail from 15 to 20 different countries, according to the center's executive director of almost 20 years, Leisa Pollander.
One of the most important aspects of the afterschool programming the center runs, said Pollander, is "supporting low-income families to know that they can stay at work and know that their kid is safely involved in something and being supervised by responsible people who truly care about kids."
The elementary afterschool program runs Monday through Friday until 5:30 p.m. at the North Avenue center, which was built in 1965. It serves around 40 kids and costs $100 per week, but most families qualify for a state childcare subsidy, which covers the fee, said Pollander. On a recent Monday after school, around a dozen kids from different Burlington elementary schools and a few staff members were spread between three different rooms on the first floor. Some built with Legos. Others painted sunsets or stretched sparkly homemade slime. In the largest room, which serves as a classroom for 15 preschoolers on weekday mornings, a few younger kids played on the floor with plastic dinosaurs. The kids will soon have more room to play and learn; the center is in the midst of a $3.9 million capital campaign, which will expand the space from 5,000 to 12,000 square feet.
Courtesy of Sara Holbrook Community Center
Teens at Sara Holbrook's drop-in center with middle school program director Gabriel Diaz
A few miles up North Avenue, as Hunt Middle School let out for the day, Gabriel Diaz, the site director for Sara Holbrook's afterschool program for middle schoolers, waited in the school's lobby with a clipboard. Every Monday, Diaz drives a group of kids to Petra Cliffs Climbing Center for an afternoon of rock climbing. In a large classroom where the school band also practices, school social worker Liz Trackim oversaw a group of seven kids making cupcakes with buttercream frosting at kitchen stations as part of a baking and cooking club. Down the hallway, in a maker space off the library, a group of boisterous students built structures out of cardboard and created sketches that will be turned into custom decal stickers using a vinyl cutter.
Throughout the week, other Sara Holbrook offerings include bowling at Spare Time lanes, a Random Acts of Kindness Club and a birding club led by UVM students. In addition, the program offers morning homework help from 7 to 8 a.m. and afternoon homework help four days a week. Supper is served after school for any kids who would like it.
For kids who want less structured activities, Sara Holbrook runs a teen drop-in center at the Robert Miller Community and Recreation Center, just a short walk from Hunt, which is free — though Pollander said she asks families who can afford it to make a donation to help subsidize the cost.
There, middle school kids can stop by from 3 to 5:30 p.m. to play pool, ping-pong or foosball, relax on the overstuffed sofas that line the space, do arts and crafts, play basketball in the center's spacious gym, or chat with the friendly staff and college-age volunteers. High schoolers can use the space from 6 to 9 p.m. One thing that's off limits? Cellphones. Pollander said she implemented the no cellphone policy a few years ago after seeing kids staring at their phones, texting, and not interacting with each other. For about two weeks there was pushback on the policy, but now, she said, they're used to it.
Umesh Acharya is the new director of the drop-in center, which serves 600 kids a year — some of whom come every day and others who drop in occasionally. Acharya, who is Bhutanese, came to Vermont in 2012 as a 21-year-old after spending most of his life in a refugee camp in Nepal. Last year, he graduated from UVM with a degree in neuroscience. "I know what it means not to have opportunities," he said. "Sara Holbrook is providing the opportunities I didn't have as a youth." He notes that many of the kids who frequent the center are New Americans like himself. "Their story is my story," he said. Acharya hopes he can use his position to empower kids to strive for success and help them work through problems.
In Foco's estimation, the needs of kids haven't changed much since he was in school. They still require a safe place to go after school while their parents work, where they can hang out with their friends, get help with their homework and talk about family issues, Foco said. "The core issues have stayed the same." -AN
From Paddling to Puppets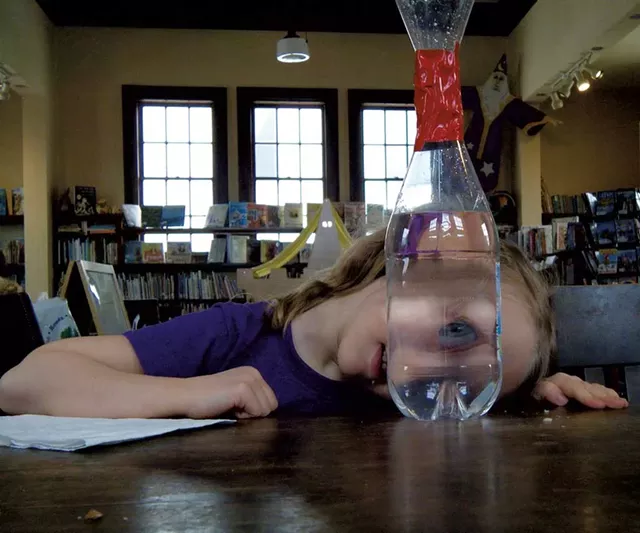 Courtesy of Molly Veysey
Creating tornadoes in a bottle at Irasburg's Leach Public Library
Some kids in the Northeast Kingdom go paddling down the Clyde River with outdoor educators after school. Others learn to make satchels and cellphone cases from a local leather worker. These classes are part of the Encore afterschool program, which operates in all 10 of North Country Supervisory Union's elementary schools, with funding from the 21st Century federal grant program. Last year, 1,043 students participated, 473 of whom came every day, said Encore's director Beth Chambers.
Encore provides food and time for homework, followed by hour-long enrichment classes that change every eight weeks. Topics include soccer, survival skills, crafts and theater.
Chambers, who spent several years as an outdoor educator herself, noticed that kids were sometimes afraid to take risks, whether it be climbing a rock wall or exploring in the woods.
"I think there's a rising anxiety about failing," she said, "and that's something we certainly try to battle in the afterschool world."
The 21st Century grant makes Encore possible, but for NCSU, it only covers about half of the program's operating cost. Chambers spends considerable time hunting down additional funding, which means applying for smaller grants on a regular basis.
"It's an ongoing battle and it's changing all the time," she said.
Across the 10 schools, there are around 10 different funding sources, she estimated, including federal, state and private grants, money from the school board, and student fees, which average a modest $1 per session.
Loss of federal and state funds forced the Newport Teen Center — the region's only drop-in program for high schoolers — to close two years ago. "It was their safe place, just to be," said Kathy Griffin, a program director at Northeast Kingdom Community Action, an anti-poverty agency. "We would help them with homework, play video games, take field trips. We did coffee with a cop," Griffin said.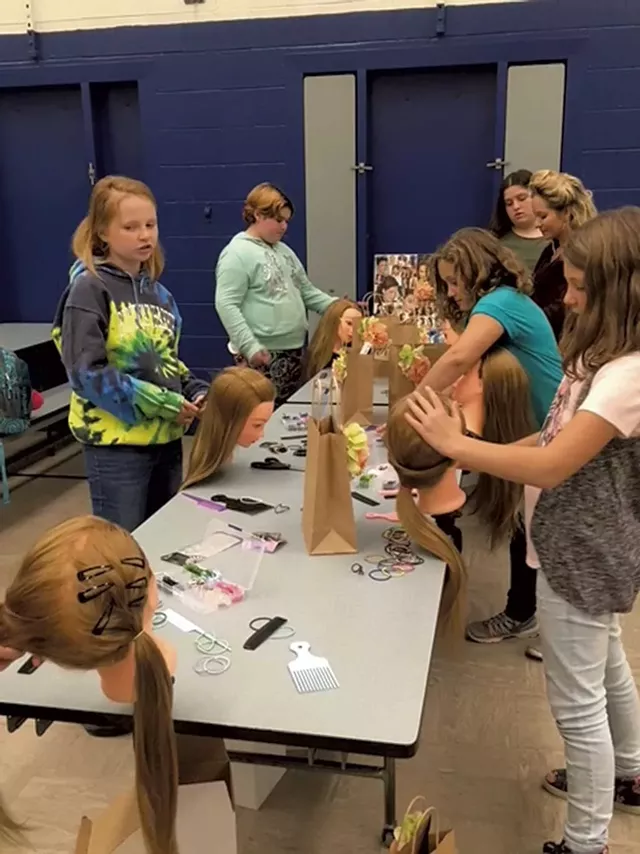 Courtesy of Molly Veysey
Hairstyling in Irasburg
NEKCA staff also offered services like mental health intervention and substance abuse counseling, and a hot meal every day. "We had a lot of kids who weren't eating," she explained. Many of the teens who frequented the center came from generational poverty. "You have to help them get out of the same cycles," she explained.
Because many afterschool programs end after eighth grade, Griffin wonders what those teens do after school now.
In Irasburg — a Northeast Kingdom town that is part of the neighboring Orleans Central Supervisory Union — local parent Molly Veysey decided to take matters into her own hands to create an afterschool enrichment program. That supervisory union used to apply for the 21st Century grant but stopped about a decade ago. "You have to kick in local money each year at an increasing amount as the grant money decreases," explained Orleans superintendent Bev Davis. And that was something the local school boards no longer wanted to include in their budgets.
In 2015, Veysey began a one-day-a-week afterschool program for kindergartners at the Leach Public Library, in part because she thought her daughter could benefit from the enrichment. Kids would practice reading aloud to the group, present projects on specific subjects and create crafts or skits based on the day's reading. The school bus took kids to the library, and Veysey, the program's sole volunteer, provided a snack. It became so popular that she now offers classes four days a week for kids in kindergarten through eighth grade, serving roughly 60 kids per semester.
The program now focuses on experiential learning. Staff from NorthWoods Stewardship Center in East Charleston teach kids about geology. Siskin Ecological Adventures, based in Derby, provides archery and tumbling instruction. This semester, older kids can take a hairstyling class where they get to try out their skills on mannequins or learn puppet making with a teacher from Morrisville's River Arts. The program includes an organic snack and busing from the Irasburg Village School to the classes, which take place at the library, town hall or, sometimes, an art studio in a historic home on the town common.
One of the biggest challenges of running a grassroots program is securing funding, said Veysey, who is also the director of the Old Stone House Museum in Brownington. She received a grant early on from the Vermont Community Foundation and also got support from the town after she made a public plea at the 2017 Irasburg town meeting. Voters added $6,500 to the library budget to defer her programming costs. Families pay only $2.30 for each class.
Veysey sees the work as important for the local kids who might otherwise not have much to do after school.
"I get the sense that a lot of kids would go home and be on some kind of electronic," she said.

— N.H.