Another year, another dining bacchanalia. At least that's how Vermont Restaurant Week can feel as we peruse 80-plus menus and short out our circuits trying to decide where we'll go, when we'll go and how on Earth we'll fit it all in.
After the sugar overload of Thursday's Sweet Start Smackdown, we wavered slightly, but a few Seven Daysers bravely ventured back into the calorie-rich fray to sample the goods. Here are their tales — from Burlington to Bethel, Mendon to Newport.
Trespassing Forks: L'Amante
Restaurant Week is a great opportunity to eat at one of those spots you've never been to but always wanted to try. However, for my first dinner of the week, I visited an old standby — L'Amante in downtown Burlington.
My friend Matt and I made a reservation for the Italian restaurant's dining room, a sleek space with banquettes along two of the pale-green walls; ultimately, though, we opted to sit at the cozier bar, which is my favorite way to dine there. The weekend bartender, Ian Delorme, is gracious and knowledgeable, and sitting in close proximity to strangers makes for great people watching.
While we like to drink wine, Matt and I are not oenophiles, so we let Ian pick a bottle for us. Our neighbors at the bar, a white-haired, professorial man in his sixties and his much younger date, did the same. "I want a big wine, under $10," the professor instructed Ian.
"Under $40," his date corrected him.
"Under 20," the professor countered.
"You," his date told him, shaking her head, "are living in la-la land."
For our first course, Matt and I split the fritto misto and a salad. The former was a Pick Up Sticks-style arrangement of lightly battered and fried vegetable spears drizzled with a lemony aioli; the latter, a stellar version of the beets-and-goat-cheese-and-greens salad that seems to be a staple of most menus these days.
The second course, or primi, was pasta. I opted for the penne Bolognese, a standard on the regular L'Amante menu that I cannot stop myself from ordering nearly every time I eat there: perfectly al dente pasta in a slightly spicy, creamy meat sauce. My supposedly vegetarian friend Matt ordered the asparagus ravioli with mushrooms and sage, which he claimed was delicious, though his fork spent more time on my plate than his own.
"Don't fill up on pasta," Ian advised, and I wish I'd heeded him (see "cannot stop myself," above). Based on the amount we'd eaten so far, I assumed that the third course would be a small plate, but what arrived were full-size entrées. Matt had the fish, while our fellow barflies and I all got the porchetta, roast pork curled around herbs and fennel and then sliced, jelly-roll style. "The beans are rocking with these bitter greens," the professor's date raved about the creamy cannellini and broccoli rabe that accompanied the porchetta. But while the pork was wonderful, at this course it was my fork trespassing on Matt's meal: a slab of lightly seasoned, grilled swordfish served over a saffron risotto cake and asparagus that tasted like spring.
L'Amante's Restaurant Week menu doesn't include dessert, but we would have had to turn it down had it been offered. We left our kickoff Restaurant Week meal sated and happy to have spent the evening at a tried-and-true spot. Now onward, to discover new favorites!
—Kate O'Neill
Written in the Stars: Cosmic Bakery & Café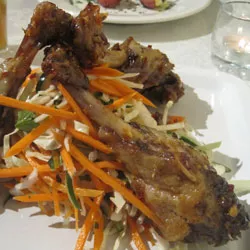 A duck drumette does not look like a chicken drumette. It's bigger than a chicken leg, too, though similarly shaped. The sight of three atop a pile of perfectly lime-and-cilantro-flavored, Thai-style slaw was more than a little impressive. But that's how it goes at the new dinner service at Cosmic Bakery & Café in St. Albans.
The breakfast-and-lunch eatery expanded to include the third meal last month. Just in time for Restaurant Week, Cosmic is now serving its previously weekend-only dinners from Tuesday through Saturday. New England Culinary Institute-trained chef Nicholas Smith is already pulling out all the stops.
The salad of cabbage, carrots and cucumbers was irresistible, but the meaty wings themselves were the clear star of the first dish I tried. The sticky, sweet-and-spicy duck would have been a dish worth returning for at Vermont's best Thai restaurants. However, Smith's menu consists mostly of elevated comfort food.
The scene at Cosmic is certainly homey. On Friday night, groups of all ages, from infants to senior citizens, packed the small cluster of tables at the front of the bakery, enjoying their food to the acoustic stylings of rock band Near North.
Though curious about the vegan tofu scallops served over Israeli couscous, I couldn't resist the disparity of an elegant rack of lamb cooked in the back of a bakery. The meat was an ideal medium, tender inside with a jacket of crisped, salty fat. Its deep-purple cabernet reduction was sweet and fruity, a great foil to crunchy, butter-poached asparagus. It all rested on a gigantic pile of the same luscious potatoes that filled the petite, pink, twice-baked potato bites we'd tried as a starter.
My boyfriend was thrilled with his pile of potatoes, too — hand-cut honey-truffle fries. There is no fryer at Cosmic — yet. For now, Smith says, he crisps up every batch of deep-brown, snack-bar-style spuds in a deep pot. They accompanied meat loaf in a sweet, tomato-based sauce with just a hint of spice.
Smith is passionate about making delicious options for diners on vegan or gluten-free regimes, and several dishes at Cosmic fit the bill. I tried the vegan crème brûlée. The texture was slightly more gelatinous than creamy, and it reminded me of Asian desserts I love with a Vermont-y touch of maple. The maple cheesecake with a gluten-free nut crust, a contender at the Restaurant Week kickoff Sweet Start Smackdown, was light and creamy enough to convert even a cheesecake hater. For $25, my three-course dinner made me a convert to nights at Cosmic, too.
—Alice Levitt
Channeling France on Church Street: Church & Main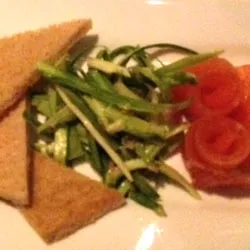 On a nippy Friday evening, Church & Main's cozy, velvet-curtained dining room was welcoming. So was the soft lighting, the appealing music on the sound system — a sort of chill/ambient/world mix — and the friendly host. My companion and I studied the prix-fixe menu to make our dinner selections before choosing a wine. Our waiter proved a capable sommelier, patiently describing a number of options and carefully considering the pairing with our meals. In the end, we chose a Château d'Aqueria rosé from France's Rhône region. With a rich-pink hue, it was delicious and surprisingly complex.
For appetizers we settled on the exotic-sounding Wild Mushroom Cappuccino and the house-cured smoked gravlax. When it arrived, the former looked rather strange: a brownish, creamy soup with a green blob — spinach-nutmeg foam — on top. But the combination of tastes was exquisite and got our meal off to a happy start. The gravlax was satisfyingly salty and robust, served in rolled-up sheaves with a nest of crisp shaved asparagus, tiny toast points and a dollop of sauce gribiche, which is basically finely minced egg salad. Again, the combination of flavors was inspired, even if the ingredients were difficult to assemble together. My companion had the clever idea of forgoing the toast and making a "wrap" with the smoked salmon.
Our entrées were potato-crusted day-boat cod and grilled chicken Statler. The crispy potato was a delectable contrast to the pillow-soft fish. Though the menu did not mention chickpeas, there they were, along with the advertised kale and sausage. The finish, a chorizo-smoked paprika oil, added a subtle bite. The chicken came with fiddleheads and roasted radishes (they tasted more like root vegetables, which, come to think of it, they are). Its crispy surface was rich and flavorful, even without the fiddlehead pesto.
We could have left sated at that point, but dessert was part of the deal. We managed to make a passion-fruit panna cotta and a lemon-poppy-seed strawberry shortcake disappear within minutes. Neither was overly sweet; the panna cotta was light and zingy. Our attentive waiter brought us two small glasses of port, gratis, which also went down easily and brought this elegant, memorable meal to a classy conclusion.
—Pamela Polston
So Composed: Harrington House Inn & Restaurant
The peeps at Bethel's Harrington House Inn & Restaurant went out on a limb to take part in Vermont Restaurant Week — the farther an eatery is from Burlington, the less likely it is to participate. So I wanted to drop in on this stately inn near the White River, where I thought the atmosphere might make for a romantic evening. It did — as my boyfriend and I made our way though the warren of jewel-toned rooms, we felt like we were traveling back in time.
Since owners Rick Harrington and Fred Leary revamped the inn last year, it's been gaining a rep for artfully composed and sometimes unusual morsels, such as Scotch eggs and pickled shrimp. The $35 Restaurant Week menu seemed tame by comparison, but the dishes that arrived exhibited artistry and layers of complementary flavors.
For instance, a warm pea soup served as a colorful backdrop for the crispy-on-the-outside, succulent-on-the-inside cube of pork belly that floated in its midst. The soup itself — dotted with chives and plump peas — had the astringency and lightness of spring. Another appetizer, a finely chopped smoked-salmon tartare layered between crunchy beet chips, was a symphony of textures and earth-and-sea flavors, and was composed so intricately I didn't want to disturb it. We couldn't resist ordering pickled shrimp from the regular menu, and they practically crackled as we bit into them, spraying tangy juices on our taste buds.
My main course, the "petite" beef tenderloin, tasted grass fed and came nestled in an intense, lip-smacking red-wine reduction. The peppery pile of bacon-studded mashed potatoes hidden inside a grilled onion was a fun, theatrical touch. Another entrée, a plate of seared scallops, was velvety and tender, and the mushroom ragu on which they rested lent the whole dish grounding, savory notes.
For dessert, we broke one of the golden rules of dining, which is never to order the same thing: Neither of us could resist a maple crème brûlée, and we broke through the fragile top to scoop out the silky custard underneath. It was superb.
As we floated out the door on a tide of cream, pork, citrus, maple and wine, we were glad to be back in the middle of another Restaurant Week.
—Corin Hirsch
Scallops, Piri Piri and a Date With Joan Rivers: Red Clover Inn & Restaurant
It wasn't until early April that I realized I had booked the Sweet Start Smackdown on the same night as Joan Rivers' performance at the Flynn Center! While I knew some people would try to attend both events in the same night, this was not possible for me, as I was one of the Smackdown's organizers. Already resigned to the fact that my partner, Shawn, and I would not be among "the gays" at Ms. Rivers' (possibly only) Burlington performance, I was thrilled to realize that Joan was continuing on to Rutland's Paramount Theatre the very next day.
We scoured the Restaurant Week guide in search of a Route 7 eatery worthy of our date with Joan. A Rutland-born coworker recommended a restaurant just five minutes from the theater, in Mendon: Restaurant Week newcomer Red Clover Inn & Restaurant.
Though dining early isn't usually our style, Shawn and I arrived at the inn for a 6 p.m. dinner and were the first to be seated in the immaculate, cozy dining room. We chose a table near the tavern's fireplace, with a picturesque view of Pico Mountain. With its rustic-yet-refined design touches, the inn's interior made us think of a cross between Moose Meadow Lodge in Waterbury and the Kitchen Table in Richmond.
I opted for the $35 Restaurant Week menu and ordered the housemade cavatelli as an appetizer and the grilled Portuguese steak as an entrée. Shawn went rogue and ordered a scallop-and-lobster dish off the regular menu — he wasn't up for three courses, and seafood was calling his name.
We ordered a bottle of pinot blanc from Oregon, then watched as several other diners filed in to enjoy a special Restaurant Week meal. My cavatelli dish was served with roasted oyster and shiitake mushrooms steeped in a light, flavorful broth that paired well with our wine choice. Shawn had an uncommonly beautiful green salad that was easier to photograph than it was to bite into. The leaves were big, fresh and in need of slicing!
The steak dish featured a plump fillet perched on a rack of thick, perfectly roasted steak fries dotted with Parmesan cheese. I was originally attracted to this dish because of the fried-egg topper, but I quickly learned that the thick, crimson piri-piri sauce was the star ingredient. The pungent African spice packs a big kick then mellows, just in time for you to taste the delicious, perfectly cooked steak.
Shawn's scallop-and-lobster entrée was petite and delicate — closer in style to the cavatelli appetizer I enjoyed. The seafood was fresh and buttery, but Shawn noticed that the lobster meat was a tad overcooked.
When I asked our server, Thomas, for help in deciding among the three dessert choices, we learned that he had made them all himself! Shawn and I decided to split the pineapple-Key-lime pie, and ordered a couple of espressos. The pie was deliciously tart, and the dollop of fresh whipped cream was dreamy. The plate was adorned with a cheeky, cocoa-dusted silhouette of the Restaurant Week fork — nice touch!
Shawn and I were thrilled with our visit to Red Clover Inn. The dining experience felt like a true getaway and set the right mood for an evening at the Paramount. Although Ms. Rivers' fare was much less refined than Red Clover's, her spicy humor did remind me of that delicious steak sauce!
—Don Eggert
Northern Delights: Le Belvedere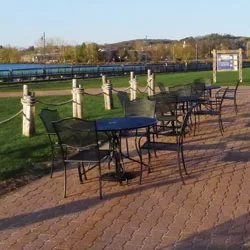 I just like saying the word: Memphremagog. But even better than saying it is watching the sun set across that lake while nursing a glass of steel-aged chardonnay and some tender veal Stroganoff.
We drove nearly two hours to reach Le Belvedere, the elegant, sun-splashed bistro that opened on Newport's waterfront last winter. For months, we Seven Days food writers have wanted to sample a place that dishes out sushi, tapas and martinis in a lonely corner of the state. So when Le Belvedere signed on for Restaurant Week, a visit was a foregone conclusion.
It's too bad that the day was cold and blustery, because the restaurant is ringed by an enticing stone terrace that overlooks the water. Luckily, Le Belvedere also sports floor-to-ceiling windows, and the killer view was a powerful draw. In the lounge, every pair of plush leather armchairs was filled with couples sharing bottles of wine and looking utterly relaxed as the last rays of sun disappeared over the water.
The caliber of the food matched the atmosphere. For instance, the veal meatballs that filled the Stroganoff were bathed in a creamy mushroom sauce and dusted with green herbs. The dish tasted like the love child of mom's casserole and the best brown-butter béchamel.
Also novel was a plate of salmon and sea bass fillets layered and then wrapped in wilted romaine lettuce. The whole thing came atop an ethereal grapefruit-cream sauce that was tangy enough to elevate and balance the oily fish. A sculpted cone of yellow rice added a Caribbean — or lakeside? — touch.
That dish's polar opposite came in the form of venison cannelloni, gooey and melting, in which it was hard to tell where the savory flavors of the game ended and the smoky tomatoes and veins of ricotta cheese began. The whole thing was so rich, I took most of it home.
Even still, we braved dessert — a fist-size round of chocolate lava cake, molten and dark on the inside. The luscious vanilla-bean ice cream that was served alongside wasn't an afterthought; like every detail of Le Belvedere's ambience and food, it hit just the right note.
—Corin Hirsch
Upstairs, Downstairs: The Farmhouse Tap & Grill
Since the Farmhouse Tap & Grill opened in 2010, I'd been perfectly content sipping brews at its outdoor beer garden or, in the colder months, in the downstairs parlor. Somehow I'd never been compelled to take a table upstairs and order a proper meal. What finally enticed me? The promise of Misty Knoll Farms popcorn chicken on the Vermont Restaurant Week menu.
Thanks to the seating in the spacious basement parlor, a dimly lit barroom that evokes a 1920s speakeasy, the wait for our table was not the obstacle it would have been at many other Burlington restaurants. Instead of having to crowd the entrance hallway or hover awkwardly at a packed upstairs bar, we simply headed downstairs and found two seats at a communal wooden table. Draughts of Citizen Cider and Hill Farmstead Florence and some addictive maple-rosemary bar nuts sustained us for the next hour.
When we finally settled in at a cozy two-top upstairs, the restaurant was buzzing — and, frankly, as another round of brews arrived, so were we. I was stoked to start with the popcorn chicken. Resting on a bed of delicate greens and mild buttermilk aioli, the meat was tender, the breading light and perfectly crunchy (if a tad too salty). My boyfriend's salad, laced with baby fennel and Does' Leap chèvre, was fresh and creamy.
In preparation for the entrées, our server brought out a narrow wooden serving board holding ketchup, grainy mustard, aioli and barbecue sauce. "It looks like a cricket bat of condiments," my boyfriend noted. His veggie burger, topped with a cabbage slaw and presented with a monstrous portion of fries, was fall-apart tender and bursting with flavor; hands-down the best he's had, he said. My Maplebrook Farm ricotta gnocchi, dressed in a light spring-garlic pesto, was soft and pillowy. Each bite demanded I chew slowly to savor the texture.
By dessert, we were already beyond full. I feared for my rhubarb upside-down cake, which was served cold and rather dry — a troubling trend I've noted at restaurants. But it was revived when eaten in the same bite as the vanilla ice cream. My boyfriend's lavender panna cotta, topped with crème fraîche and paired with two buttery shortbread cookies, was light and silky. All told, it was a crazy-good deal for $25 each, and we'll be back for the food again.
—Carolyn Fox
Vermont Restaurant Week continues through Friday, May 4. vermontrestaurantweek.com