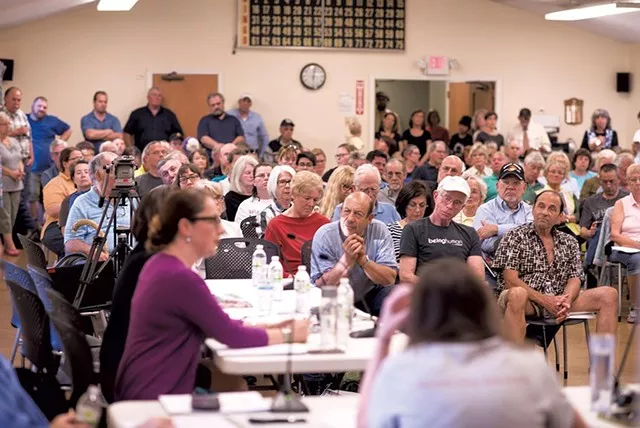 File: Caleb Kenna
Rutland residents hear about refugee resettlement plans last May at a meeting of the Board of Aldermen.
When a Vermonter brings home a national award for good citizenship, it's usually a reason to celebrate. But in the case of Don Chioffi, it's a cause for something like consternation.
Chioffi is a longtime resident of Rutland Town and a former two-term state lawmaker who's very active in community life. He is also one of the organizers of Rutland First, the group that loudly opposed a plan to settle Syrian refugees in the city of Rutland. For that, he was given the Citizen Activist of the Year award from ACT for America, a national organization that the Southern Poverty Law Center considers an anti-Muslim hate group.
ACT for America claims to be focused on national security, but it has a history of extreme anti-Muslim rhetoric. It has warned that Muslims and government officials are conspiring to impose Sharia law and that Islam is a fundamentally violent religion. The group's founder, Brigitte Gabriel, has said that a practicing Muslim "cannot be a loyal citizen of the United States."
In June, the group organized a March Against Sharia that featured anti-Muslim speakers and signs, and plenty of far-right participants, in 28 cities. At the group's early October conference, Gabriel tied the Las Vegas massacre to Islamic terror attacks. There was no evidence to support her assertion, but that didn't stop her from jumping to a convenient conclusion.
Chioffi proudly accepted his award at the ACT conference in Arlington, Va., which was entitled ACTCON 2017: United Against Terror.
Subtle.
Talking with Chioffi is an experience. He comes across as a real Vermonter, a guy who cares about his town and his state and who'd probably make a good neighbor. Help you get that lawn mower started, let you borrow his truck when you gotta haul some stuff to the dump. He's easy to like.
But his views on immigration and Islam are right out of the ACT for America playbook, invoking stereotypes to foster fear of the Muslim "other."
When he talks about his fight against the Rutland settlement plan, he claims he was opposed to a flawed, secretive process, not necessarily to newcomers. But a darker vision quickly becomes apparent.
Rutland First, he says, was "a year and a half of hard work to uncover a plot, really. More a conspiracy than sound planning." He says city officials refused to answer "questions about goals, costs, security, health, all the issues associated with refugees."
And Chioffi sees big problems in all of those categories.
On the cost of resettlement, Chioffi says, "These people, over 50 percent are still on the federal dole after five years in this country."
OK, let's turn to Scott Lloyd, director of the U.S. Office of Refugee Resettlement. That's right, the President Donald Trump appointee who just tried to prevent a detained, undocumented 17-year-old from getting an abortion. No liberal is he.
On October 26, Lloyd told a congressional subcommittee that the government's "employment-focused case-management model has proven to be effective in helping refugees achieve economic self-sufficiency." How effective? He testified that in fiscal year 2016, 84 percent of refugees were self-sufficient within 180 days of arrival.
Chioffi raises the specter of terrorists sneaking in through the refugee program. "I served in the military, Army security," he says. "I know vetting, and these people aren't being vetted properly."
But the very conservative Heritage Foundation takes a favorable view of refugee vetting. It describes the process as involving agencies including Interpol, the Federal Bureau of Investigation, the National Counterterrorism Center, the U.S. Department of Defense, the U.S. Drug Enforcement Administration, and U.S. Citizenship and Immigration Services. The process takes 12 to 18 months and is so stringent, says Heritage, that "of the approximately 23,000 Syrian referrals made by the UN High Commissioner [for] Refugees to the U.S., only about 2,000 have been accepted."
Speaking of the UNHCR, Chioffi smells a rat. "Refugees don't choose [the U.S.]; they're picked by the [commissioner]," he asserts. "He's a Muslim, and he's making the choices."
Well, for one thing, as noted above, while UNHCR prepares a list of potential refugees, it's the U.S. government that makes the final choices. Also, that Muslim commissioner? His name is Filippo Grandi. He's Italian, born in Milan. No hint of Islamic faith. Sorry.
After all of this, Chioffi insists he's not prejudiced.
"I'm not anti-Muslim, not Islamophobic, just concerned about the program," he insists. "I don't have any antagonism against anybody, but I don't want my friends getting cut up or shot."
Kind of a big assumption there.
Still, Chioffi is motivated by concern for his community. He believes he has Rutland's best interests at heart. And his time as a state lawmaker, from 1983 to 1987? "When I went to the legislature, I was a Democrat," he says. "That was the activism I wanted, representing the working man."
He doesn't see himself as having changed. "I didn't leave the Democrats," he says. "The Democrats left me." He is proud of his Citizen Activist award, and he thinks ACT for America is full of brilliant, insightful people who are fighting for a more secure future.
It's a sign of the battered, tattered state of our national discourse that an everyday guy can wind up embracing such extreme beliefs and be so resistant to any evidence that doesn't conform to his worldview. I've met my share of Don Chioffis, and I'm sure you have too. Just as many of them are on the left or occupy spaces outside the usual political spectrum.
Talking with someone like Chioffi makes me really want to find common ground, to achieve some measure of mutual understanding. Figure out how we can harness our goodwill and somehow work together. Can it be done?
Damned if I know.
Man of Mystery
On Saturday morning, the Vermont Republican Party will elect statewide officers. Current VTGOP state chair David Sunderland is not running for another term; to date, two people have entered the race. And there are a couple of noteworthy things about the pair.
One of the candidates is Deb Billado. She was, until earlier this month, chair of the Chittenden County Republican Party. Billado was a delegate to the 2016 Republican National Convention and, as she proudly noted in a letter to state party delegates, introduced Trump at his rally in Burlington last year.
The other candidate is Shelburne resident Mike Donohue. He seems to possess all the essential skills for the job: years of experience as a political functionary, lobbyist and communications professional, including stints with the Republican National Committee and Sen. John McCain's (R-Ariz.) 2000 presidential campaign.
But here's the thing: He only moved to Vermont last year. And a lot of prominent Republicans have no idea who he is.
"I haven't met Mike," says Rep. Kurt Wright (R-Burlington). "I've heard good things about him."
"Never met him," wrote VTGOP vice chair Brady Toensing in a text. "Wouldn't know him if he bumped into me."
And then Toensing added, "Gov. [Phil] Scott seems to like him."
Hmm. What say you, governor?
"I've met with him," Scott said at his weekly press conference last Thursday. "I think he's a very credible candidate. I said, 'It's great that you're getting on board; we need some youth and enthusiasm, new ideas, a fresh approach,' and it was welcome from my standpoint."
Is it just me, or is there something odd about the prospect of handing the keys to a guy who only just showed up — no matter how impressive the résumé?
Another point about this race: Through four days of requests, neither Billado nor Donohue could find the time for an interview with me.
I do hope they realize that communicating is a fundamental part of the job. This has been an issue with Sunderland, who seldom returns media inquiries, and with VTGOP executive director Jeff Bartley, who earns a full-time salary to do communications 'n' stuff but is rarely available.
Dissent in the Ranks
In recent weeks, two U.S. senators — Bob Corker (R-Tenn.) and Jeff Flake (R-Ariz.) — have openly broken with President Trump and announced their departures from electoral politics. In Vermont, one of the GOP's small cadre of state senators is staying in politics but taking pains to distance herself from the party. Sen. Carolyn Branagan (R-Franklin) doesn't like Trump and is dismayed by GOP leaders' reluctance to confront him.
"Before he got the nomination, he was making improper comments," she says. "I was concerned from the beginning, because it was clear this guy wasn't going to be the kind of leader we need."
But when she expressed her concerns to state party officials, she says, she was shut down. "They were not happy," she says. "They're not thinking about what's right for the country instead of just the party."
Trump has done nothing since to change Branagan's mind — although, unlike Corker and Flake, she has no plans to leave politics. "I don't represent the Republican Party," she says. "I represent the people of Franklin County."
She also notes a troubling indicator of the VTGOP's health.
"There were 1,700 people signed up on town committees last year," she says. "Those are the stalwarts, the faithful, the people who canvass and do phone banks for you. This year, there are only about a thousand. We've lost more than one-third of our base. I see us totally going down the wrong path."
There's a lot of uncertainty about which path the VTGOP should take. Gov. Scott provides an example of winning through moderate Republicanism, while Trumpism and/or deep-red conservatism appeals to many in the party's base. If, as Branagan suggests, the party is losing members because of this apparent split, the next party chair will have a big job on his or her hands.
A Win for Young Ethan
Thirteen-year-old Ethan Sonneborn may not realize it, but he just cleared a legal hurdle in his effort to run for the Democratic nomination for governor. He hatched his campaign after discovering that Vermont does not have an age requirement for gubernatorial candidates.
Well, Secretary of State Jim Condos had some misgivings. The law appeared to require that a candidate be a legally qualified voter. Condos sent the Attorney General's Office a request for a legal opinion.
And now we have one.
"There is no constitutional or statutory impediment to his candidacy," says Deputy Attorney General Josh Diamond. "For municipal offices, candidates must be legally qualified voters. That's not applicable to statewide candidates."
So a 13-year-old can be governor, but not a selectman?
Apparently so.
"There are arguments that have been advanced against his candidacy, but the issue is vague," Diamond says. "We believe it's up to the legislature to clarify the standard if it sees fit."
It's probably never come up because we've never had a 13-year-old seek the governorship before. Sonneborn has certainly pointed out a murky little corner of state law. And considering how we adults have managed our responsibilities, it might be best if we opened all offices to the next generation. They could hardly do worse.