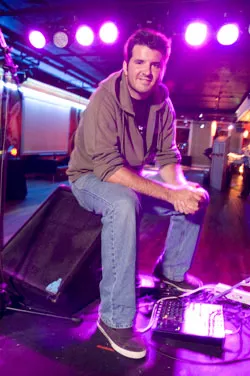 Matthew Thorsen
Matt Rogers
Music scenes can be kind of like the weather: Everybody complains, but nobody does anything about them.
In the Queen City, that complaint takes the form of a familiar refrain: "There are never any good shows here." Of course, that gripe is not entirely grounded — for one thing, this writer would be unemployed if it were. The truth is, there are scads of good shows in and around Burlington, practically on a nightly basis, which is all the more impressive when you consider the area's population.
Still, if you're the kind of person who checks the calendars of clubs in major cities, it's hard to see the embarrassment of riches enjoyed by our urban neighbors and not feel a twinge of jealousy. That goes double when you discover great bands touring from Boston to Montréal — or vice versa — and leapfrogging our lakeside hamlet. Frustration can turn to outright anger when said band takes an off day between the cities — looking at you, Joanna Newsom.
But one local promoter refuses to consider this situation as inevitable as Vermont winters. His name is Matt Rogers.
Rogers, 25, is the founder of MSR Presents, a small, Burlington-based music booking and promotions company that has been responsible for unleashing a wealth of ultrahip indie music on Burlington's eager collective ears over the past year. The upstart company's résumé ranges from up-and-coming bands, such as Phantogram and Bear in Heaven, to breakout stars such as Edward Sharpe & the Magnetic Zeros, the Tallest Man on Earth, and the Morning Benders.
New Jersey native Rogers is a recent graduate of St. Michael's College, where he majored in business with a minor in management. Both disciplines come in handy helming MSR Presents. Unlike many liberal-arts-school grads, Rogers is putting his degree to good use and actually working in his field of study. His "day job"? Assistant tour manager to James Taylor. (Yes, that James Taylor.)
Rogers travels regularly for his job, often for months at a time — he missed this spring's whole run of MSR shows because he was touring New Zealand, Australia and Asia. He has circled the globe with Taylor and witnessed the day-to-day, behind-the-scenes minutiae of touring that most of us never think about. The experience has given Rogers an insider's perspective. He credits it with the revelation that would lead to the birth of MSR Presents: Namely, that this stuff is surprisingly easy.
"What put me over the top was seeing how shows are actually put on," Rogers says recently over coffee at a Burlington café. "When you see it on that scale, and then downsize it for small venues, it really isn't that hard."
Rogers also started MSR Presents because he shared the gripe of other local music fans. Tired of traveling to Boston or Montréal to see shows that weren't coming to Burlington, he realized it would be much easier simply to contact the bands and line up gigs here.
"I just sort of saw this void," he says, referring to the oft-cited, and perhaps misperceived, dearth of stops by midlevel indie-rock bands in Burlington. "I mean, they do a great job, but there are only so many shows that Higher Ground can bring in."
Rogers began emailing bands and agents, gradually learning the ins and outs of tour routing and booking. At Club Metronome, in September 2009, MSR Presents presented its first show, featuring Brooklyn-based indie darlings Here We Go Magic. The lineup also included Burlington's Vacant Lots and DJ Disco Phantom, an eclectic turntablist who spins at most MSR events.
That first show flew under most local fans' radar, and failed financially. But Rogers' next effort, at Metronome with Seattle greats Grand Archives, was better received. Then, in November, he pulled off a coup: a triple bill featuring Edward Sharpe & the Magnetic Zeros, Fool's Gold, and Local Natives.
"That was a home run, right there," says Rogers, smiling. "I don't know if we'll ever get a better three-band bill than that."
That's not an understatement. Whether by savvy design or sheer dumb luck, Rogers has a tendency to unearth relatively unknown bands at precisely the moment before they blow up. Sharpe and Co. are currently among the country's hottest indie bands and sold out the Higher Ground Ballroom earlier this summer. The Morning Benders, who played a sold-out gig at Winooski's The Monkey House in April, will return to play Higher Ground in November. This fall, Here We Go Magic will tour with both Dr. Dog and indie legends Built to Spill. And the list goes on.
"I get really consumed when I'm looking for bands," Rogers says. "But the real thing is that I just look for bands I'm really into and will personally be excited to see." He adds that he's particularly amped for the show he'll present this Tuesday: David Bazan at Club Metronome.
Rogers' enthusiasm has proved infectious. He says he regularly speaks with fans at MSR shows who weren't familiar with that night's bands and came solely because of his company's growing reputation. That rep has translated into plenty of fresh faces in increasingly packed crowds.
"I'll go to MSR shows now and hardly recognize anyone in the crowd. And that never happens in Burlington," says Nick Mavodones, Higher Ground's box-office manager and the booking agent at Burlington hot spot Radio Bean.
Mavodones is also the founder of Angioplasty Media, another independent promotions company that has brought in its fair share of exciting music of late. The two operations have begun collaborating on shows, most recently to present School of Seven Bells at Metronome.
"I want MSR to be a community-based thing," says Rogers. He donates a percentage of show profits — when there are profits — to local charities after each show. And Rogers makes a point of including local bands as support whenever possible.
"That's such a big thing for local bands," says Paddy Reagan, a local musician and booking agent at The Monkey House. "Opening for your favorite bands can really motivate you as a musician, and it can help turn new audiences on to you as well."
Rogers knows that firsthand. "Doing this has turned me on to so many awesome local bands, too," he acknowledges.
MSR Presents has a predictably strong slate of shows lined up for this fall (see sidebar). And Rogers hints at more to come. But he stops just short of suggesting MSR Presents could eventually replace his gig with James Taylor as a primary source of income.
"The thing is, it's really tough to make a buck doing this. If I break even, I'm pumped," he says. "But we're really just getting started. And it's still just fresh and fun. Hopefully, people continue to catch on and I can do this for a long time."