Matthew Thorsen
Peter Handy
Peter Handy sits in the cab of his red Dodge Ram pickup with a remote control in hand and a big smile on his face. About two months ago, workers installed a new LED marquee just west of his Sunset Drive-In in Colchester. Handy, who unwrapped the marquee last week and turned it on for the public to see, is like a kid on Christmas morning, eager to show off its many features. With the touch of a button, he can make its message flash, crawl and perform other eye-catching tricks.
Handy's dazzling new toy wasn't installed for the benefit of moviegoers — at least, not directly. The marquee's main purpose is to advertise the Starlight Inn, the new movie-themed motel that Handy built earlier this year adjacent to the 750-car drive-in. The Starlight premiered on Friday night, May 16, and filled to capacity its first weekend.
Handy, an unabashed film buff and admirer of glitzy resorts and casinos, says that for years he dreamt of opening his own hotel to pay tribute to classic Hollywood movies and actors. The 11-room Starlight Inn, whose slogan is "Sleeping with the stars, under the stars," is the realization of that dream.
It's also Handy's survival plan in the face of potential digital destruction.
Several years ago, the major Hollywood studios informed theater owners around the country that they would begin phasing out the release of motion pictures on 35-millimeter film and replace them with digital files by the end of 2013.
Although the 2013 digital deadline came and went, and 35mm prints remain available through this summer, the writing is on the wall: "Real" film will soon be extinct. In December, Paramount Pictures announced that Anchorman 2: The Legend Continues would be its last full-length feature released on film stock. The Los Angeles Times reported early this year that Paramount's The Wolf of Wall Street was its first major motion picture released solely in digital format. Other studios are expected to follow suit, especially after Eastman Kodak's 2012 bankruptcy made 35mm print stock more expensive and difficult to find.
It's no mystery why the studios are switching to digital: Not only does the format offer viewers higher-fidelity sound and images, as well as bonus features such as 3-D and IMAX, it saves the studios boatloads of money. According to an April 2012 story in LA Weekly, it costs the studios about $1,500 to print each copy of a movie and ship it to exhibitors in metal canisters. Printing and transporting that same film on a digital hard drive costs just $150.
For the large, corporate-owned cinema chains that can easily afford the transittion from film to digital, it's a welcome improvement — a way of getting more butts into their seats. But when it comes to small, independent theaters, especially family-owned drive-ins that make all their money seasonally, the $80,000-plus per-screen cost of upgrading their projectors, booths and sound systems threatens to drive many out of business. That's the potential fate of the Sunset and Vermont's three other drive-ins, all of which are struggling to stay lit through the end of 2014 (see sidebar).
Handy's parents, Ernest and Dorothy Handy, bought the Sunset from a developer in 1948 and ran it until their retirement in 1979; Peter started working there at age 8. Now he faces the expense of upgrading not one but four screens and projection booths, the latter of which must be climate-controlled to protect the sensitive, high-tech computers from dust and the elements year-round.
Does that mean the sun will set on the Sunset for the last time in 2014?
"Not on my watch," vows Handy. "The Starlight Inn will support the drive-in, and the two will play into each other. So I think our odds of staying open now are better than ever in the face of this digital Armageddon."
Matthew Thorsen
Elvis Presley Room
To prove his point, Handy has thrown considerable time, effort and cash into making the Starlight Inn a money-making attraction in its own right, especially for drive-in aficionados. Some travel long distances to visit the Sunset, now in its 66th year.
Unlike those of other motels and inns, rooms in the Starlight aren't numbered but named after legends of the silver screen, such as Marilyn Monroe, John Wayne, Robert Redford, Paul Newman, Julia Roberts, Brad Pitt and Audrey Hepburn. On each door hangs a replica of the actor's star on the Hollywood Walk of Fame. Handy even had the sidewalks leading to each room dyed red to resemble a red carpet.
Each room holds original movie posters, photos and bios of the film legends. For example, the Elvis Presley Room features an original framed poster from the 1958 musical King Creole, a 1975 "Elvis Live" concert poster, a life-size cardboard cutout of Presley, an oversize bathtub, a 56-inch television and, naturally, a king-size bed.
Likewise, the Newman and Redford Room sports a poster from 1969's Butch Cassidy and the Sundance Kid, stills from the movie set, and short bios of both actors. The Tom Cruise Room includes a poster from Jerry Maguire and stills from Cocktail — through no couch for gleefully jumping on.
Matthew Thorsen
VIP Hollywood Room bathroom
Only the VIP Hollywood Room isn't named after a specific movie legend or Hollywood couple. The motel's biggest and priciest lodging ($179 a night on one early June weekend), it does boast a large living room with a wide-screen TV, a beverage bar and an extra-large bathroom — including a whirlpool tub with jets and underwater lights.
The inn's six dormers have digital lights that flick on at night and change color. Handy will soon have a program he can use to sync their flashing to movie soundtracks — "like Close Encounters of the Third Kind," he says. All of Handy's guests receive complimentary admission to the drive-in during their stay. And, for those who don't want to leave their rooms, each one offers views of several drive-in screens and is outfitted with high-fidelity radios to pick up the theater's FM signal. For the lights-down effect, there are dimmer switches beside each bed.
"Look at that view," Handy says, pointing out the bay window at the three screens visible from the Elvis Presley Room. "That view is fit for the King! That's three times better than the view I've had in my box office for 40 years."
Handy won't reveal exactly how much the Starlight Inn set him back. "It's still a work in progress," he says. "Trust me, we haven't hit the bottom yet." Clearly, obtaining a business loan for a year-round motel in Chittenden County, where occupancy rates are the highest in Vermont, is far easier than getting one to upgrade the projectors at a seasonal drive-in. The Starlight will be open year-round to capitalize on the lack of lodging in the Malletts Bay area.
But sooner or later, Handy will have to face the digital dilemma. For now, he says, the plan is to upgrade just one screen by 2015. He'll do so not only to capitalize on new movie releases, he says, but also to take advantage of special events being offered to digital-capable drive-ins. They include this summer's Jimmy Buffett concert, which will be simulcast live via satellite to drive-in theaters around the country.
As for his three other screens, Handy says he'll keep showing movies in the traditional 35mm format for as long as distributors keep shipping them to him.
"We want to keep nostalgia alive for as long as we can at the Sunset Drive-In," Handy adds. "We're retro and we love it."
Is the Curtain Rising or Falling on Vermont's Drive-ins?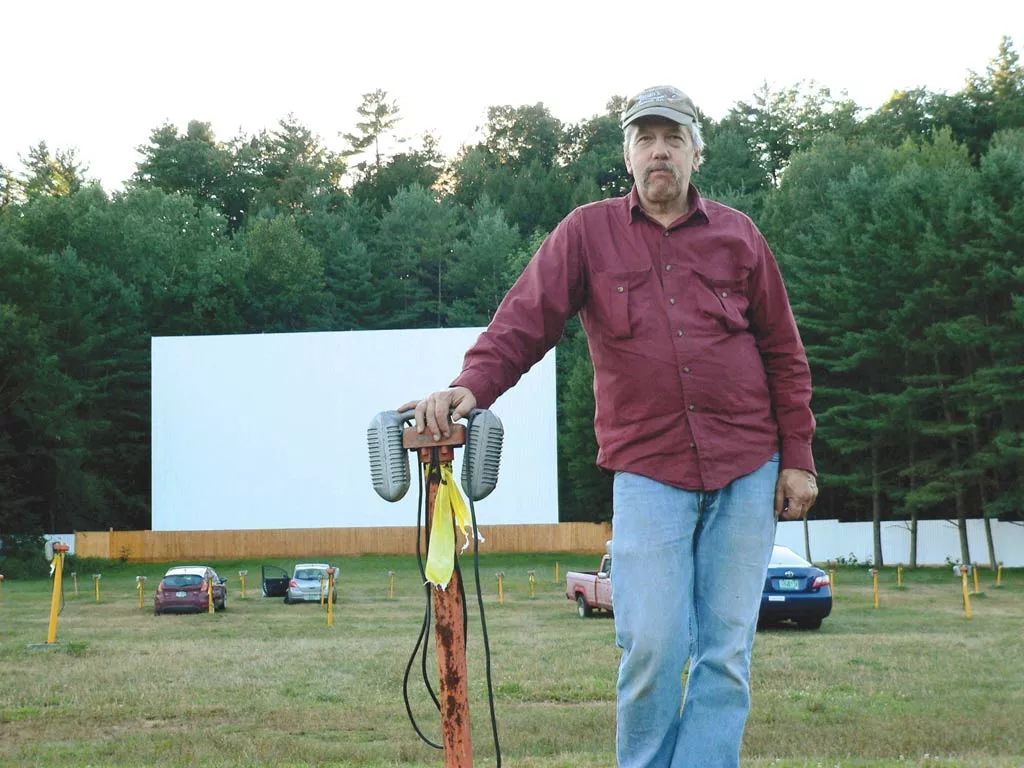 Courtesy of Michael Fishere
Peter Trapp
When Peter Trapp, owner of the 400-car Fairlee Drive-In, is asked about his plans for converting his single-screen theater to digital, he doesn't hesitate before answering.
"My plans are to go broke," he says in a deadpan voice.
In reality, Fairlee is the first of Vermont's four drive-ins to make the switch to digital. As of press time, Trapp expected to have his new sound and projection system up and running for the May 16 premiere of the new Godzilla. But, like that massive, rampaging lizard, the digital conversion of the Fairlee was colossally disruptive and costly. In February, Trapp says, he made a down payment on a new digital projector, which promptly got lost in transit.
"God knows where it was for a month," he says, joking, "They flew it in from Belgium and gave it to the same guy who did those Samsonite commercials."
Like many drive-in owners in Vermont and around the country, Trapp launched a Kickstarter campaign last year to raise donations for the digital conversion. He fell short of his $55,000 goal and hence didn't collect a dime. (Trapp has since relaunched the campaign with the more modest goal of raising $27,595 — the amount pledged last time — by May 31.)
Ultimately, Trapp estimates the conversion will cost him "every bit of $80,000," which includes equipping his projection booth with new climate and dust controls, and installing new bulbs, lenses and a sound system. As he puts it, "You can just hear the cash register ringing."
Even after the digital upgrade is complete and paid for, Trapp admits, he won't rest easy.
"How long does this computer last? That's your other fear factor," he says. "You have to keep in the back of your mind that this might only be a five-year solution for us."
Adam Gerhard and Regina Franz are facing an equally daunting battle in their efforts to keep their theater open for another season. They operate the Randall Drive-In, a 140-car theater in Bethel that bills itself as the "world's smallest drive-in."
Gerhard and Franz don't even own the land on which their theater stands; they lease it seasonally, making it virtually impossible for them to secure financing for the digital upgrade. Their last Kickstarter campaign fell short of its target. But as of press time, the couple, who live in Newmarket, N.H., and drive to Bethel every weekend to show movies, were nearly halfway to their new goal of raising $20,000 by May 27.
There have been plenty of dire predictions that digital will doom the nation's 357 remaining drive-ins. Yet so far the switch hasn't darkened any of them, according to D. Edward Vogel, administrative secretary for the United Drive-In Theatre Owners Association.
Vogel also owns Bengies Drive-In Theatre in Baltimore, Md., which boasts the largest drive-in screen in the United States. He explains that, as with all movie-industry innovations — sound in the 1920s, wide-screen projection in the 1930s, CinemaScope in the 1950s — the big studios have done little to help small-time exhibitors upgrade their equipment to the new industry standard.
A few theater owners have been able to recoup some of the cost of their digital conversion through a complicated system of third-party vendors, Vogel notes. Essentially, the studios return to exhibitors a portion of the money they save by not having to print and ship 35mm films. Bengies, which switched to digital last summer at a cost of $86,000, is part of that system.
"Will I ever see all of it?" Vogel asks of the compensation the studios promise. "Probably not."
Nor will the Randall. As Gerhard points out, those third-party vendors require the installation of "ridiculously expensive" monitoring equipment, making the system impractical for his small, short-seasoned business.
"So the big companies that actually could afford to go digital got all the help," Gerhard says, "and the small companies that couldn't, like us, got nothing."
As for the fate of the St. Albans Drive-In, it remains uncertain following the death last year of longtime owner Paul Gamache. Although a family member hinted that the theater is expected to open on Memorial Day, Gamache's son, Anthony, wouldn't confirm that prediction and declined further comment on the drive-in's fate.
The original print version of this article was headlined "Reel Pleasures"