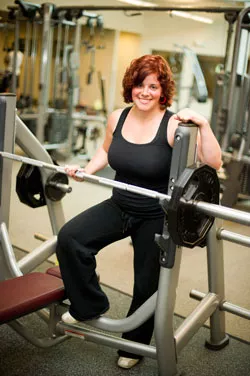 Andy Duback
Ginger Viera
Ginger Vieira of South Burlington can deadlift 308 pounds, squat 265 and bench- press 190. She's broken 14 national powerlifting records and holds the Vermont title for the women's bench press. And she has type 1 diabetes.
This summer, some good news surfaced for people with Vieira's chronic illness. A study presented at the American Diabetes Association's annual meeting revealed that fewer than ever are dying of type 1 diabetes, a disease in which the pancreas doesn't make enough insulin to control blood-sugar levels.
But Vieira doesn't need researchers to tell her people can successfully manage her condition. In 1999, the New Hampshire native suspected she might have diabetes after she examined a school classmate's science project. Weight loss, fatigue, frequent urination and blurry vision — Vieira had all the symptoms at age 13.
Now 24 and a Champlain College graduate, Vieira is one of the state's best powerlifters. She blogs for several sites, including Vermont's ParentingDiabeticKids.com, practices yoga, and coaches 15 clients on cognitive health and chronic illness through her own business, Living in Progress Health and Chronic Illness Life Coaching.
On Monday, September 6, Vieira will teach a class at Healthy Living in South Burlington called "Building a Healthy Relationship with Food." In January, she aims to self-publish her book titled Your Diabetes Science Experiment. We didn't have to strong-arm Vieira into an interview about powerlifting and diabetes.
SEVEN DAYS: What was that like to realize suddenly you might have diabetes by looking at a science project, at age 13?
GINGER VIEIRA: I was standing in front of [my friend's] board, and I asked him, "Can you die from that?" And he said, "Well, yeah." He didn't know. I went home to my mom and said, "I think I have diabetes." I just curled up in a chair and started crying. Then we went to the doctor, and then to the hospital for three days. My blood sugar was at 600, and my body was full of these ketones, and it takes a while to flush them out.
SD: Did you have any interest in science yourself?
GV: No, and that's the funny thing. I've always been a writer, but a creative writer. But in 2007 I met with Andrew Berry, a trainer at the Sports & Fitness Edge. Andrew didn't ever look at me as a diabetic … Throughout my entire time training with him, he talked about the science. It applied so much to my everyday life, not just [to] exercise.
SD: What sparked your interest in powerlifting?
GV: I grew up in a house of boys — I have three brothers — and I was always watching Arnold Schwarzenegger and Sylvester Stallone. I just really thought muscle was cool; that's what it looks like to be strong. It was always my intention to keep up with the boys, so I always valued strength. I was just doing basic weight lifting with Andrew, and he progressed me into a more advanced program as he saw that I really loved it. After about a year of being on that program, a powerlifter saw me bench pressing and set me up with her boyfriend, who taught me the rules of powerlifting and guidelines for training.
SD: What does it feel like for you during powerlifting? Is it a rush?
GV: Every time, you're always attempting something that may or may not be possible, and the coolest thing is to talk yourself through it and actually achieve it. I had a client today say, "Well, it's your innate ability to not be scared of things." I'm scared of things all the time — I just know how to talk myself through it. Before every single competition, I say to myself, "Deep breath, you can do this, just do your best."
SD: Still, it must have felt pretty good, your first win?
GV: It was amazing; I really hadn't researched what the average competitive, drug-tested lifter could do. The month leading up to the competition, I was really quite nervous, and I had a thought in my head — How cool would it be to call up my parents and be, like, "Guess what, I won the whole damn thing." And I got to do that. I set seven records that day, but that was never my goal. I was just doing it because I really just enjoyed lifting the weights.
SD: How many other powerlifters do you know with diabetes?
GV: I've encountered a couple on lifting forums, but they do it as a hobby; it's not a huge passion. There's some guy in the Ukraine, but the interview was not in a language I could understand.
SD: So how do you manage your diabetes for powerlifting?
GV: It's not just about avoiding sugar. I have to know every gram of carbohydrate that I'm eating, and also [eat] high quantities of protein. Then you add in exercise and stress, and you don't always know how much insulin to take. When I began powerlifting, I became extremely aware that if my blood sugar was high after my workout, I wasn't going to recover. My muscles weren't going to recover the way a nondiabetic's would recover, and if my blood sugar was high before a workout, or low, I wasn't going to be able to perform very well.
SD: Are there any sports you won't do because you're managing the diabetes so well?
GV: There are sports I wouldn't do because I'm a powerlifter. I'm not going to go for a long run, because that burns up muscle, and it impairs my muscles' ability to recover from the training. But if I wanted to, I know how to plan my blood sugar for that. I have four different insulin-to-carb ratios depending on the time of day.
SD: And this ties into your book?
GV: The more I learned about all the different physiological processes that happen in the body, the more I realized that there needs to be a book on this. This is so much less frustrating because I have an understanding of every single type of blood sugar. People with diabetes often feel so mad at themselves, or guilty or just angry because things seem to happen to their blood sugar that they can't explain, they can't control. It's really empowering to look at it and not blame yourself and say, "I understand why that happens."
SD: What is your next goal?
GV: Well, I just won that bench-press thing — I really didn't mean to compete; I've had some pinching in my shoulder, and I have some posture issues, so I am trying to rehab that and develop strength in weak areas. I was worried about taking all this time off, but that bench-press competition grounded me; it will still be there. I would love to be able to bench-press 200 pounds someday.
SD: Have you seen your body change a lot?
GV: Oh, yeah — I gained 15 pounds of muscle; my shoulders are wider, everything's bigger, I have lats. It was never my initial goal to do that. My butt got bigger from doing squats, and I was, like, "Oh, no, I can't do up my jeans because my quads are getting bigger." It's a weird thing to accept as a female that you are getting larger, but because of a really cool thing. I just feel good. I feel proud of what my body can do. It makes you more confident: "Well, yesterday I picked up 250 pounds off the floor, like, 10 times; what did you do?"