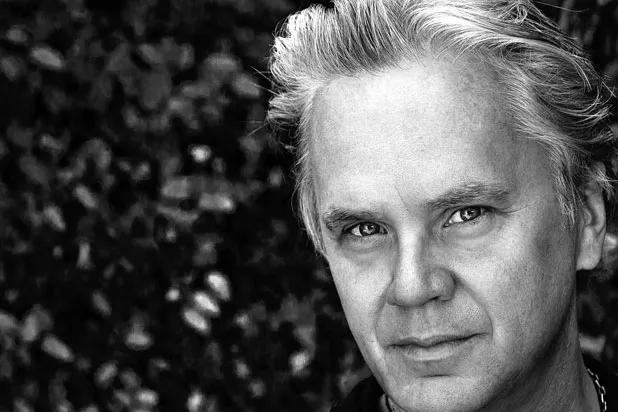 Tim Robbins is among the most recognizable American actors of the last 30 years. The Academy Award winner is best known for roles in films such as Bull Durham, The Shawshank Redemption and Mystic River. He is also an accomplished screenwriter, director and stage actor. But earlier this year, Robbins changed course, putting acting aside in favor of rock and roll. After losing financing for a film project in 2010, he took to the recording studio with his Rogues Gallery Band. The resulting eponymously titled debut album was released in July.
On a recent morning, Seven Days talked on the phone with Robbins, who was somewhere in the Pacific Northwest. The tour brings Tim Robbins and the Rogues Gallery Band to the Tupelo Music Hall in White River Junction this Saturday, July 30.
SEVEN DAYS: You said in a recent radio interview that the original title of the record was The Mid-Life Crisis Album. I gather that was meant as a joke…
TIM ROBBINS: It was a thing I said in jest, but it became a thing online, because, apparently, there is no irony on the Internet.
SD: Sadly, that's true.
TR: I made the joke on a BBC radio show, and it should have been obvious to anyone that heard it that it was a joke. But the next day, one of those tabloids in London ran an article that I had written all these song in response to things going on in my personal life. But personally, I can't think of many worse topics for an album than listening to a 52-year-old man talk about his midlife crisis.
SD: Agreed. But the album was created while you were at something of a crossroads, right?
TR: I decided to do it when I was at a creative crossroads, yes. But the songs don't really have anything to do with that. They're about telling stories.
SD: In the liner notes, you refer to your brother, David, as your "rock and roll mentor." How did he mentor you?
TR: Well, he taught me how to play chords, play guitar. I wrote my first songs with him.
SD: Your father was a member of the Highwaymen, and you grew up in the Greenwich Village folk scene. Was there ever a point when you considered pursuing music instead of acting?
TR: No. Acting came first, as far as my interest in performance. I mean, certainly I've been singing in some of that acting. I always have a guitar with me, and it's always been something I do. But acting was always first.
SD: Do you find similarities between the process of writing songs and creating a character?
TR: No, they're different. A character is presented to you on a script. A song comes from you, stories you want to tell. It's a different process. The storytelling part of it is similar. Ideally, you're in front of a group of strangers and taking them to a place in their imagination, whether you're acting, or writing or directing, or songwriting. So that's a similar pursuit that dates back to storytellers around a fire. But songwriting becomes a more personal thing, more about experiences that you've had. But a play is written by someone else and deals with an emotional reality that your character explores.
SD: So is the pressure of writing songs different than filtering your emotions through a character?
TR: Well, at the core it is the same principal being applied. You're striving for an emotional truth, getting in touch with honest emotions. But writing a song does that in a more direct way.
SD: You seem to wear your influences on your sleeve. What is it about a great song by someone like Springsteen or Dylan that resonates with you, personally?
TR: Those guys are great storytellers. A great song can take you to an emotional reality; it can paint a picture, like a good movie. But the great thing about songs is that everyone makes their own movie. You get to cast it, write it, direct it. You get to imagine where it's taking place, who the people are in it, what the setting is. It's a beautiful form of expression that you can do in four minutes what it might take two hours to do in a film.