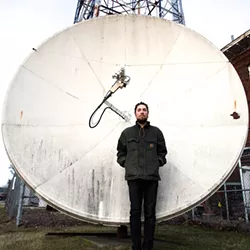 The Static Circus, Through Radio
(Self-released, digital download)
Despite the scale implied by the name, the Static Circus is actually the one-man operation of Kevin Bloom. Bloom is well-known to local musicians, even if they don't realize it. He's been the longtime sound engineer at two of Burlington's busiest venues, Radio Bean and the adjacent Light Club Lamp Shop. His latest project, dubbed Through Radio, was inspired by his late-night commutes home, where he discovered the strange parallel universe that is late-night AM talk radio.
Bloom started recording his interactions with the ether and taking them home to play with. He sorted through his haul on his computer and then transferred his favorite slices to tape machines, where they could be manipulated or reversed. After fleshing out the results with some ambient instrumentation, the result is a five-track set of immersive audio experiments. Through Radio might offer a golden opportunity to eat some LSD and lay down on the floor for a while, except the experience is fleeting.
Messing about with tape equipment is a rich tradition with a small audience. While early auteurs such as John Cage or Karlheinz Stockhausen are famous names today, your tolerance for feedback loops and odd noises will dictate how much you can enjoy the genre. There's not a lot of structure or pattern to grasp. The most fleshed-out track here, "home.," introduces a gorgeous guitar motif over a bed of saturated, muddled vocals. But the rest of the project hews to a more atonal aesthetic.
The AM radio spectrum is, of course, haunted. As the airwaves have filled up in an increasingly connected world, the static and interference grew so intense that music stations almost all migrated to the superior fidelity of FM radio, making the AM dial something of a radio graveyard. Even before that, AM was essentially an open channel for natural and manmade interference, always alive with noise. Rather than attempting to clean it up, Bloom has opted to amplify the grit.
While the EP is based almost entirely on vocal samples, everything is so saturated with effects that you might as well be watching TV in a Russian hotel room. It has a sonorous, organic feel, but the brain can only take it as background noise that's between soothing and confusing. Not until the fourth track is coherent, intelligible speech introduced, and the effect is nicely jarring: an earnest conversation about "Demonology, Possession and Exorcism."
Ultimately, the brevity of Through Radio forces more scrutiny than the five tracks collected here could bear. Surely the AM radio spectrum is a deep enough ocean to yield more than 10 minutes of material? One track, "mumblers," clocks in at a mere 34 seconds. Granted, this is experimental work. But the Static Circus should have spent more time in the lab before presenting these particular results. Bloom's art needs a bigger canvas. Hopefully, his next release will be long enough for listeners to really get lost inside of it.
Through Radio by the Static Circus is available at soundcloud.com/staticcircus.