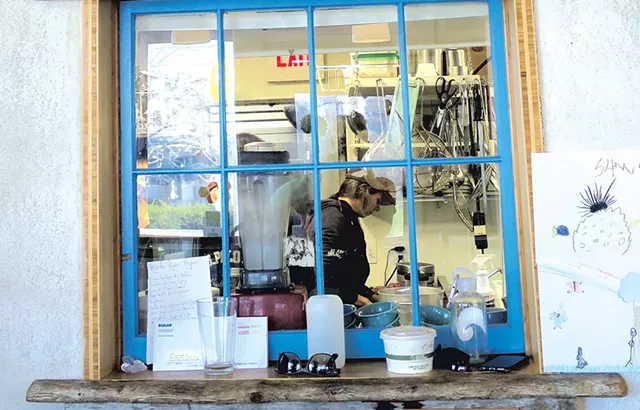 Matthew Thorsen
Hilary Crouse through the window of the Spot's kitchen
Even people who have never worked in a restaurant are likely to have heard tales about the boozy, druggy excesses of kitchen staffers. The one about the line cooks who kept fifths of whiskey alongside the knives at their stations. The one about the chef who sniffed half an ounce of cocaine to get through his restaurant's busiest nights. The ones about the hangovers, the burnouts, the ODs.
The hard-partying restaurant kitchen was fixed in the public mind by hotshot chef Anthony Bourdain's 2000 memoir Kitchen Confidential, in which he describes the typical kitchen as "insular, chaotic, drenched in drugs and alcohol, and accompanied constantly by loud rock and roll music."
Prone though he is to self-aggrandizing "coolness," Bourdain — himself a recovering addict — does not appear to have exaggerated. A 2015 survey conducted by the federal Substance Abuse and Mental Health Services Administration found that, of all industries surveyed, workers in the "accommodations and food services industry" had the highest rate of past-year substance abuse: 16.9 percent.
Not every restaurant kitchen is a substance-abuse statistic, though. And the staff of one popular Burlington restaurant is particularly determined to buck the trend. The Spot on Shelburne Road has maintained a "sober kitchen" for years. The people who work there, several of whom are recovered addicts, have forged a kitchen community bonded not by a shared love of getting wasted — or, conversely, by a finger-wagging preachiness — but by a desire to lend a hand to good people who need a boost.
With its brightly painted dining room, "hang loose" surf-and-ski vibe, and mix of classic rock and bouncy reggae easing from the wall-mounted speakers, the Spot is a pretty laid-back place. The lively, unfussy menu emphasizes local meats and fresh veggies alongside the seafood that naturally takes pride of place at a restaurant with a seashore theme. Most tables are occupied for all three daily meals. The waitstaff gabs jovially with the regulars.
The Spot doesn't advertise or boast about the sobriety of its kitchen. Nor does the place hire only those who pledge never to imbibe — to do so would be discriminatory. In that it does not welcome drugs or alcohol during business hours, the Spot's kitchen is not unlike those of most other restaurants. Sobriety is neither official policy nor even an explicit recommendation; the place employs several people who drink alcohol on their own time.
Rather, the purpose of the Spot's "sober kitchen" is to create an understanding and supportive atmosphere — as well as steady jobs — for people who could use the boost. It's clear, talking with kitchen staff, that they're proud to be part of an enterprise that's unusually sympathetic to and supportive of its employees.
Frank Pace, 42, is well-known in Vermont culinary circles. Before assuming chef duties at the Spot in May — whereupon he revamped the menu — he was the butcher for restaurants of the Burlington-area Farmhouse Group. Before that, Pace spent years as the meat manager at Healthy Living Market and Café; he now runs his own company, Pace Catering. He's also a recovered substance abuser.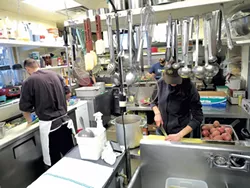 Matthew Thorsen
Kitchen staff at the Spot
Between the ages of 19 and 35, most of those years spent in the restaurant industry, Pace said he used drugs and alcohol. "By the time I was 26, I had passed the line of normal drug use to become a full-blown addict," he said. His drug of choice: whatever was at hand.
When he was starting out in the restaurant business, Pace acknowledged, his colleagues' fondness for mind-altering substances was "a big plus. It's a camaraderie thing." But, he quickly and emphatically added, "I don't think cooking made me a drug addict. I could have been a banker, and I probably would have been a drug addict."
After his wife kicked him out in 2008, Pace moved into one of two Burlington locations of the Oxford House, a democratically run halfway house for people committed to sobriety. From there, he proceeded to recovery retreat Plymouth House in Plymouth, N.H. Though not formally affiliated with Alcoholics Anonymous or Narcotics Anonymous, the Plymouth House uses the signature 12-step method of those organizations.
Pace helped foster the Spot's commitment to sobriety well before he took charge of its kitchen. After he'd progressed through those 12 steps and landed a string of prominent jobs in Burlington's food industry, he recalled, he felt the need to "pay it forward." In 2012, Pace did so by sponsoring another graduate of the Plymouth House; he used a connection to the Spot's owners to land a gig there for a young man named Curt Duford.
Like the other recovered addicts at the Spot who spoke with Seven Days, Duford is disarmingly blunt about his abuse of alcohol and opiates. The low point: a felony attempted assault and robbery charge that landed him a short stint in jail, where his "recovery program" consisted of a cold cement floor and a serious case of the shakes. He considers himself fortunate that the judge overseeing his case recommended he be sent to the Plymouth House rather than to a higher-security prison.
Upon moving on from the Plymouth House, Duford landed a salad-and-smoothie-prep gig at the Spot on the strength of Pace's recommendation. Within about 18 months, he was managing the kitchen. These days, the affable, red-haired 30-year-old works only a couple of days a week as a line cook. Most of his time is spent in classrooms: He's a full-time student at the University of Vermont, where he studies accounting.
Several other Spot employees singled out Duford as the key figure in maintaining the kitchen's sobriety. As kitchen manager, he made a point of hiring other recovering addicts. "I knew some good people who were really working their [12-step] program, and I knew they had experience and that they were ready to come on and kick butt," Duford said.
"It's really cool to be able to spend most of my time around people who are striving to be better people," he added.
One of the people Duford sponsored, and then hired, was Andrew Franchek, now 27, who started as a dishwasher and became a grill cook. Franchek, a native of St. Johnsbury, said he found his hometown lacking in the recovery services that he knew he needed after four years of abusing Percocet, Oxycontin and heroin. So he moved to Burlington's Oxford House, where he met Duford.
Franchek has spent two years at the Spot; at one point during that time, he had a two-month relapse. "It had gotten pretty bad, and it was pretty noticeable in the kitchen, where everyone is an ex-junkie or alcoholic," he said. "I came out of the bathroom, where I had gotten high. I was sweating; I had scabs all over my face." With Duford's encouragement, Franchek returned to the Plymouth House to clean up.
"Curt promised me: 'If you keep doing the right thing, your job will be here when you get back,'" said Franchek. "It was another motivating factor to get me back on track. I know these guys care about me as much as my family does."
A more recent beneficiary of Duford's sponsorship is Hilary Crouse, 36, who grew up with him in Massachusetts. For the past few months, she's been the Spot's utility infielder, waiting on tables and helping to prep food whenever she's needed. Her wide, welcoming smile never wavers, even when she discusses her darkest days of heroin and alcohol abuse.
Crouse is not only a resident but a cofounder of one of the Burlington Oxford Houses — a testament to her commitment to sobriety. Despite that commitment, she relapsed several months ago, she said; after a visit to the Plymouth House, she returned to Burlington on a Wednesday afternoon. By Thursday morning, she had taken the job at the Spot that Duford offered her.
"I love these guys like family," Crouse said. "Even the people here that aren't in recovery are so super-supportive. And these guys hold me accountable, too. There's no bullshit."
All this may come as a surprise to the locals and commuters who come to kick back at the Spot — sometimes with a drink in hand. As befits its fun-and-sun Hawaiian theme, the Spot mixes up a selection of beachy drinks in addition to standard cocktails like the tequila sunrise and the cosmopolitan. The mojito, the dark 'n' stormy and the rummy planter's punch are joined on the menu by such creations as the Hawaiian Martini: Smirnoff, Malibu rum and pineapple juice.
Those libations can be a perfect accompaniment to the restaurant's scallop ceviche and red curry and coconut shrimp. Do staffers ever find them a source of potentially dangerous temptation?
Despite her struggles with substance abuse and her recent relapse, Crouse said no. She even works behind the bar some nights. "We make apple-cider mimosas here," she said. "They probably taste really good. But I don't have that option."