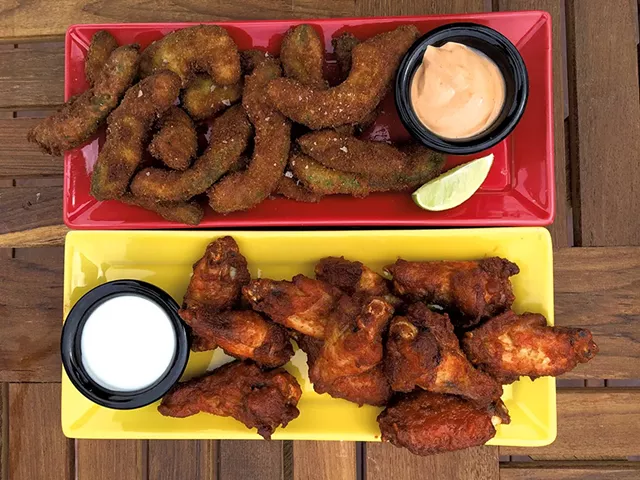 Sally Pollak
Avocado fries and chicken wings at the Spot on the Dock
Find your flip-flops, slip on your Wayfarers and call the dog: The Spot on the Dock is open at 1 King Street in Burlington.
Follow the arrow pointing south on the surfboard in front of the former Breakwater Café & Grill, which closed in February. Then cut west and come to a stop before you walk into the water. Park yourself at a table and listen to reggae music.
The Spot on the Dock is a sister restaurant to the eatery with a seaside aesthetic — called simply the Spot — that opened in 2009 in a converted gas station on Shelburne Road. The fare is similar to that of the original Spot, with the addition of a tapas menu featuring Hawaiian salmon poke, avocado fries, surf sliders and more.
We ordered a mojito and a pilsner from von Trapp Brewing, and the drinks competed with each other for "just right." Turning to the tapas menu, we chose avocado fries and spicy chicken wings. When we offered a couple of the fries to the curious twosome at the next table, they accepted.
The verdict came back split: She liked her fries; he tossed his overboard.
"It could've been a hot dog in there," said Matt Huber of Colchester. "The breading took it over." His friend, Tamatha Clark of Bristol, gave an all-around thumbs-up to the Spot on the Dock.
"I think it's an upgrade," Clark said. "I think it's going to draw a different crowd, for the food alone."
The Spot on the Dock is open daily from 9 a.m. to 10 p.m. Dogs are allowed.