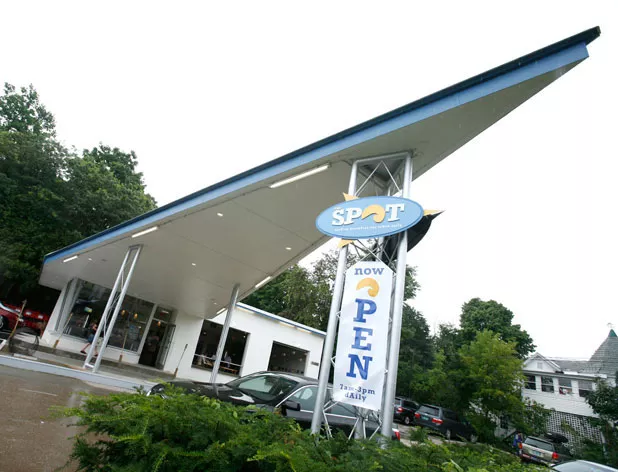 NECI grad Tommy Winrock cooked Southwestern and American fare with flair when he owned Tommy's City Grill on Shelburne Road. Loyal customers buzzed about his Philly cheese steaks, spicy chicken burritos and hefty egg sandwiches.
But five years of business ownership — much of it during an economic downturn — took its toll. When his lease came up for renewal, Winrock decided to close TCG's doors. "I'm going to see my family a little more. I'm actually leaving today on my first vacation in five years," he dishes.
Winrock is coming back to a different job: He'll help run the kitchen at The Spot on Shelburne Road. "This is awesome," Winrock says of his new gig. Working with the current kitchen staff, he'll help bring more flavor to the funky fare at the surf-themed breakfast and lunch joint. "They have some really good ideas here that just need to be adjusted a little," he says.
Might some TCG items hop over to the Spot menu? Winrock says owner Russ Scully's theme is not going anywhere. "We're going to push hard to do more creative coastal, global and world dishes," he says. "We're going to play with a lot of different food and see what works and what doesn't."
Winrock starts next week, but he cautions that patrons may not pick up his flavors immediately. "We're working to get the systems in place," he explains. One of those is making most things by hand: "It'll be strictly from-scratch cooking as much as possible," Winrock says. And he guarantees that local sourcing will be a priority: "[Scully] is really trying to pump that up. He's really into supporting the community and becoming a real community go-to place."