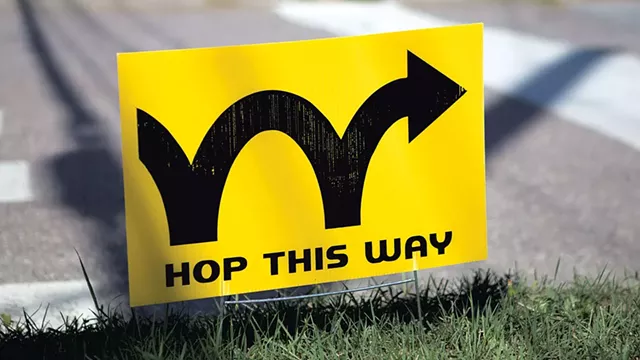 File: Luke Awtry Photography
Art Hop sign
Mask wearing and social distancing may not seem compatible with a festival. Just about every event that attracts loads of humans has been canceled this year, courtesy of the coronavirus. And yet, people, the 28th South End Art Hop is on! It might look a little different — OK, a lot different — but, according to Christy Mitchell, Burlington's largest arts festival will give it a go.
Mitchell is the executive director of the South End Arts and Business Association, which presents the Hop. (She's also the proprietor of S.P.A.C.E. Gallery in the Soda Plant.) From SEABA's office in the Vaults on Howard Street, she and art curator Ashley Roark have been toiling away "nearly daily for months," Mitchell writes in an email, to ensure that the annual event can be put on safely.
"The South End Art Hop on September 11th, 12th and 13th, 2020, will be a virtual event, with as many mask-on, in-person portions as is possible," Mitchell writes. "Buildings will be filled with art that will also be featured in an online marketplace, businesses will be promoted for what they currently offer and how to support them, Kids Hop will now be pop-up tents throughout the area with a socially distanced pickup of goodie bags filled with activities to take home, and so on."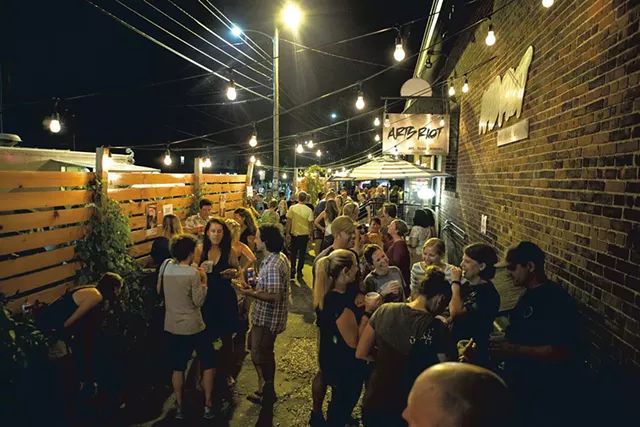 File: Luke Awtry Photography
This will not be happening at the Art Hop this year
As always, the goal of the Hop is to feature and support the numerous artists and creative businesses that occupy the South End Arts District — aka the Pine Street and Flynn Avenue corridors and environs. Many of those shops and studios will host exhibitions — for three months, not just the weekend — while the paradoxically named "Art Hop Live" offers a virtual platform for at-home viewing and sales. An in-person artist market will happen outdoors, spread throughout the neighborhood to allow ample room for browsers.
STRUT, the popular fashion show normally presented under a tent on Saturday night of the Hop, has been postponed. If the situation is deemed safe enough by that time, it will take place in March in the brand-new HULA campus on Lakeside Avenue.
File: Luke Awtry Photography
Art Hop
A guide to the Hop will provide instructions for in-person and virtual options, noting the capacity of each participating venue and curbside pickup opportunities for art purchases. (Full disclosure: That guide will be printed in Seven Days.)
In the meetings among Mitchell, Roark, Art Hop sponsors and others, "There have been so many good ideas shared that we hope will come to fruition in a way that can get people excited about celebrating our creative community in a safe manner," Mitchell notes.
"It is worth noting that SEABA would not have been able to do any of this without the support of local and federal programs," she adds, noting funding from the Community Economic Development Office COVID-19 Relief Grant, the Paycheck Protection Program, the Economic Injury Disaster Loans, the Vermont Arts Council COVID-19 Cultural Relief Grant and the Vermont Economic Recovery Grant.
The Art Hop won't be "a big party this year," Mitchell concludes, but "that doesn't mean we can't have fun in a safe manner" while supporting local artists.
Look for more Art Hop details here as they develop.