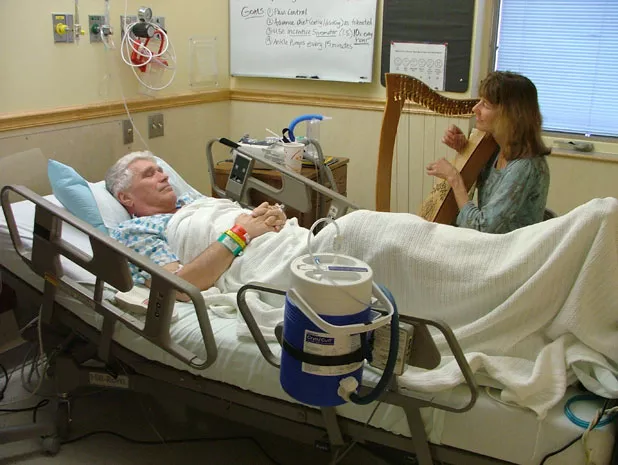 Kathryn Kuba Dandurand plays for Phillip Kinne
The man resembles the carved figure on a tomb: Flat on his back. Head sunk in a pillow. Hands folded symmetrically over his chest. Eyes closed. To the casual observer, 70-year-old Phillip Kinne appears dead.
Then he opens his eyes.
"I tell you what," he says to Kathryn Kuba Dandurand, who produced his deep calm. "Are you going to be here over the next 72 hours?"
"Actually, I am," she replies. "Shall I come back?"
"Yes!" Kinne exclaims. Wiggling his feet, he shows no sign of the major knee surgery he endured just this morning. "To share your gift like that? It's a wonderful thing."
Dandurand bids Kinne farewell and steps into the hallway of the medical surgery unit at Northwestern Medical Center (NMC) in St. Albans. She tightens the shoulder strap on the wooden harp that extends from her clavicle to her upper thighs. "Every room is another adventure," she whispers.
Dandurand is not NMC's house band. The Montgomery mom has played harp for 25 years, and for half that time she's worked as a therapeutic harp musician. Her marketing literature outlines her mission: The intent is not to perform, "but to create a 'cradle of sound' to support the patient physically, emotionally or spiritually," she says. "Knowing that hearing can be the last sense to shut down, music can be a universal language."
Using two harps — a floor and a handheld model, each valued at thousands of dollars — Dandurand makes her special blend of musical and clinical medicine work through "entrainment," a physics principle founded on the phenomenon that two pendulums swinging at different paces in the same room will eventually synchronize.
Dandurand and other therapeutic harp musicians — Vermont has about a dozen — are trained and certified to play arhythmic music that responds to patients' breathing and muscle movement and changes in hospital body-monitoring equipment. When a patient is in pain, she can often erase it with a simple note or chord.
Dandurand improvises unfamiliar pieces to make the patient focus strictly on sound, not on melody or lyrics. She has played for victims of stroke, trauma and heart attacks. Sometimes she finds a patient in a fetal position, forcing her to start in a minor key; she gradually switches to a major key as the patient relaxes.
Dandurand sometimes experiences both ends of life on the same day, when she plays in the birthing unit and then for patients in palliative care. People have passed on as she plucked her harp. "It's incredible," she says, seated in the NMC café after visiting Kinne. "You can help people die with beauty, respect and comfort. Who doesn't want that?"
Music therapy has evolved over the centuries. Recent studies in Europe reveal that 50 minutes of listening can boost a person's antibodies and lower stress hormone levels. Other studies have shown that music reduces blood pressure and shortens hospital stays.
But harp therapy — recognized by the National Standards Board for Therapeutic Musicians — is a relatively new field of exploration and practice. Researchers have studied how the harp's timbre affects patients. The instrument has a wide range of frequencies, long, soothing tones, and an archetypal association with tranquility. (Think "heaven," and a harp crops up somewhere, right?)
In 2007, the Heart Hospital of New Mexico conducted a small-scale study that measured the effect of 15 minutes of harp music on patients who had recently undergone heart catheterization. Before the music, blood pressures were astronomical. Afterward? They plummeted.
Dandurand says she senses the changes in patients when she plays. She has moved men to tears, sparked laughter in babies, and watched nurses remove a patient from a breathing apparatus after a song or two.
"It's an incredible connectedness," she says. "That's what I love about this — connecting people to music. I feel like I talk with my fingers."
To some extent, Dandurand's working life has always involved healing. In the early 1980s, she cofounded Franklin County Early Childhood Education Programs and taught at-risk children in their homes. Around that time, she saw Scottish harpist William Jackson — who recently rewrote his homeland's national anthem — perform in a Burlington coffeehouse. Dandurand instantly knew she had to play the harp.
Learning came easily: Dandurand had taken 10 years of classical piano lessons as a child, beginning at age 2. Playing harp is like playing piano sideways, she explains; the strings are a piano's white keys, while the sharpening levers — the buttons on the top rim of a harp — are the black keys. "It's hard to make a harp sound bad," she notes.
Dandurand's harp teacher was Christina Tourin, a former Jericho resident who now directs the International Harp Therapy Program, based in Mt. Laguna, California. But Dandurand didn't immediately practice as a harp therapist. In the late 1980s, she took a sabbatical from teaching and earned her massage therapist certification in Hawaii. When she returned to Vermont, she opened a massage studio at Jay Peak, where she eventually started playing harp at the head of her massage table. Her clients loved it. "I found I was in this fantastic place where I was helping people relax, easing their tension and pain," she says.
Dandurand has spent Mondays and Thursdays at the NMC for the past five years. A handful of other area nursing homes have witnessed on-site changes with her presence.
Jennifer Savage, NMC community relations specialist, says the harpist provides a more uplifting experience for patients and their families. While patients may not understand the scientific nuances of Dandurand's profession, they feel the music, she adds.
Kinne certainly seems to. "You know what's great about music?" he says during the session in his hospital bed, after gently requesting songs by Ernest Tubb and Charlie Pride. (Dandurand doesn't know them.) "It's the best cure. It'll take the biggest grouch and make 'em smile. And that harp? It's gorgeous. Just gorgeous."
"Kathryn provides one part of an overall healing environment," Savage explains. "There are several things we do to heal body, mind and soul. She is now one component of them."
"There's a whole art and science behind it," Dandurand says of harp therapy. "It's really a relationship between music, science and spirituality."
To illustrate, she recalls her interaction with one hospitalized woman. "Play the first song you think of," the patient instructed Dandurand, who chose "Dragonfly Waltz." The woman cried throughout the song. It reminded her of her son, who had died at age 30. Before he passed away, his mother asked him to send her a sign of his presence at his funeral. At the service, dragonflies darted around a group of children.
"That's how we knew he was there, how he told us," the woman told Dandurand. "And the fact that you chose to play that song, over any other, tells me he's here with me now. That was a sign from him. So thank you."