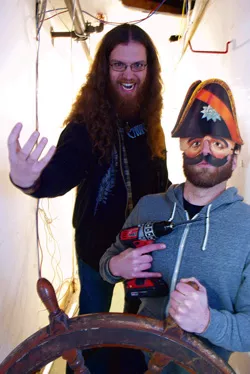 Matt Longo and Matt Hagen
Prior to a recent Metal Monday at Nectar's, Matt Hagen, one-half of the team that founded the weekly metal and hardcore series, is discussing his very un-metal New Year's Eve with a quizzical bystander.
"I went to Phish at Madison Square Garden," he says.
Moments later, "Metal" Matt Longo, who has become a patriarch to the local metal scene and is Hagen's cofounding partner, enters the room. With his prosperous red beard, glasses and savage mane bridled into a ponytail, Longo, 31, looks like a metalhead. Hagen, also 31 and spectacled, with his messenger bag, shorter hair and Derek Smalls-esque mustache/mutton chop combo, does not.
"That's sort of what Metal Monday is all about," says Hagen, regarding both his appearance and the general concept of the weekly series. "Expanding the image of metal."
The Matts launched their gothic brainchild in April 2011 when Hagen, a business-minded fellow and devoted listener of Longo's six-year-old WRUV broadcast, "Mind Over Metal," came to Longo with the idea of curating "more than just another night of music." The two crafted their event to impart a live-radio-show quality by slotting Longo as host and DJ, and Hagen's metal outfit, Nefarious Frenzy, as house band. Since the series' inception, Queen City crowds have welcomed the weekly onslaught of sludge or doom as bands of varying metal styles have chugged out their fuzz-caked din.
But why Monday?
"Because it's the most expendable night," Hagen says, rebutting the suggestion that his event was founded upon alliteration alone. Though Frenzy is no more, Hagen still gets his rocks off under the moniker Angel Bones, armed with a guitar and electric drill. He is also the guitarist of decidedly un-metal local indie-rock outfit Lendway.
The duo books both local and outside talent to pack the room each week, enticing attendees with free earplugs, movies — such as the Evil Dead series — and unique posters for each event designed by Vermont artist John Tether. The show is free to those 21 and over — $5 for 18-plus — and every band gets paid.
A bill in early January included a diverse group of face-melters representative of Vermont's many planes of shred: Musical Manslaughter ("This song is for all the ladies in the house. It's called, 'You're Just a Whore.'"); Knights of Crinitus ("We are Knights of Crinitus and we are here to blow some shit up!"); and Amadis ("In this next song, we're the shark, and you're the victim!").
Another band, Mac Swan and Black Holly, confesses it's "a little different fare than the normal Metal Monday." The group, a local favorite of both Longo and Hagen, features, of all things, a banjo player. During the band's set, the crowd reacts as though watching the Avett Brothers open for Cannibal Corpse.
"I definitely see an overlap between bluegrass and metal," says the banjo player in question, Andrew Stearns. "It's the same shit."
With Stearns' electric clatter filling the room during a rendition of Bad Brains' "Don't Need It," Amadis lead singer Sid Dystic, dressed head-to-toe in black leather and sporting silver spikes and two sets of handcuffs — one small enough to incarcerate a rodent — makes his way to the bar for a beer. While Stearns accepts all facets of metal, Dystic seems to honor no amendments to his esteemed genre.
"All those other people have gone home because they're pussies," he later tells the crowd at the onset of Amadis' set. "They were here earlier, thinkin' they were metal, but now they're at home, crankin' their fuckin' country! Blech!"
Despite their differences, Black Holly and Amadis both operate with the aggressive playfulness endemic to the genre. Banjo man Stearns muses that Burlingtonians crowd the event because it is unusual, compared to other "regular" nights around town. Hagan and Longo attribute it to metal's broad spectrum, which allows stylistic variations to manifest.
"We're all fuckin' nerds, man," Longo says. "We just want to be understood."
"And all metal guys are so nice!" Hagen adds.
As the night winds down, Hagen's words are vindicated. A swarm of determined rockers remains, fists pumping to Amadis' "Metal Never Dies," while Dystic twirls the mic stand above his head. The show ends after Dystic and his crew tear through their song "Skin," during which a six-person mosh pit erupts — though it could be described as a ferocious hug.
Metal Monday takes place every week at Nectar's in Burlington, 9 p.m. Free/$5. 18+. liveatnectars.com