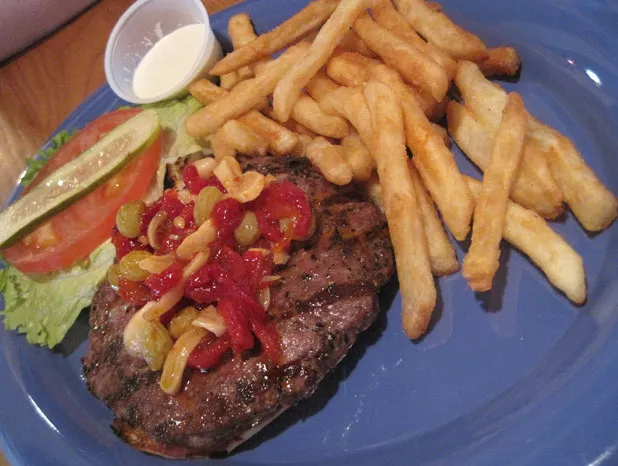 Mama Burger with red pepper relish
Stephen "Sky" Kenney, owner of the newly minted Sky Burgers on Burlington's lower Church Street, claims "there isn't a dinner [he] can't transpose into a burger."
Located where Tilley's once stood, the restaurant opened last Friday and serves lunch and dinner every day but Sunday. "I'm shooting for a lot of lunch [business]," Kenney says.
Although the eatery's current menu is petite, much like the 4-ounce Baby Sky Burger it offers for a mere $5, diners can already order buns wrapped around five different kinds of flesh — classic ground beef, pulled pork, chicken, salmon and mahimahi. There's a fire-roasted veggie burger topped with more roasted vegetables, too.
Besides the burgers, Sky offers a few salads (which come with a beef patty for an extra $4); deep-fried "snacks," such as chicken fingers and the mysteriously named "Squidly Stix"; and drinks galore. There are kid-friendly chocolate, vanilla and crème-caramel milkshakes, and grown-up beverages such as the Godiva liqueur-and-cayenne-laced Choccotini and the Sky High Ball, made with cranberry-pomegranate juice, vodka and Sprite Zero. A variety of brews come on tap and in the bottle, and 11 wines are available by the glass.
Coming soon: a "burger brunch" from 9 a.m. to 3 p.m., on Sunday, says Kenney.