After my daughter, Joni, was born last April, I took three months of maternity leave from my job as managing editor of Kids VT. On one of my first days back to work, I ran into a coworker while getting my morning coffee. A fellow new mom, she took one look at the black Medela breast pump bag slung over my shoulder and flashed a knowing smile — and an eye roll. She knew what was in that bag.
I replied with an exasperated sigh, and, just like that, became part of the sisterhood.
Not a member of the club? Let me explain: The American Academy of Pediatrics recommends that new mothers breastfeed their babies until age 1. Breast milk is incredible stuff. I knew it boosted the baby's immune system and promoted brain, vision and digestive tract development. But I was surprised to learn it may also reduce the risk of sudden infant death syndrome, as well as protect from later-in-life diseases such as diabetes, some cancers and asthma. Like magic, breast milk meets a growing baby's needs over time.
Producing it, though, depends entirely on demand — and for most American moms who work outside the home, maternity leave only lasts a few months. If we want to keep feeding our kids this liquid gold, we have to "express" it several times a workday while we're away from our babies. Enter the breast pump.
My pumping-at-work days will account for only a brief period in my life as a mother. But right now, the commitment feels intense. I reported and wrote much of this story while hooked up to my pump, and, on at least one occasion, my interview subject was also pumping.
I use an electric breast pump three times a day for 20 minutes. Other brands exist, but everyone I know uses Medela, a Swiss company that debuted its first nonhospital breast pump in the U.S. in 1991. Before that, "electric breast pumps, sophisticated pieces of medical equipment, were generally available only in hospitals," where they were used to "express milk from women with inverted nipples, and from mothers of infants too weak and tiny to suck," according to a 2009 New Yorker article on the history of the pump.
This little machine, which I carry around in a black tote designed to look like a stylish handbag, gives me the freedom to pursue my career without sacrificing the health benefits of breast milk.
It's also a maddeningly complicated contraption. And using it feels truly bizarre.
Pumping requires taking off my shirt, affixing two phonograph-shaped flanges to my boobs, either through holes cut into a sports bra or by holding them in place.
Next, I attach a bottle to the base of each flange and snap tubing into place. For the next 20 minutes or so, the machine wheezes rhythmically as it sucks my nipples into plastic tubes, contorting them into horrifying, finger-like shapes. If I'm stressed — anxiously watching the bottles, hoping I can fill them as quickly as Joni guzzles them at daycare — the milk just stops flowing.
After each session, I have to disassemble the pump and thoroughly wash each of its 16 parts.
The pump gets the job done, but it's not as efficient as my baby, who uses her tongue to push on milk glands behind the areola while she sucks. She can empty the breast twice as quickly as the pump can.
Federal law requires employers with more than 50 employees to provide nursing mothers with "a place, other than a bathroom, that is shielded from view and free from intrusion from coworkers and the public, which may be used by an employee to express breast milk."
I consider myself lucky here at Kids VTSeven Days headquarters. Our "lactation lounge" is a soundproof, windowless former radio broadcast studio that's now outfitted with a comfy sofa, a tray table for my laptop and a lock that decreases the odds that one of my coworkers will walk in on me, boobs a-pumpin'.
However, for women employed at smaller companies, or who work on the go, finding a place to pump can be difficult.
Photographer Stina Booth faced this dilemma during the summer wedding crush after each of her two kids were born. Shooting a wedding is a demanding, eight-hour job. How could she sneak away to pump?
Breastfeeding mothers know this scramble all too well. It doesn't matter where you are. If you've been away from your baby for more than a few hours, your boobs begin to swell painfully with milk. You begin to scan your surroundings for someplace private to pump. Go too long and you pay the price in engorged — even leaking — boobs and a drop in milk supply.
"A wedding schedule is a little insane to begin with," says Booth, who pumped for her kids, now ages 3 and 18 months, primarily at weddings. "How do I cram some personal time into an already crazy day?"
Her solution: Pump in the car. "I'd sort of rig myself all up and then put a blanket over my chest," she admits. If she had an assistant with her, he'd drive while she pumped in the backseat.
"The first few times I did it, I would look around to see if anyone could see," Booth recalls. "Honestly, I don't think anyone noticed. Some people are really worried about privacy, but I kind of threw that out the window pretty quickly."
Even pumping in a private office can be awkward.
Ashley Laux, associate director of community engagement at Middlebury College, works in a converted old farmhouse where she pumps daily for her 5-month-old. The walls are thin and there's a gap in her office door when it's closed. Laux puts on a white-noise machine to muffle the pump's purr.
The eight other people in Laux's building know not to bother her when they hear that sound, but students who visit her aren't often clued in.
"Sometimes I'll get a very persistent student, knocking and knocking because they know I'm in there," she says. "I unhook myself and come out all wild-eyed, like, 'What?!' And they're like, What was she doing in there?"
Suzanne Marchelewicz, FlynnArts coordinator for the Flynn Center for the Performing Arts, is currently pumping at work for her 9-month-old. Two years ago, after giving birth to her first child, she had high hopes of pumping in the car during her commute to and from her Huntington home. "But it was such a pain," she says. "I mean, everyone knows pumping sucks. But the whole strapping on the hands-free bra, and the possibility of exposing myself in the parking lot..."
Marchelewicz also has her own office, so she can shut the door and get busy pumping. "I feel like I have a great situation, but I know that other people don't," she says, mentioning a friend who works in a local dental office and used to pump in a supply closet that didn't lock. "She had to pump with her back against the door," says Marchelewicz.
"Pumping is stressful enough as it is, so it's nice to have a place to do it that's relaxing and cozy," says Lisa Sholk, an associate brand manager for Ben & Jerry's who pumped at work — in a swanky lactation lounge — for both her children, now 4 and 2.
Sholk used a hands-free bra so she could keep working, responding to emails or making phone calls. "But pumping certainly affected my ability to take lunch or do anything else other than work," says Sholk. "I would feel guilty going out for a walk or getting exercise because I had already spent so much of my day pumping."
Lactation consultant Sally MacFadyen, who has been meeting with breastfeeding mothers in Vermont for 17 years, helps prepare them for pumping at work. She says some women assure her they will have a designated place to pump in the office. But, she says, "by and large, that's not the case."
Support for Vermont's breastfeeding mothers has grown since MacFadyen began her career, she says. But there's still room for improvement. She's spoken to teachers who have to pump in the school nurse's office.
"If I were in charge of the world," she says, she'd like to see breastfeeding-support groups such as La Leche League hold regular meetings at Vermont workplaces. "Why not go into NRG or Ben & Jerry's once a week and maybe have 45 minutes of talking about what's working and what's not working?"
No one really likes pumping, especially at work. But Brandi Thomas, who works and pumps at Seventh Generation, says there's one thing she loves about it: "The camaraderie of the moms. You're really in it together."
Building a better pump
Massachusetts Institute of Technology recently held a hackathon called "Make the Breast Pump Not Suck," which drew 150 scientists, engineers, doctors, designers and lactation consultants interested in building a better pump. They shared ideas for improvements such as "The Helping Hand" bra, which helps relieve plugged milk ducts, and an adapter that makes it safe for women to share their pumps.
I asked fellow pumpers what kinds of improvements they'd like to see.
"The amount of parts is ridiculous," says Ashley Laux. "All the tubing is ridiculous. The noise it makes is too loud. Maybe if the tubing were flatter against your chest, you could wear it under clothes?"
"My idea — which is second to wishing that time travel existed — is that instead of the act of pumping, you could put a syringe in there and just suck the milk out," says Suzanne Marchelewicz.
"Something that's aesthetically pleasing," says Brandi Thomas.
Today's breast pump at-a-glance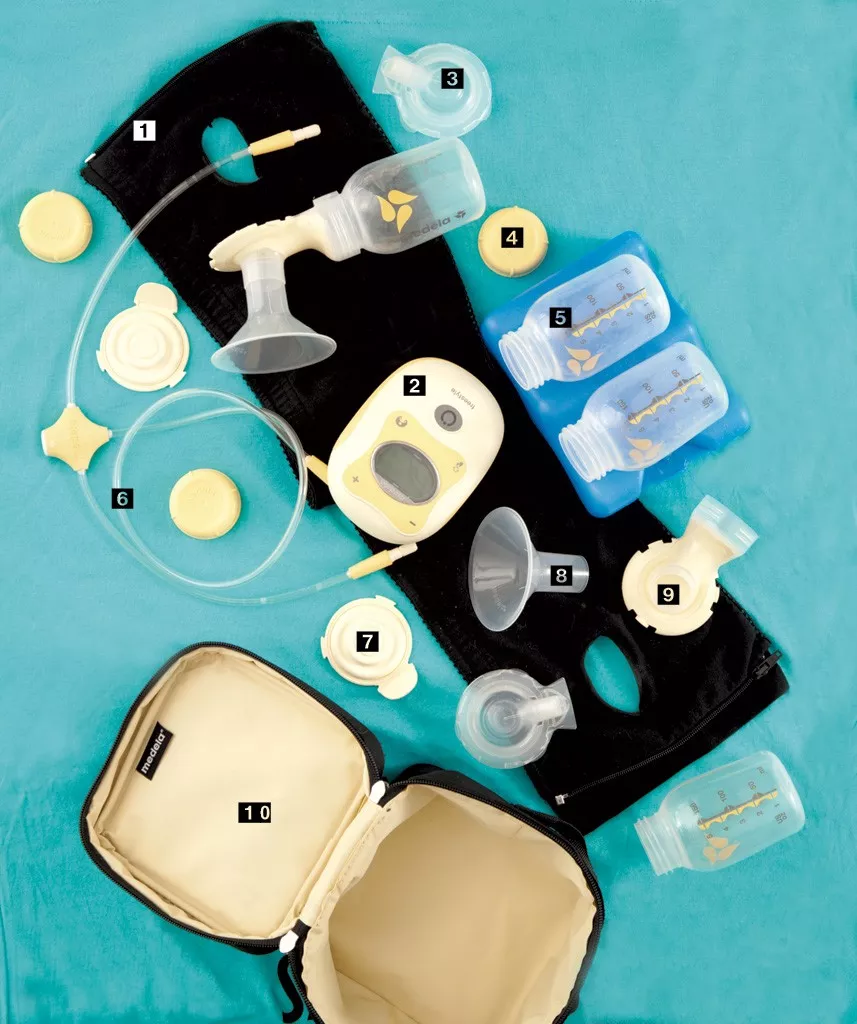 Hands-free bra (Remember: Your nipples are poking out. Put your shirt back on before you answer that door.)
Motor (Everyone's pump makes a unique sound. Mine whines: "Why? Why? Why?")
Connector case (You won't get any suction unless this is fully snapped on. Trickier than it sounds.)
Bottle cap (Left this at home? There must be some office Tupperware you can use, right?)
Bottle (Screw this onto the connector before you start pumping — or you'll end up with milk-drenched pants.)
Tubing (Uh, are you supposed to wash this, too?)
Rubber diaphragm (the floppy bit)
Flange (nipple squeezer)
Connector (Washing this by hand? Good luck.)
Cooler for ice pack (Make sure that pack is fully frozen when you go through airport security.)
Oh, the places you'll pump!
Several hours into a black-tie wedding at the Bowery Hotel in New York City, I went on the hunt for a place to pump. I have yet to splurge on the Medela pump battery pack, so I needed an electrical outlet. None of the bathrooms had them, and I wasn't about to pump behind the bar. So I begged the ladies working the coat check to let me pump in their closet, which they did.
Here's what other moms had to say about their strangest pumping experiences:
"One time I had a friend visiting, and she and I pumped together at my house," recalls Suzanne Marchelewicz. "We were just hanging out in my bathroom, sitting on the edge of the tub while the babies were sleeping."
"I was pumping in my office and I forgot to close the windows," says Ashley Laux. "I looked out and there were some construction workers mulching something, and one of them was looking up at me pumping. The thing is, I didn't really care."
Seven Days staff writer Kathryn Flagg's list of unusual pumping locations includes "several supply closets (in the dark days before the Seven Days lactation lounge); the main bathroom in the Statehouse (while talking to a state rep through the stall door); [and] my car, parked in front of a state correctional facility."
"I was at the Philly Zoo for work, and I had to pump," recalls Brandi Thomas. "I had to put my milk in the zoo fridge, which was filled with weird stuff like medication for animals."
Behind Closed Doors
At the Ben & Jerry's corporate office in South Burlington, nursing mamas have access to "The Milky Way," a lounge tricked out with gliders and a changing table (for baby visits), a fridge (for storing milk and pump parts), a table full of magazines, and a bulletin board covered in photos of employees' babies (for triggering the all-powerful let-down reflex that starts milk flowing).
Seventh Generation's lactation lounge is called "The Health Room."
"I think maybe a guy named it [that], because he didn't know what else to say," says Brandi Thomas, who handles public relations for the company and uses the room regularly to pump for her 8-month-old. It's equipped with a minifridge, a sink, a comfy chair, a table and a baby-photo bulletin board. Thomas and three other pumping moms book sessions in the room using Microsoft Outlook.