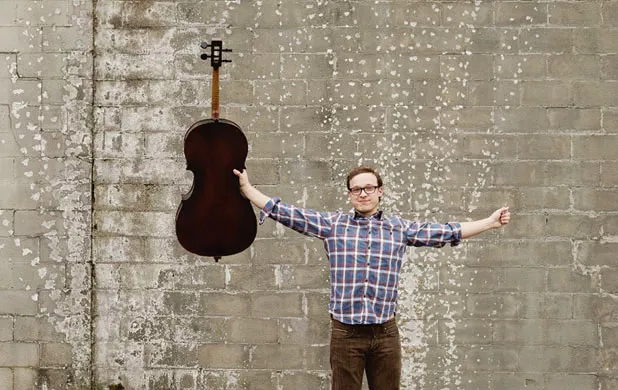 Cellist and songwriter Ben Sollee first entered public awareness in 2005 as a member of songwriter Abigail Washburn's all-star group the Sparrow Quartet, an ensemble that also included violinist Casey Driessen and Washburn's now-husband, banjo virtuoso Béla Fleck. Since then, Sollee has built an increasingly impressive solo career in which he has released six albums and EPs and collaborated with such artists as the Vienna Teng Trio and fellow Kentuckian Jim James of My Morning Jacket. Sollee's latest record, released earlier this year, is Live at the Grocery on Home. It highlights his creative and unconventional approach to the cello as well as his unique blend of folk, bluegrass and R&B that the Wall Street Journal calls "delightful, interesting, thoughtful [and] moving."
In advance of Sollee's show at Burlington's Signal Kitchen on Friday, June 22, Seven Days spoke with him by phone about using the cello in pop music, touring on a bicycle and a new mandolin he has commissioned from a local luthier.
SEVEN DAYS: When did you start playing the cello?
BEN SOLLEE: I began my relationship with the cello in fourth grade, in public school. The teacher came around and played it for all the students. She was more of a violinist than a cellist, so she made all kinds of cool, scratchy sounds when she was trying to play, and I really liked that. I found that compelling and decided I was going to play it. I was the only one who played it at my school. It was fun.
SD: What specifically about the cello did you find so appealing?
BS: I'm not sure I knew then, but now I know the cello is just super versatile. In a manner of speaking, it's kind of like the Swiss Army knife of the orchestra. You can use it for melodies, you can use it for texture or harmony or percussion. It's a hugely variable instrument. And in that way you can survive with it in this music industry. If I were MacGyver, [the cello] would be the thing that gets me out of some weird situation.
SD: When did you figure out that you could use the cello to write more pop-centric music?
BS: I don't really know. I guess I just started writing music around the social music I grew up around. Bluegrass music, folk music, R&B, all these styles that I would play with family and friends. And then I tried my hand at writing songs, and eventually started recording and became the singing cellist that I am.
SD: Speaking of instruments, you recently ordered a mandolin from Joe Cleary at Campanella Strings.
BS: One of the things I think is pretty fascinating about Joe's mandolins, and one of the things I've come to learn about myself, is that I'm a real mix of old and new. I come from this classically trained background where there is a ton of tradition. But now I'm sort of out in the waters, floating on the musical ship and learning new things and encountering new things. And I like to mix that up and be inclusive in my music.
I feel like the instruments Joe is building very much physically embody that. He takes old, basically Italian violin-building techniques and puts them into an instrument that, here in America, has become a folk instrument, an instrument that's built more like a guitar than anything else. So he's bringing those two worlds together to create a unique-sounding mandolin. It has a pure, almost classical quality in the sound, but it can be rocked on as a folk instrument.
Also, I've known Joe and his family for years, coming through traveling with Abigail Washburn, who introduced us. We've become friends over the years and, as he developed the idea of making these mandolins and developed the double-point design, I just wanted one more and more.
SD: Are the Sparrow Quartet still active?
BS: Well, we haven't played a show in a while, but there's no deed on the table saying, "You shall never play again." Hopefully it comes around again. The good thing is that Abigail is out building her solo audience, I'm out building my audience; so is Béla and so is Casey. And I think at some point we'll come together and have a bigger audience.
SD: You're on the road a lot. Do you have any touring pet peeves?
BS: I don't think I do, really, because I kind of do it on my own terms. If I did have one, it would be that the way tours are booked is fairly unsustainable. I mean, nothing about traveling great distances from your home is very sustainable. But tours are booked based on availability, so you put the call out and sort of zigzag all over the place.
I think morally it's kind of weird to make your living off a gamble. Because every time you're on the road, you roll the dice. You make this deal with a promoter to get this amount of people, then you work your butt off. And it's a roll of the dice whether it will work or not. That said, I make the product. I'm not asking anybody to labor extensively for no money, other than myself.
SD: You have also toured on bicycles, which must be rewarding.
BS: I make decisions based on my ethics. The nature of the beast with touring is that you have to use gasoline to get from place to place. And one of the things we learned from the bicycle tours is how to route a tour in a sustainable way. Build it on a path instead of just whatever you can get.
SD: And it seems like a great way to see the country, to boot.
BS: It is. And we get a lot out of [bike tours]. We don't do them to be green, whatever that means these days. We do them to slow down, to put a limitation in place, and really experience the country we're traveling through. And in the communities we've gone to, it resonated because we gave a damn enough to get on a bike and ride into their town. And they've remained really supportive places for us.
There is also the sheer truth of the economics of being a touring band, and gas prices going up, that made bike touring more compelling. So from a commercial standpoint, it's a valuable thing to do. And from a spiritual and artistic standpoint, it's a healthy thing, too.
Ben Sollee plays Signal Kitchen in Burlington this Friday, June 22, at 8:30 p.m. $12/15. 18+. signalkitchen.com