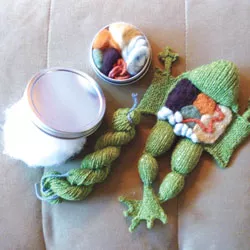 Welcome to the holiday season — and to the Seven Days holiday guide to gifts. Every Wednesday during the holidays, we're offering ideas for just about everyone on your list. For greater variety, a different writer weighs in each week: same set of recipients, unique presents of mind. (Note: Some of these recipients may be figments of our imaginations.)
And what do we want this year? Just for you to shop local, please and thank you.
Mother
My mother and baby Jesus have almost the same birthday, so we celebrate them together. Unlike our Lord and Savior, Mom spent her young adulthood in France and Switzerland. She's always eager for reminders of that golden age, so this year we're hopping the border to celebrate à la française. What better way than with a four-course, prix-fixe dinner at L'Oeuf, an antique-filled inn, chocolatier, ice-cream parlor, coffee roastery, gourmet store and elegant French country restaurant, just 40 minutes from Burlington? $38.75 per person.
L'Oeuf, Mystic, Québec, 450-248-7529.
Father
Dad was the one who introduced me to opera and, like me, he especially favors the dark stuff. He's one lucky buff this year, because the Green Mountain Opera Festival is performing Don Giovanni at the Opera House. As long as he doesn't laugh at the statue, he'll be just fine. $25 to $70.
Green Mountain Opera Festival, Waitsfield. greenmountainoperafestival.com
Grandmother
Grandma is simply mad about New York Times food writer Mark Bittman, but she lit up when I talked about my recent 1930s dinner party. She can taste the Burlington of 1939 — the year the Women's Service League of St. Paul's Cathedral began collecting recipes — thanks to the league's book, Out of Vermont Kitchens, available anew from the Vermont Historical Society. Maybe she'll make me some Christmas Salad, which calls for lemon gelatin and ground "nut meats." $15.95.
Vermont Historical Society, Barre, 479-8500. vermonthistory.org
Best Friend
I've got a stylish pal who's expecting in early spring. Mall maternity wear simply won't do. How to deal? Take her shopping for a flowing, East-West-fusion dress at April Cornell. The Indian Ruby dress allows plenty of room for mom and baby-on-board but has enough quirky, subcontinental charm to help her look sophisticated at the theatrical performances and ethnic restaurants we frequent together. $180.
April Cornell, Burlington, 448-3281
Boyfriend
Though I already owe my man some wrestling-inspired T-shirts, I know that what he really wants is home-baked dessert. And I'm not making it for him. As a savory-only cook, I say he's on his own. But farmer and teacher Margaret Osha is sure to teach him the skills he needs with farm-fresh ingredients and wisdom at her Raised Donuts & Maple Custard Pie class on February 26. $45.
Turkey Hill Farm, Randolph, 728-7064. turkeyhillfarmvt.com
Pet
My boyfriend affectionately calls Olive and me his "food-motivated girls." Unlike me, my formerly rotund cat lost almost half her body weight in the last two years with the EVO evolutionary diet. Her vets have given her the go-ahead to celebrate with an occasional snack, and EVO's grain-free Wild Cravings are sure to make her stand up and beg. $4.
The Quirky Pet, Montpelier, 229-1211.
Teen Sis
She's a science geek, but also has a soft spot for crafting. Burlington artist Emily Stoneking must have had our little sister in mind when she came up with her series of hand-knit anatomical specimens. Best of all, Stoneking's aKNITomy Etsy shop also offers DIY kits with everything sister needs to make her very own dissected frog, including "blue yarn for intestines and red yarn for extra bloody detailing." $39.95.
aKNITomy, etsy.com.
Kid Brother
My little bro is as otaku as it gets. From "Iron Chef" to Death Note, if it's Japanese, he's bound to like it. How can I go wrong with two short plays, "Sayonara" and "I, Worker," which feature live performers and robots acting side-by-side? He'll be amply prepared for when the machines finally rise. $25.
Japanese Robot Android Human Theater, Friday, February 22, 2013, 8:00 p.m., FlynnSpace. flynntix.org