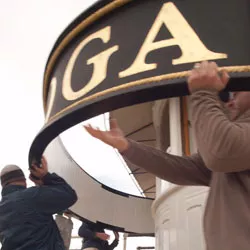 taking down the lighthouse sign
In Beach Lodge, the bears are hibernating. The temperature is a chilly 45 degrees, and the windows will soon be boarded up, leaving the taxidermy Ursus in darkness. It's creepy in here.
Outside, groundskeepers, curators, gardeners, carpenters and conservators rove the grounds in golf carts, their activity recalling a scene from Richard Scarry's Busytown. Twenty-three gardens have already been cut back and composted; the carousel has been disassembled and stored.
Welcome to the end of the season at the Shelburne Museum, where workers have indeed been busy battening down the hatches for winter. It's an aspect of the museum the May-to-October crowd never sees. And, in a way, that's too bad, because the process of buttoning up 39 historic buildings over 45 sprawling acres is itself an interesting "exhibition" with history lessons.
On board the 220-foot grounded steamboat Ticonderoga, director of buildings Chip Stulen resurrects many winterizing tactics from the early 20th century, when the ship was still sailing Lake Champlain.
"In those days, the Ti would be pulled up close to the shipyard, and the crew would disassemble as many moveable parts as possible, from the deck boxes to the block and tackle," says Stulen, a former professional boat builder. "We still do that today, but at least we don't have to literally roll up the carpets and put them in storage with all of the dishes, silverware, glassware and furniture."
It's imperative to remove the 16-foot signboard on the front of the pilothouse, though, as it's gilded in gold leaf, most of it original to 1906. The rest of the boat is swaddled in nearly 2000 square feet of reinforced plastic sheeting that covers the flagpoles, steam whistles, lifeboats and searchlight and allows for ongoing winter maintenance.
Elsewhere, similar preparations are under way. Many projects resemble any homeowner's to-do list this time of year: gutters to clean, storm windows to attach. But, of course, it's a much bigger job to winterize a museum campus filled with historical buildings and artifacts.
Rick Kerschner, director of preservation and conservation, monitors the temperature systems in each of the buildings, where humidity is the biggest danger. Too little moisture means that paintings crack and wood dries out; too much, and they'll mold. He's not terribly worried about the bitter winter temperatures.
"It's OK for most things to get very cold as long as they heat up slowly and cool down slowly," Kerschner explains. "But if it gets very cold and you accidentally tap on a painting, you could literally crack it. So we put most of the paintings on canvas in climate-controlled storage." The rest of the collection, he says, "stays as it is."
Critters are the other main threat to the eclectic museum.
"We have terrible problems in Beach Lodge with squirrels," Kerschner says. "We had two owls last year that were attacked in a major way. Nothing else was touched, so we figured the squirrels were probably just taking revenge."
While winterizing much of the museum amounts to placing it in controlled hibernation, the presses are still in full operation at the Printing Shop, where operator Heather Hale is covering the plates on a 1954 printing press with green ink for the museum's annual holiday card. A self-described letterpress purist, Hale will make 1500 copies of the hand-pressed card for friends, donors and members of the Shelburne. The daughter of newspaper-publishing parents, she talks fondly of typesetting, building the design on wooden blocks and setting the quoins (clamps) and furniture (spacing blocks) that produce a hand-pressed design.
"We usually use hand-carved wooden type for the holiday cards, but this year we didn't have enough letter As in the typeface we wanted to work in, so we went with a polymer plate," Hale says. "It's a bit easier — wooden typesetting requires actual construction, as opposed to digital scanning, but it's so very pleasant to do, and the letters off the wooden type tray just seem to talk out loud."
In museum offices across the road, the curatorial staff is in high-production mode as well, as the bulk of exhibition planning and research occurs during the winter months.
"We're not at all in hibernation during the winter — this is the busiest time of the year for us, and we'll be working like mad to organize eight exhibitions by May," says curator of design arts Kory Rogers. "Exhibition renovations and research for next year's big show, 'Time Machines: Robots, Rockets, and Steampunk,' is ongoing, and we still have to act as stewards for the collection even while we're closed."
In addition, Rogers will continue to delve into the permanent collection, which numbers upward of 180,000 objects. He estimates that nearly 80 percent of the collection is on view, and likens combing through the database to treasure hunting.
"Someone came up to me the other day and told me we had more than 300 examples of porcelain mustache cups — you know, the 19th-century cups with lip guards that dandies used to protect their mustaches from coffee foam," he explains, as if such things were common knowledge. "Those kinds of little eccentricities make it exciting," Rogers adds. "I wouldn't normally have an opportunity to learn about mustache cups."
As for the groundskeepers, there'll be no winter respite for Rick Peters and his crew, who put 1700 day lilies to bed and sifted 30 to 40 yards of compost this fall — in addition to collecting benches, trash cans and visitor detritus. The weather has been fine thus far, but Peters expects that his crew will be trading their gardening tools for snow shovels very soon. Snow removal is key to winter maintenance; year-round access is imperative should the museum experience "Revenge of the Squirrels, Part 2." Maintaining a museum is full-time work — even when it's supposed to be in hibernation.