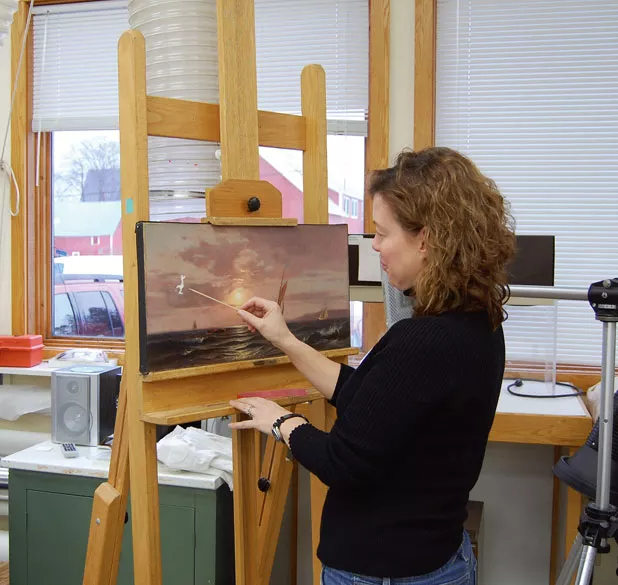 Meticulous attention to detail, passionate devotion to perfection, good eyesight and exacting knowledge of old paint, canvas and frames. That might not be exactly how the Shelburne Museum would describe the position of conservator in an employment ad, but those qualities surely belong to the woman who got the job.
Pamela Betts was hired this month to restore 20 American paintings in the museum's collection of more than 400. With a $61,600 grant from the Institute of Museum and Library Services, Betts is charged with the task of "examining, stabilizing and cleaning" works from the permanent collection, including pieces by luminists Francis Augusta Silva (1835-1886) and Fitz Henry Lane (1804-1865), and portraitist John Singleton Copley (1738-1815). "You periodically want to check the paintings — it's like going to the doctor," she says. "After they're examined to see what kind of condition they're in — the canvas, stretcher, frame and paint — we write a condition report, then a treatment proposal … and decide on a course of action."
As it happens, Betts, now 41, has worked at the Shelburne before, from 1993 to '97 — "mostly to prepare myself to get my grad degree [in] conservation," she says. Betts got her master's at the Winterthur/University of Delaware program and has been "doing fellowships and jobs ever since," including ones at the National Gallery of Art in Washington, D.C., and ARTEX Fine Art Services in Maryland.
"The field is small, and jobs available are pretty small, so competition is pretty high," Betts says, "so you end up working two, three or four years [per place] at a time. You learn a lot of different techniques from different people." That's the perk of what can be a rather itinerant career, she acknowledges. During her 14-month stint in Vermont, Betts will be maintaining "a life, cats and a husband" back in the D.C. area, she notes.
The Shelburne Museum has two conservators who focus on objects — the decorative pieces, sculptures, tools, furniture, etc. that make up most of its 150,000-item collection. It also brings in painting conservators for specific projects. While Betts has acquired the skills to work with art "from all periods," she says, here she'll focus on paintings from the 19th century. That was when commercially prepared products became available — pigment in tubes, ready-made canvas — which resulted in "a kind of explosion of painters," Betts says.
With just over a year to complete her task in Shelburne, she anticipates a "pretty busy schedule — I really won't know until I get into it what each painting will need," she says. One thing's for certain, though: The process will be "paints-taking."