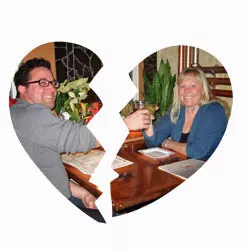 Winter may be the worst time of the year to be single. The days are dark and bleak, the streets are empty and lonely, and it feels like everyone but you is snuggled up with their sweetie on a bearskin rug in front of a crackling fire.
We here at Seven Days wanted to do something about that. So we decided to play Cupid by setting up two singles on a blind date. Then, we hoped, we'd sit back and watch some sparks fly.
To find these brave singles, we donned our matchmaker hats and scoured our personal ads to find two folks we felt might make a good match. Then we gave them some cash and sent them to the Daily Planet, voted Burlington's Best First-Date Restaurant in our annual Seven Daysies award. The rest was up to them.
Here's how it went down.
About SailH2O
Name: Mike McGuire
Age: 41
Occupation: clock maker
What's your type?
Physically active. Someone who likes to sail, do stuff like that. I'm a very particular person. I would rather be single than dating someone who isn't right for me. I wouldn't date someone just for the hell of it, just to date someone. I'd just like to go out with someone who has similar interests and likes to be active outdoors.
Why are you a catch?I own my own business. I've done quite well at it. I'm very spontaneous. I like to pick up and plan a weekend getaway now and then. I'm a person who likes to be active. I enjoy the company of someone who is outgoing.
What's your dream date?
I'd probably ask her if she wanted to go for a walk and get a hot chocolate or something.
About Optimisticblonde
Name: Allison Hicks
Age: 36
Occupation: nonprofit founder and women's health advocate
What's your type?
I'm more attracted to the tall, naturally slender guy. More Nordic looking. I'm finding more that I'm into someone who is really passionate about their work, but they're an energetic, social person. I never want to compete with them, but that charges me. I'm like a battery. Someone who's moving forward and attentive, who likes to travel and is on more of a nontraditional path and is stable with that. Someone who's modern and flexible and intelligent, but compassionate.
Why are you a catch?
I think I'm a pretty attractive woman who is realistically attractive. I'm 36; I'm not a college student. I'm very accomplished. I'm independent. I like to travel. I'm not needy. I'm almost unneedy. And I'm up for a lot. I'm really committed to philanthropy and doing good work and making sure my heart is connected with my actions. I'm exceptionally outgoing and really playful. And I'm a bit witty in an evil way.
What's your dream date?
Well, I'd totally do what we did the other night I loved that. That's great. The person would be more interested in me, obviously.
The Date
The Daily Planet, Burlington, 7 p.m.
SailH2O: I was actually not real positive going into the date, but I'm generally a positive person. I figured I probably wouldn't be matched with someone who was compatible. But I was going to have a nice meal with someone and chat.
Optimisticblonde: You always get a little nervous on a blind date. I've just been on so many dates and a lot of blind dates, and I wasn't too stressed. And I know the Daily Planet really well, so it was a comfort place for me.
SailH2O: I was there 10 minutes early. I think she was 10 minutes late. I was disappointed when I saw her.
Optimisticblonde: He was sitting on the couch when I came in, but I didn't know that. I was waiting for the hostess, so we're both standing there, and he asked me if I was here for the Seven Days thing and I was, like, "Yeah," and he said, "Well, I guess I'm your date." And I was, like, "OK, me, too." He seemed really uncomfortable or shy, which I think is normal.
SailH2O: I'm sure she's a great woman. But typically I date women in their late twenties to early thirties. I felt like I was sitting across from someone who was in her fifties. It's not a big deal; I'm just saying. Physical attraction is half of it for me, at least. I just wasn't attracted to her physically.
Optimisticblonde: We went to the back and sat, and it was, like, "Who are you? What's your name?" kind of stuff. That was fine. I wasn't super attracted to him. He's not a bad-looking guy. I possibly would go out with him again, just because I've been on so many blind dates that have been way worse. But this wasn't this instant, heart-pounding Wow.
SailH2O: I talked most of the time. I just talked about my life and everything. And I asked her some questions about what she did. Pretty much the conversation was just based on job-related things and other things I do on the side. I think we had a great conversation. I mean, it went by pretty quickly.
Optimisticblonde: I didn't feel like he asked me a lot about myself. Like, I was being the redirector. I share my whole story with everyone, so I want guys to actually ask me about myself. So, I didn't share anything with him in that way. He asked me a little a bit about what I do. I felt like he was not interested in me at all.
SailH2O: Initially, I was skeptical whether or not I was going to have fun. I just felt like — it's difficult, obviously, to meet people who have similar interests. I've been on hundreds of dates. OK, maybe not hundreds. But I've only been on five second dates, by choice. I just figured I wouldn't be sitting across from someone who had the same passions as I do. But I had a good time chatting with her.
Optimisticblonde: It was definitely a good conversation. But he talked a lot about his dating history and his other dates. So I knew about other women he had been dating and where they had been eating in town. I thought, Obviously you're not interested in me, so I guess I'll just be that person to talk with. I'm not about to scold you and say that it was really inappropriate first-date conversation.
SailH2O: I'd say she was outgoing. But we didn't have much in common. We couldn't talk about skiing or anything like that.
Optimisticblonde: I don't consider him a strong personality, and that's awkward, because I'm a very strong personality. I tried to step back and not talk about myself, and I would try to get him to open up. He's a little pessimistic about dating.
SailH2O: She wanted to know if I wanted to go out again when we left. It was kind of awkward saying, "I don't think we're compatible." So I didn't even say anything to her. We hugged and parted pretty much immediately. I didn't feel like I wanted to exchange numbers, because I wasn't into her physically. Or really just interested, period.
Optimisticblonde: I wondered if he would kiss me. But no, he walked out and walked away from me. He's not a toucher. It could have been me, because he wasn't attracted to me. He's very shy, and I knew that, but literally he turned and walked away. And I was like, "OK, later." I think it was awkward for him, like, "Oh, how do we do this?"
SailH2O: If I had to rate the date, I don't know. Maybe a two [out of five].
Optimisticblonde: I think I'd probably give it, like, a three, but maybe that's generous. But I've been on really bad dates before. I've been on dates where in the first 10 minutes the guy is telling me about his Weight Watchers plan and talking about his points. And I've gotten up and left.
Update:
Not surprisingly, neither dater has been in contact with the other since their date.
Mistress Maeve Offers Her Two Cents
Can we draw lessons from a failed love connection? After reading the postdate interviews, the Seven Days editors decided to request a postmortem from our resident sex and relationships columnist, Mistress Maeve.
Disclaimer: Maeve is not a licensed psychologist, and she had no firsthand contact with the daters. Her assessments are based on the recorded interviews.
Advice for Her
I like your open-minded and optimistic approach to blind dating. That said, you were perhaps a little too easygoing and arrived late. Never underestimate the power of punctuality — being 10 minutes late for a blind date is pushing it, and it can set the wrong tone for the evening.
If you're on a date with a guy who's talking nonstop about other women he's dated, he may just be nervous. Try saying something like, "Well, I'm glad none of those other dates worked out," and redirect his attention by asking about career, travel destinations or the latest Lindsay Lohan drug scandal.
It is possible to be too optimistic. It sounds like you knew this guy wasn't for you, and yet you still wondered whether he'd kiss you. The dating pool is shallow in Vermont, and one must remain hopeful, but this guy clearly didn't deserve to seal the date with a kiss. Sometimes it's OK to cut and run.
Advice for Him
You say you're a positive person, but I'm not seeing it. You said you weren't really positive going into the date and that you didn't have faith that you'd be matched with someone compatible. That doesn't sound positive — it sounds downright depressing. Lighten up! You're dating in Vermont — embrace all opportunities for human contact, especially in the deep freeze of winter.
I can see why you're dating women 10 to 15 years younger than you — you're immature. Physical attraction and chemistry are very important, but so are humility and kindness. Insulting a woman's looks is simply uncalled for. Plus, you're 41 and still single — perhaps it's time for you to raise the age requirement?
You did most of the talking and think the conversation was "great" — that should be a red flag for you. On future dates, be sure to ask as many questions as you're answering. No one likes a blabbermouth.
Parting ways after a lackluster first date can be awkward, but you need to man up and be able to say, "I had a nice time hanging out with you, but I don't think we're a match." In the grand scheme of things, it's the most mature and polite thing to do — certainly a lot less inelegant than walking away without a word.