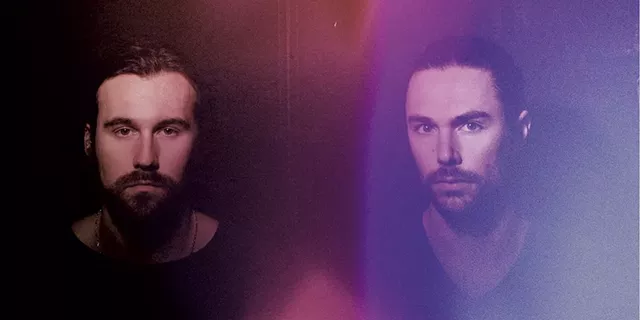 COurtesy of Shervin Lainez
Tim Harrington and Paul Wright of Tall Heights
A tone made by a stringed, hollow-bodied instrument has a brief shelf life. Once the vibration stops, the tone fades to nothing. It's a limitation that Paul Wright and Tim Harrington, the indie-folk duo known as Tall Heights, began to question as they sought to advance their sound. Released in August on Sony Music Masterworks, their sparkling second full-length album, Neptune, marks a new normal for the band. On a North American tour, Tall Heights will be stopping by the Higher Ground Showcase Lounge in South Burlington on Thursday, September 29, to open for locals the DuPont Brothers.
When childhood friends Wright and Harrington first started busking at Boston's Faneuil Hall, they were content with the sounds made by Wright's cello, Harrington's guitar and their voices. After releasing Rafters, an EP, and Man of Stone, their first full-length album, the two began talking about how to take their sound to new places. Seeking warm baths of synth and electronic percussion, a fortuitous meeting in 2013 at Burlington's Signal Kitchen set them on a new sonic path.
While playing SK, the duo bumped into acquaintance Spencer Kelley of Color Study, a recording studio, label and artist management company located in Goshen. Kelley and partner Ethan West were just getting things set up at Color Study and working with LA-based electro-popster Handsome Ghost. After his record dropped more than a year later, Color Study was able to get Wright and Harrington into the studio.
The band also brought in producer and multi-instrumentalist Oliver Hill. After making a successful demo, all agreed to push on. After several sessions, the EP Holding On, Holding Out emerged, eventually followed by Neptune.
The latter's electronic leanings feel less like a change for Tall Heights than simply growth. The duo's lyrics suggest that Wright and Harrington have deep consideration for the world around them. Existentialism flows like a current through the album — though neither songwriter declares himself a philosopher.
The past year has been an exciting time for Tall Heights. A viral video afforded them exposure for their track "Spirit Cold," and they've become a trio with the addition of drummer "Handsome" Paul Dumas. Seven Days caught up with Wright and the group by phone in San Francisco as they got some much-needed relaxation during their tour.
SEVEN DAYS: Last March, when you played Signal Kitchen, you told the story of the wedding video. Could you tell it again?
PAUL WRIGHT: We were working with this company that does a lot of micro-licensing called Musicbed, and a lot of couples were selecting "Spirit Cold" for their wedding videos. We got a Google alert that a bunch of outlets were reposting this [wedding] video that was shot with a GoPro from the back of the bride and groom's dog. It was kind of this winter wedding with the dog running around through the snow and greeting all the guests, and "Spirit Cold" was the soundtrack. It went mini-viral on YouTube. It's got five, six million views [now]. We were kind of blindsided and started getting all these tweets about it. It was cool and totally unexpected, and helped raise the profile for us. Pretty funny.
SD: When you were writing "Spirit Cold," did you think of it as fit for a wedding?
PW: No. Personally, if I feel like I'm writing a song that is wedding appropriate, my cheeseball alarm will be ringing too loud for me to finish. We were just writing about all the terrible things that were happening in the world. Human tragedies, climate tragedies. It was a question to ourselves of, how do we not just accept that humans will do the wrong thing every time, that there's a reason to not be jaded, to be hopeful and to look for the good in us despite the terrible things we do to each other.
SD: I actually think that's really applicable to marriage.
PW: Yeah, I hear that.
SD: If you could strap a GoPro on any animal for your next music video, what would it be?
PW: I'd go something marine. Strap it to a seal or a dolphin. I'm big into seals. "Handsome" Paul says a cheetah. Tim says an impala.
SD: Your performance with the Maine Youth Rock Orchestra looked pretty special. Any plans for similar collaborations?
PW: I think we're gonna get some of those MYRO folks out for our Portland, Maine, show in December. We love that. I'm totally into adding instruments when we can. We just did a couple of things with a French horn player in Chicago, which was super fun. You can see some of that on our Audiotree Session. Those opportunities are not ones that come up every day, but we'd love to do more collaborating and orchestra stuff.
SD: If you could busk on any street in the world, where would it be?
PW: I hear good things about some European cities, but I do think that Faneuil Hall is a special place. It's the only place we busked, because there's a program with a schedule. And, for the most part, you don't have to fight people to play in your dedicated spot and can use a sound system. We never would've survived playing unplugged on the street. We would've quit after two days. What made it wonderful was the steady flow of tourists walking by, looking to be entertained.
SD: Sounds like Burlington's Church Street. What's a piece of advice you have for buskers who might be reading this?
PW: Go to Faneuil Hall.
SD: Tell me one thing you could never live without, and it can't be related to making music.
PW: Exercise. Exercise and peanut butter. We could spend five days in the car without going for a run or a hike, and morale dips very quickly. It's hard when the drives are long. You go to bed late, get up early and you just sit in the car. But whenever possible, we try to get outside. It's restorative. Good for the body, good for the mind. And we just like to keep a jar of peanut butter around. Take a spoonful to the face.