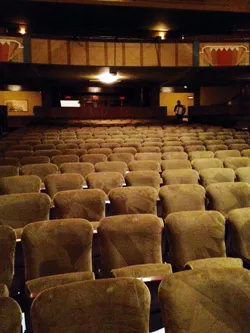 After all the excitement about the anonymous $1 million donation toward "de-squeaking" the Flynn Center's worn-out, 65-year-old seats, I couldn't wait to get my butt in one of them.
The Flynn's patron enhancement project wasn't just about seats, of course. Since last fall, more than 400 donors have contributed $2.2 million — including the anonymous donation — toward a renovation that would update the aging theater without losing its art-deco charm. Improvements include a new paint job on the walls, floors and original kiosk; sleek new hanging lights, designed by Conant Metal & Light, above the concessions bar; and a new screen above the theater doors that features a mesmerizing time-lapse video of the seat removal and installation. On performance nights, the screen will capture the onstage action in real time, so latecomers won't miss anything.
In accessibility improvements, the orchestra and balcony areas are now equipped with extra railings, there are six new handicap-seating stations, and a new wireless loop allows people with hearing impairments to simply flip a switch on their hearing aids to amplify onstage sounds.
Back to those seats. As audience members, we form a pretty intimate relationship with the seat we occupy over the course of a performance. An uncomfortable one can cast a pall on an otherwise enjoyable show. And if what's on stage is lackluster, a luxurious seat can at least offer a nap.
So I put the Flynn's new seats to a test, assessing the sitting experience based on an informal rubric. Note: I visited last week, before the new season began, so I didn't sit as long as I would for a show. Nor did I experience sitting behind tall folks or big hair, or in front of a seat kicker. Those variables are left to the imagination…
The look
Stepping into the Flynn, I can't figure out why I feel so calm — until I remember the old seats were a striking blood red. The new "lichen" ones give the theater a muted, sea-foamy look. "We weren't against the red," says executive director John Killacky. "The red was iconic." But the idea was to complement the slate-green, pink and gold of the theater's art-deco flourishes. Lichen was a good choice. Standing in the aisle, I feel like I'm floating in gentle ocean waves. Mmm…
Oh, look! The seat numbers are actually affixed to each individual seat, rather than on the left (or was it right?) armrest as they were before. Finding your seat just got a whole lot easier.
The feel
When I first take a seat, I'm surprised to discover that I have a particular way of sitting down: First, I lower my butt onto the edge of the chair, then I scoot back. I notice this because the new cushion's synthetic-velour surface is so velvety, and provides so much friction, that I cannot smoothly execute the full butt scoot. This is not a failing of the chairs, but I will have to recalibrate my scooting.
Let's talk posture. The backs of these chairs make it nearly impossible to slouch. I feel like I'm sitting up just straight enough, and I swear I can feel some lower-back support. Can I get one of these for the office, please? Of course, I've only been sitting here about six minutes, but my lower half is practically melting into the floor.
Legroom
Remember those weird, mushroom-cap things on the floor in some of the Flynn's back rows? Leigh Chandler, the Flynn's marketing director, says that before the renovation, it was not unusual for people to accidentally kick their cellphones under the caps, and for the staff to find them in the ventilation system below. The mushrooms are now gone, replaced by circular, art-deco-inspired grates that look cool and add even more legroom to those rows.
Before leaving, I test out the widened back row of the balcony, which used to be pretty cramped. I stretch my legs — my knees just barely kiss the seat in front of me — and lean my head against the partition behind me. It's like a cocoon up here. I'm ready for a nap.
The squeak factor
One final test: seat squeakability. I shift from left to right, as if to lean over and whisper to my date. Then I take it up a notch, rocking back and forth. Finally, I go all out, bouncing around and shaking. No matter what I try, I cannot coax a squeak out of these chairs.
The community is invited to check out the renovations at an open house at the Flynn Center for the Performing Arts in Burlington on Sunday, September 23, 1 to 3 p.m. flynncenter.org