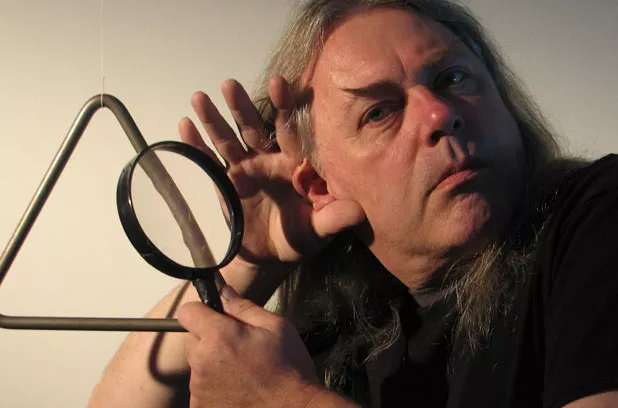 Not many people can rock a triangle like Brian Johnson. Or, perhaps, would even aspire to. But the Cambridge, Vt., musician excels at playing the simple geometric noise maker — and every other percussion instrument, conventional or handmade. Percussion is at the center of Johnson's concert this Friday at the FlynnSpace, augmented by amplifications, prerecorded tape loops, silent film and, at times, a couple of other humans.
The cheekily titled show, "Maximum Minimalism," is a response to the minimalist theme prevalent at the Flynn this season. "At the beginning of the year, I saw what was being programmed and said, 'Hey, I could do a whole concert,'" Johnson says. "That's what I can do."
He played "a lot of this kind of music in New York City" in the 1980s, Johnson adds, when he was living in Hartford, Conn. He had attended the Hartt School, a conservatory in West Hartford, and spent several years as an artist-in-residence at an experimental arts center called Real Art Ways. Johnson was indeed maximally immersed in minimalism, at a time when critics — and the public — were still scratching their heads over the sounds produced and recorded by John Cage. The minimalism and "chance music" pioneer was "endlessly defending his compositions as music," Johnson says.
His own five-piece concert this week will reflect the influences of composers and experimental filmmakers Johnson met and worked with at the time; it will "exemplify the methods of sound exploration that came to be called minimalism," he says.
In other words, expect pulse patterns, drones, microtonal pitch collisions, tape loops and other ways of minutely manipulating the acoustic qualities of nonpitched instruments. "I told Arnie [Malina, Flynn artistic director], 'My concert will make Philip Glass' music sound like nursery-school music,'" says Johnson. He doesn't hold back his disdain for that near-iconic composer, who performed solo as well as with Lucinda Childs Dance at the Flynn in April.
Those more deeply invested in avant-garde arcana will recognize the name of Phill Niblock, director of New York City's Experimental Intermedia — "a heavy-duty new music and media series, basically," explains Johnson. The Niblock films collectively called The Movement of People Working will provide a silent visual backdrop at the concert. "These are beautiful films he's made of people throughout the world laboring," Johnson says. "The minimalist aspect is, the same reactions are repeated, over and over" by workers in countries all around the globe. Johnson will perform Niblock's piece "Timps in E," accompanied by a recording of same by Jan Williams many years ago. Prepare to listen acutely to "a very small vein of sonic occurrence" in the key of E.
This will segue directly into Johnson's own composition, "I Tend Towards the East." The live performance explores the acoustic properties of amplified suspended cymbal and voice, he describes.
And then, that triangle. Back in 1987, the composer Alvin Lucier wrote a solo piece on the instrument, called "Silver Streetcar for the Orchestra," just for Johnson. When Lucier retires next year from teaching at Wesleyan University, Johnson says, "I'm going to play that piece for him." Meanwhile, Johnson will demonstrate the triangle's surprising sonic versatility to the FlynnSpace audience Friday night.
Without giving everything away, suffice it to say that the final two pieces bring in other drums and mallet-struck instruments — xylophone, orchestra bells, marimba and vibraphone — as well as more film images and live players Jeff Salisbury and Howard Kalfus. Oh, and "there may be some interlude music of mine that I made for dance," Johnson suggests cryptically.
Johnson, 58, is a distinctive regular presence at the FlynnSpace; tall, with long, salt-and-pepper hair and expressive eyebrows, he's managed the venue since it opened more than a decade ago, and exercises his bartender muscles during intermissions. But his own public performances — other than as timpanist for the Vermont Symphony Orchestra — are rare. So are, for that matter, percussion-only concerts. But if his music is minimal, Johnson notes, the setup is not. A "lot of technology" has come together for this show, he says, which has entailed preparing recordings and transferring old films and videos to DVD. "People should come just to appreciate all the work that's been done," he advises. It's the least one could do.