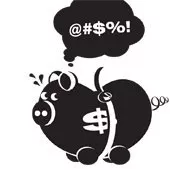 On Sunday, August 9, there was a birthday party at my house ... for Smokey the Bear. The forest-fire-fighting mascot turned 65 this year. My partner, Ann-Elise, made a cake. She and our two kids sang "Happy Birthday" to him.
I was away that weekend, so I missed out — on the cake and on the points. The bear's little shindig was worth 10 points in the Venture Vermont Outdoor Challenge, a self-guided scavenger hunt organized by the Department of Forests, Parks and Recreation. When you rack up 250 points, you get a free pass to Vermont's state parks for the rest of 2009, and all of 2010. My family is about 30 points shy of finishing.
We initially embarked on the challenge because it seemed like a great way to save money. An individual day-use season park pass is $25, a vehicle pass is $80 — not a huge savings, but still significant, especially if you've got kids. But after a couple months of ticking off activities on my score sheet, I realized that completing the challenge has also been its own reward. Often the activities are things that we mean to do, but never seem to make time for. Venture Vermont has motivated us to make the effort. As a result, we've enjoyed a wide variety of fun, low-cost, outdoor adventures. It's almost worth paying an entry fee just to participate.
To take the Venture Vermont challenge, download a score sheet from the State Parks website. It lists dozens of activities, each of them worth points. As you're doing the activity, you take a photo of yourself to prove that you did it. When you're done, you check it off the list. When you've earned 250 points, you send the score sheet and a CD with your photos to the State Parks office in Waterbury, and they send you a pass.
The list includes easy-to-accomplish tasks such as identifying plants and animals (1 point each), wading in a lake (5 points), and having a picnic at a park (10 points). There are practical activities that pay off, too, such as growing a garden (15 points), hanging your laundry out to dry (10 points), and learning how to navigate using a map and compass (20 points). Creativity also advances the cause; you can make your own fishing pole with stuff you find outside (10 points), build a shelter with natural objects (10 points); or write a poem about sitting in the forest (10 points).
The state parks staff also posts a new bonus activity each week on their Facebook page, and on their blog, at vtstateparks.blogspot.com. The week of August 9, you could earn 10 points by throwing a birthday party for Smokey the Bear, hence our festivities.
Thanks to Venture Vermont, our family explored Sand Bar State Park, where we discovered a nest of turtle eggs that had just hatched. We spent a day in Groton State Forest, where we skipped stones on Kettle Pond, identified loons and an Eastern newt and had a picnic at Seyon Lodge. We also climbed Mount Philo one morning in July, and got 20 points each because it was that week's bonus.
At Mount Philo, we ran into our friend Stacy Fraser, who lives in Charlotte. She was headed up with her husband and son. We told them about Venture Vermont, and now they're doing it, too. I called her recently to ask how it was going. She told me that it ended up being a great thing to do during a summer when her family cut back on traveling.
"I've been really trying hard all summer to find little things to do that make us feel like we're on vacation without spending a lot of money," she says. Getting out into the parks has been perfect for that. "Even if it's only for half a day," she says, "I feel more rejuvenated and refreshed, as if I were vacationing."
And she pointed out another benefit — to win the pass, you have to take pictures of yourself completing the challenge, which means you wind up with a bunch of great outdoor photos.
In fact, those photos are a plus for the state, too, says Parks Sales & Service Manager Rochelle Skinner. The parks staff asks participants to sign a release, so that the images can be used for promotional purposes. "We can't afford to have a staff photographer going around, so this was a nice way to get shots of people," she says. "It wasn't our sole intent by any means, but it was a nice fringe benefit."
Skinner says the program, now in its second year, was meant to incentivize Vermonters to explore the parks. Despite the fact that they give away season passes, Venture Vermont costs "virtually nothing" to run, she explains.
According to Skinner, last year 200 people won free park passes. As of late July, just 20 people had submitted score sheets in 2009. Skinner expects that number to rise. "I'm getting a lot of questions on it," she says, "so I think a lot of people are doing it." The deadline for submitting entries is October 15, so it's not too late to get started.