Oliver Parini
Left and center: Citrus Ponzu Shrimp Bowl and Firecracker Bowl
As food goes, poké isn't a natural fit for a state without a seacoast. With origins in Hawaii, the dish traditionally features raw fish that is sliced — poké (pronounced "pokay") means "to cut or slice" in Hawaiian — and prepared simply. It could be served with chopped scallions and sweet onions, or seasoned with sesame oil and sesame seeds.
In recent years, poké has expanded in territory and ingredients to become a certifiable food trend. A recent Instagram search for #pokebowl turned up more than 381,000 posts. From places as far-flung as Munich, Atlanta, Montréal, Minneapolis and Raleigh, N.C., the images depict raw fish and much more: tomatoes, radishes, beets, cucumbers, avocados, mangoes, quinoa, eggs and greens.
Now the list of landlocked poké purveyors includes Vermont, where husband and wife Neil and Perry Farr opened the Scale Poké Bar in Williston last March. Since then, the Scale has sold 8,000 poké bowls, according to Perry. The Farrs believe theirs is the only dedicated poké restaurant in the state, though other restaurants offer poké bowls on their menus.
"I think the popularity of poké is because it's easy to eat, it's easy to understand, and it's not overly exotic or foreign," said Waldy Malouf, senior director of food and beverage operations at the Culinary Institute of America in Hyde Park, N.Y. He noted that poké became a "huge trend" across the country about three years ago. "It's another way of consuming what we think of as healthy food," Malouf said.
Oliver Parini
The front counter at Scale Poké Bar
The Scale offers poké bowls featuring two kinds of raw fish: salmon and tuna. Bowls and build-your-own meals can also be made fishless with proteins such as beef, chicken and tofu — all locally sourced, according to the Farrs. The choice of protein rests on a bed of rice (white or brown), salad greens or zucchini noodles, known as "zoodles." Add-on options include edamame beans, pineapple chunks, crispy onions, Asian slaw, beets and seaweed salad. A selection of five housemade sauces, from sesame shoyu to pineapple teriyaki, adds flavor.
Regular bowls cost $12.95; large bowls (which would probably serve two), $15.95. The breakfast menu offers bowls of a different sort — frozen acai purée with a variety of toppings.
"We're food for people who are looking for healthier options and fresh options," said Perry, 30. She calls poké "sushi on steroids."
The Scale offers signature bowls "for guidance," she continued. "With a newer food style, it's easier to offer a framework." More experienced poké eaters are free to mix and match, because "it's entirely customizable: You can get what you want, like an ice cream shop."
The wild salmon is probably the biggest treat on the menu. Caught from a 31-foot fishing boat in southeast Alaska, it's not "locally sourced" so much as sourced by a local. Fisherman Lynn Steyaart lives in North Duxbury when he's not fishing out of Petersburg, Alaska. For half the year he trolls for king and coho salmon from his boat, the Honeywilya.
Oliver Parini
Perry (left) and Neil Farr
Steyaart runs Honeywilya Fish with his wife, Maria Steyaart, a year-round Vermonter who works for the state Agency of Agriculture, Food & Markets. He catches each salmon individually by line (not net), cleans it, packs it in ice and stores it in the boat's fish hold, Maria explained. At port in Petersburg, the fish is fileted and flash-frozen — which locks in flavor and freshness — before being transported by airplane to Boston, where Maria picks it up.
With the exception of occasional sales to Blackback Pub in Waterbury, the Scale is the only restaurant Honeywilya supplies; the Farrs buy about 80 pounds of salmon every 10 days, according to both business owners. (The fish is also available at select local markets and farmers markets.)
"It's kind of like Heady Topper back in the day," Maria said of her husband's wares. "They only could make so much, and that's it. Lynn can only catch so much and bring back so much."
The Steyaarts fell in love with poké on a trip to Hawaii and ate it for almost every meal, Maria said. They were "ecstatic" to make a local poké connection.
"We jumped on board and were so jazzed to have this," Maria said. "We are thrilled to be part of something in Vermont with great people. Neil and Perry were such a great fit for us."
Neil insists on a basic test for freshness: "My kitchen will never smell like fish," he said, noting that odor is a giveaway that fish is of lesser quality. "The only way to serve good fresh fish in Vermont is to get it fresh-frozen," he added. "We want to make sure we're doing our part and doing it responsibly, while serving our customers the best fish we can."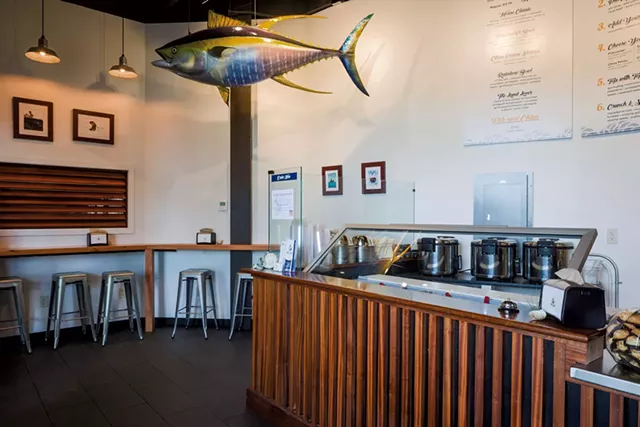 Oliver Parini
Seating at the Scale Poké Bar
Neil grew up in Colchester, and Perry is from North Haven, Conn., a suburb of New Haven. They met as students at the Culinary Institute of America but left the acclaimed school before graduating to start a family. Their son, Jack, turns 6 on July 18. Their daughter, Eloise, is almost 2.
"Both of us pursued life instead of more college debt," said Neil, 36. The couple felt it made both financial and professional sense to pursue industry jobs instead of a degree. As Perry put it, "Textbooks don't feed your baby."
"No amount of classroom work can prepare you for a busy Friday night [in a restaurant]," Neil added.
The Farrs moved from New York's Hudson Valley to Vermont in the fall of 2012 to be close to family and embark on their careers. At Sky Burgers, the now-closed restaurant on Burlington's Church Street, Neil ran the kitchen and Perry was front-of-house manager.
Later, Perry worked at the Inn at Shelburne Farms and the Skinny Pancake before becoming the catering sales manager for Panera Bread. Neil took a different route, leaving kitchen work for a sales position with Reinhart Foodservice. He sold cleaning supplies and equipment to restaurants, hospitals and other businesses in Vermont, New Hampshire and northern New York.
Neil serviced a substantial number of kitchens, picking up tips for restaurateurs along the way. "I learned that the people who cut corners are the people who don't succeed," he said. "It [could be] a great idea and a great location, but if an owner doesn't put their heart into it, those restaurants fail."
All the while, the Farrs were planning to open their own business. They considered a wood-fired pizza truck and a salad bar restaurant. Neil's experience working on the road had shown him a need for lunch options that are quick, healthy and affordable, he said.
Meanwhile, Perry's foodie brother in Austin, Texas, lobbied for poké. On a trip to San Francisco, the couple shared a big poké bowl, and suddenly their choice was made.
"While we were eating it, Perry said, 'This is it,'" Neil recalled.
"We found ourselves having poké cravings at home," Perry added.
The couple took a "research and development" trip to Hawaii in January and signed a deal for the restaurant space — in the Kismet Place building near Taft Corners — the day after they got home. They're already making plans to add catering to the business, as well as thinking about a second Vermont location.
Neil has become a salmon fan. Perry is in her element.
"I leapt that [raw fish] hurdle pretty young," she said. "I will bite a fish out of the ocean and be happy."