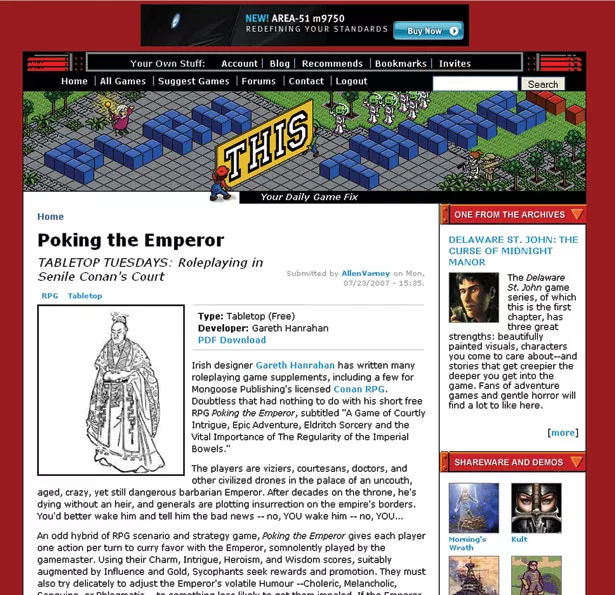 Too many games.
Gamers lament that, while their world overflows with interesting things to play, they'll never have a chance to get to them all.
Greg Costikyan at Manifesto Games wants to make it worse by pointing out hundreds of new games you've probably never heard of. With the motto "One interesting game a day," Playthisthing.com is leading the charge Manifesto started. They're shaking up the game business by getting people to look past blockbuster titles to novel, provocative and just-plain-weird electronic entertainment.
Ever consider sitting down to a game that simulates political gerrymandering? Play This Thing! urges you to give "The Redistricting Game" a go. Based on the very real art of manipulating political boundaries to sway elections, the game manages to teach you a few things about the messy business of getting people into public office while providing a compelling strategy challenge.
"Playing With Fire" offers an abstract puzzle game in which burning things helps you find a solution, while "Eternal Daughter" serves up old-school side-scrolling adventure that is comparable to Game Boy Color. "Tragedy of the Bunnies" is a simple allegory demonstrating that private property isn't such a bad thing, and "Defcon" entertains by explaining lucidly why nuclear war exists.
"Defcon" also exemplifies why Play This Thing! stands out as an important as well as an interesting Internet diversion. For less than $20, "Defcon" is a masterful variant of speed chess where nothing is left to chance, as you attempt to outnuke players across the network in an eerily sterile situation room. PTT reminds you to put down the Xbox controller long enough to take a look at games like this.
The site's recommendations range from casual puzzles and adventure titles to art games and interactive advertisements. Many of the games are free; some are downloadable demos, and others are traditional tabletop games that require a visit to the local hobby shop. What they all have in common is their ability to tickle the fancy of one of the hard-boiled editors who supply the site reviews each day.
Packed with games, links and information, the site stands as one of the most impressive video-game offerings in a long time. PTT was designed both to promote the independent games sold on the Manifesto site and to stimulate a real appetite for something new in gamers whose taste has grown dull on mainstream pabulum. It balances business with a back-to-basics attitude.
Just to keep the record straight, it should be noted that the site isn't solely about selling product. Open forums invite anyone to suggest games for review and to track games slated for a turn on the site's home page. Coupling these forums with reader ratings, PTT promises to turn into one of the best resources on the Web for finding and tracking fringe games.