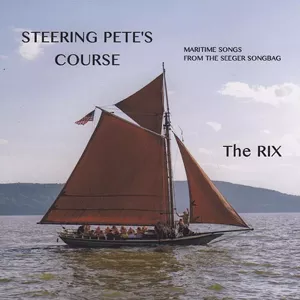 The Rix, Steering Pete's Course: Maritime Songs From the Seeger Songbag
(Self-released, CD, digital)
It's no secret that late folk music legend Pete Seeger loved the water, and the Hudson River in particular. He sailed and sang of it for the entirety of his career, writing tributes in songs such as "My Dirty Stream." In 1966, he and his wife, Toshi, founded Hudson River Sloop Clearwater, a foundation dedicated to preserving the beauty of the river he admired so much.
Monticello, N.Y.'s Rick Nestler and Vermont's Rik Palieri, known in aggregate as the Rix, both met and started playing with Seeger in the 1970s. Much of their relationship centered on the famous folkie's love of sailing the Hudson. So, after years of playing with Seeger and performing his songs on their own, the two songwriters have teamed up on a maritime-themed tribute to their mentor.
Steering Pete's Course: Maritime Songs From the Seeger Songbag is simultaneously a love letter to a subgenre of folk music and a toast to one of America's greatest songwriters. The album contains traditional tunes and material written by the Rix, along with Seeger's songs.
Nestler and Palieri are perfect Seeger torchbearers. Both are lifelong folk musicians themselves, and their involvement with the Clearwater project adds extra authenticity. A host of singers and friends who knew and performed with Seeger join in, as well, including David Bernz, Guy Davis, Melissa Ortquist and Sarah Underhill. Their collected talents add to the friends-singing-on-a-ship vibe.
This album isn't trying to win over anyone who isn't into maritime-themed folk; rather, it's for initiates and lovers of Seeger's seminal talents. His songwriting towers like a colossus on tunes such as "Sinking of the Reuben James," which features a wonderful intro in which Nestler and Palieri talk about Seeger writing the song. They urged him to write a chorus for others to sing along to.
The Rix work well together. Both artists have the hint of grit that age can bring to voices, but they sing the songs with clarity, pureness and a reverence that matches their expertise. On "Sailing Down My Golden River," Nestler's 12-string guitar and Palieri's banjo form a latticework of notes that reel off like waves hitting a ship's stern.
The record does have a current of sadness — or at least a sense of old traditions lost and, perhaps, the passing of a simpler world. Maybe it's just the natural melancholy of folk, but many of Seeger's songs almost feel like J.R.R. Tolkien describing a disappearing world.
"Song of the World's Last Whale," a lesser-known composition, carries heavy regret, and Nestler sings Seeger's words like a plea: "So here's a little test to see how you feel / Here's a little test for this Age of the Automobile / If we can save our singers in the sea / Perhaps there's a chance to save you and me."
That notion of preserving our waters saturates Steering Pete's Course. And as good as the Rix are at covering the master musically, one gets the feeling that the steering part is what would make Seeger most happy.
Steering Pete's Course: Maritime Songs From the Seeger Songbag is available at CDBaby.