courtesy of American Precision Museum
Factory worker operating a lathe
The city of Burlington is doing everything in its power to become Vermont's tech hub. The region boasts an international airport and high-speed internet. Next-generation companies such as Dealer.com and MyWebGrocer have joined legacy ones such as GlobalFoundries and General Dynamics. A new nonprofit, BTV Ignite, is gearing up to align "Burlington's powerful gigabit infrastructure as a tool, test bed and accelerator for economic, educational and community benefit," according to its website.
Yet, in their quest for a brighter future, Chittenden County's connectors could learn a thing or two from the past — specifically from the town of Springfield, which was arguably Vermont's first tech hub. As recently as 1980, the machine-tool industry employed about 3,000 people there and defined the town's social and economic identity. Known as Precision Valley, Springfield was a white-collar community, populated by engineers and executives, with the highest per-capita income in Vermont.
"All of that has flipped 180 degrees," said Bob Flint, 53, who recalled a time when there were multiple shifts at Jones & Lamson and Bryant Chucking Grinder Company, two of Springfield's four preeminent machine-tool companies. The town's streets were once jammed with commuting workers. But now, said Flint, executive director of the Springfield Regional Development Corporation, they have a different traffic problem: drug dealers. Springfield's household income today is about $10,000 below the Vermont median, and one-third of its residents receive some form of public assistance.
Like its ascent, Springfield's descent took decades. The town hit bottom on February 13, 2002, when Goldman Industrial Group, the owner of J&L, Bryant Chucking Grinder and Fellows Gear Shaper, declared bankruptcy and shuttered 790,000 square feet of industrial manufacturing space — roughly the area of 14 football fields.
Outsiders may find it perplexing that a technology-based industry of such dimensions could ever have occupied this remote, rural area. Following that logic, the near-total disappearance of Springfield's prosperity is like the resolution of a dissonant chord. But, in fact, Precision Valley made perfect sense for about 100 years.
Flint, a hometown booster who sees things as they are, has the difficult job of helping the region figure out its next identity. If not the Machine Tool Capital of the World, then what? "The answer is, we're not going to be any one thing," he said. "The economy is too complicated for that."
Multi-Company Town
Things were simpler in the 1830s, when Springfield's first technology company, Parks and Woolson, began turning out machinery to finish cloth. The firm located there for the water power; the Black River drops 120 feet in less than a mile as it drains south through the center of town. Parks and Woolson set up shop on the river bank and attracted highly skilled machinists as the firm prospered.
But, despite Parks and Woolson's success, Springfield struggled. A flood demolished the town in 1869; then a huge fire burned much of it in 1880. The town was losing population to western migration when Adna Brown, the general manager of Parks and Woolson, got word that a machine-tool company in Windsor was for sale. Founded in 1829, Jones & Lamson manufactured, at various times, rotary pumps, rifles and sewing machines. Its original building is now the American Precision Museum.
Brown put together a group of investors, and Springfield invoked an 1884 Vermont law that allowed towns to exempt new industry from taxation for up to 10 years. The deal went through, and J&L moved from Windsor to Springfield in 1888.
To run the operation, Brown hired a precocious machinist and inventor named James Hartness. On his first day of work, Hartness took one look at the wide range of products J&L made — machines to drill gun barrels, stone channelers, engine lathes — and proclaimed that the company would henceforth produce just one thing: the Hartness Flatbed Turret Lathe, named for himself. Although other turret lathe models existed, his was arguably the most efficient at milling and shaping all lengths of metal. Hartness directly benefited from his invention, earning $1,000 per year, plus a $100 bonus for every turret lathe the factory sold. With only a grammar school education, he brought home more money in some weeks than the average person made in a year.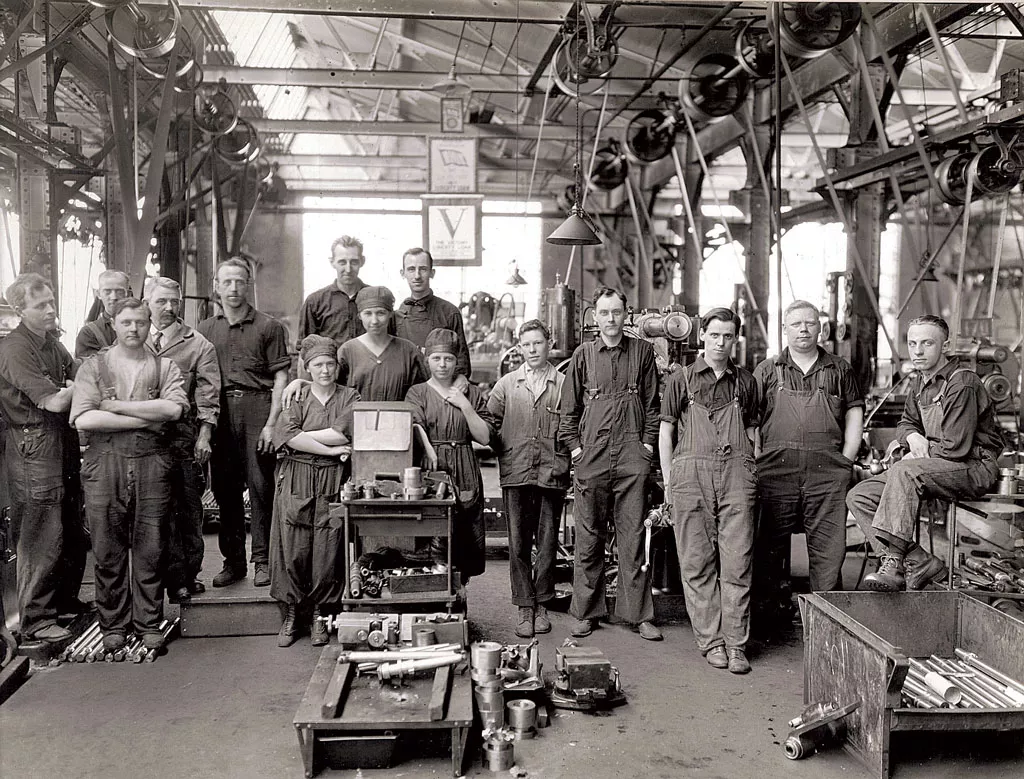 courtesy of American Precision Museum
Factory workers at Jones & Lamson during World War I
Hartness fueled Springfield's explosive growth from the turn of the 20th century until well past World War II, during which Springfield was rumored to be on Germany's list of bombing targets. He did it by introducing one well-timed product after another, each named for its creator. For example, Hartness hired an engineer and inventor named Edwin Fellows, who developed a machine that would cut gears. Hartness spun off the Fellows Gear Shaper Company in 1896, with its namesake serving as manager. The innovation coincided with the rise of the automobile industry a few years later.
When Fellows left J&L to run his own company, Hartness sought an engineer to replace him. He found William LeRoy Bryant, a student at the University of Vermont, who joined J&L in 1897 as a draftsman and worked closely with Hartness on the cross-sliding-head turret lathe. At the same time, Bryant took an interest in grinding. Building on a J&L lathe that used a chuck — something to hold a piece in place while it was shaped and bored — Bryant developed a new chuck that was easier to use and more accurate. By 1909, Hartness had another spin-off: the Bryant Chucking Grinder Company.
This pattern continued. When Hartness hired Fred Lovejoy to replace Bryant at J&L, Lovejoy became an expert in small-tool design, and he eventually created interchangeable cutters that could be swapped in and out of machines like bits on a modern drill. In 1916, Hartness provided the startup capital for the Lovejoy Tool Company, which will celebrate its 100-year anniversary in Springfield next year.
Hartness fostered these new firms because he held to a belief that sounds odd today: that a company should make only one product. He broke his own rule once, in 1919, when he invented the optical comparator, a device to precisely measure screw threads, in collaboration with engineer, artist and arctic explorer Russell Porter. Hartness wanted Porter, a Springfield native, to run the comparator business, but Porter decided to move California, where he helped design the Palomar Observatory telescope.
So J&L kept the comparator division in-house. Despite its parent company's bankruptcy, Springfield-based J&L Metrology remains the only company making optical comparators today in the United States.
Fourteen years before he died, Hartness was elected governor of Vermont. His wordy platform — "A Drive for Creation and Cultivation of Industrial Plants" — proved incompatible with the poor economy of the time, and he served for only one term, from 1921 to 1923. An avid pilot, he went on to found Springfield's Hartness State Airport and persuaded Charles Lindbergh to land there after his historic New York-to-Paris flight of 1927.
Hartness was also fascinated by astronomy. He and Porter formed a club called the Springfield Telescope Makers that continues to convene every summer on a hill outside of town.
What Went Wrong?
The companies that Hartness created remained successful long after his death in 1934. They boomed during war times and shrank during recessions but steadily employed 3,000 to 4,000 people for the better part of the 20th century.
Why did J&L, Fellows Gear Shaper and Bryant Chucking Grinder eventually go out of business? There's no definitive answer, according to the executive director of the Springfield Art & Historical Society. Hugh Putnam, 75, worked in J&L's comparator division in the 1970s and 1980s. His father worked at Fellows Gear Shaper for 45 years.
Some have blamed the unions for the machine-tool industry's downfall, Putnam said; a few long strikes in the 1970s led to high wages and legacy costs. Another explanation, he offered, is that the owners of these family-run companies couldn't get their kin to take over. As a result, the companies were purchased by large outside firms in the late 1950s and early 1960s.
Going from local to multinational ownership marked "a turning point," Flint concurred. "Maybe it would not have been possible for them to compete at the same level without that," he said, "but when things went south, there was a heck of a lot less control."
Putnam suggested that "the companies put themselves out of business" by failing to innovate or invest sufficiently in research and development. Springfield continued to churn out old-school machine tools; motors and electric power aside, they required a human operator. Meanwhile, the Japanese poured billions of dollars into the development of computerized machining centers that were faster, more accurate and cheaper to run than, say, a J&L turret lathe. "The technology just stripped what these companies were doing," Putnam said.
Flint agreed. "They kept making the same machines, and while they were great and cool and the standard-bearers, you've always got to innovate," he said. "That kind of stuff stopped happening from the mid-1980s on."
Flint sees a lesson there for Vermont businesses in any era. Deciding how much to spend on research and development is a key challenge for such small enterprises, he said, because innovation takes a lot of capital — more than some can afford. "So what do you do?" he asked. "Do you cash out? Or do you find a way to get the financial horsepower you need to compete with bigger companies? That's a tough one."
The machine-tool firms went another route: They stayed the course and became obsolete.
Some bright spots persist amid the ruins of Springfield's machine-tool era: J&L Metrology and Lovejoy, neither of which returned calls from Seven Days, are two of them.
A more recent success story is IVEK. The 80-employee Springfield firm makes precision pumps that dispense tiny amounts of liquid in the production of items such as contact lenses, batteries and medical syringes. The pumps use ceramic cylinders and pistons machined to tolerances within millionths of an inch. Springfield resident and inventor Vernon Zeitz founded the company in 1979, and over the years IVEK has plucked engineers, machinists, and even tools and supplies from the old-guard machine-tool companies as they closed around it.
"We really do feel we fit into the Precision Valley, because of all the precision ceramic and metalwork machining we do," said Mark Tanny, director of IVEK's research and development. "A lot of the reason we're able to develop these processes and machines has to do with some of the design talent that was left over from the machine-tool days."
Flint would love to see more firms like IVEK take root in Springfield. And, as one might expect, he knows how to make the place sound attractive to new businesses. VTel recently installed 10 gigabit fiber-optic cable, he noted, giving Springfield one of the top internet speeds in the country. Interstate 91 is just a few miles away. The machine-tool manufacturing sites are flat and connected to water and sewer infrastructure. The area is eligible for new-market tax credits, which Black River Produce used in 2012 to build a slaughterhouse and meat distribution center — a deal that Flint facilitated.
Flint's development agency is working with local, state and federal agencies on environmental remediation of the J&L and Bryant shops, which are designated as brownfields. The old Fellows Gear Shaper site in North Springfield is now occupied by Jeld-Wen Windows & Doors and Acrylic Designs, which makes point-of-purchase displays.
Flint's fantasy is to see a company settle in Springfield that needs 500 skilled workers, but he's realistic about the odds of re-creating a tech hub on the banks of the Black River. "Am I going to be able to attract 500 people to live here?" he asked, then answered his own question. "We need the social infrastructure. Burlington is one thing, but the rest of the state is something else."