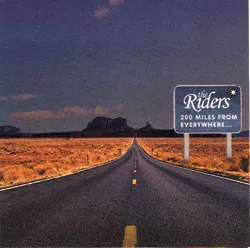 (Self-released, CD)
Music criticism is funny in that it requires the reviewer to shelve his or her personal tastes in favor of maintaining that most elusive and important of critical qualities: objectivity. It's not enough to merely say that you love or hate an album. You have to set aside your personal biases and judge each individual work on its own merits. So it is that 200 Miles from Everywhere . . . the latest album from San Diego's The Riders, recently found its way into my CD player.
First things first, 200 Miles might just send the hipster set running for their pitchforks — although, honestly, what doesn't? But elitist snobbery aside, this is a topnotch American-rock record. And while it rarely redefines genre boundaries, it ably traverses the hardscrabble Americana highways of the heartland with sincerity and authenticity.
From the laid-back opening strains of "Someday Soon" and the classic-rock-fueled "Coalinga," to the lighter-worthy balladry of "Too Far Away Tonight" and album closer "Take Away," echoes of Memphis-walkin' Marc Cohn, pre-Chevy-commercial John Mellencamp, early Eagles and even Whitesnake — think "Here I Go Again" — abound.
Front man Tom Cuismano claims three generations of Burlington roots, but the sunny climes of Southern California suit him well. After all, SoCal was the "birthplace" of country-rock. The guitarist unabashedly stands on the shoulders of giants, lyrically and melodically. And why not? The Eagles stood on the shoulders of The Band, The Byrds and Flying Burrito Brothers — and then sold about a bazillion more records than all of those groups combined. "The Cougar" stood on the shoulders of Springsteen, who stood on the shoulders of Van Morrison. But we could do the "begat" thing all day.
The bottom line is that the dude is good at what he does. And what he does is write pitch-perfect acoustic rock songs with a clear reverence for the roads his forbears traveled. The Riders don't push the envelope by any stretch, but that's pretty much the heartland in a nutshell, isn't it?