With the short days of winter upon us, getting to the mountains after work often means embracing the sunset hour. Vermont's many peaks and ridges are seldom more than a 10- or 15-minute descent to the relative safety of the valleys. That makes it possible for well-prepared skiers to linger up high even after the sun has set, as the mountains bask in the glow of the very last rays of light.
"Sunrise is nice, too, but it means climbing the mountain in the dark," says Forrest Twombly, 35, a builder from Roxbury. He skis right from his home whenever he has a few hours to spare. As for the sunset ski tour, "There's really no better way to wrap up the day," Twombly says.
It's a very special time on a mountaintop, he suggests. There's a feeling of solitude. Light and color dance across the landscape. And though the temperature is dropping, the moon is likely rising and the wind is often calm.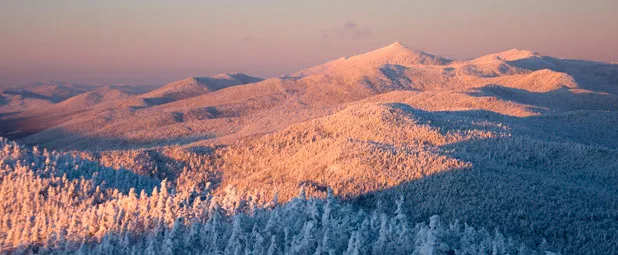 When venturing out late in the day, of course, it's essential to be prepared: Bring headlamps in your packs, extra layers of clothing, first-aid supplies, some food and a means of making hot drinks. Light is dim on the descent, but the challenge of sliding home in the half light of dusk sharpens the senses. Owls hoot. Towering trees creak. Stray branches require quick reflexes.
"Sunset skiing is not simply about the light at the end of the day; it is about a bunch of things driving the experience," suggests Dan Smith of Stowe. The 36-year-old says he rarely turns down a chance to ski in the late afternoon. "The woods are a little quieter, the shadows a little longer," Smith muses. "These things add a little more depth to the space between the trees."
All photos by Brian Mohr and Emily Johnson/Emberphoto.