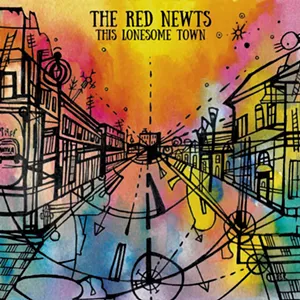 The Red Newts, This Lonesome Town
(Self-released, CD, digital)
The Red Newts are a Burlington outfit with an interesting sound that's equal parts straightforward Americana and bluesy bar rock. Their debut studio EP, This Lonesome Town, is a humble affair. But it's also a strong introduction to a tight group that has been honing its sound for quite some time.
In a nod to the band's vintage inspirations — and perhaps out of economic necessity — the five tracks here were laid down as single takes at Robot Dog Studio in Williston. As a result, everything sounds like a live gig — though not quite as much as their 2016 live album. Fortunately, this band comprises tasteful, thoughtful musicians, so the aesthetic never wears thin.
Perhaps I'm underselling things. The music is humble, but the Red Newts can really shred, especially lead guitarist David Titus. Sarah Cutler has a fine, clear set of pipes, perfectly suited to the mix of melancholy and whimsy. Band founder Nick Losito handles vocal duties on "Winter Blues," delivering a sparse, impressionistic song with conviction and heart.
Album opener "This Ain't No Love Song" is an ideal first track, a catchy rock workout that's heavy on reverb and leans on the band's capable rhythm section. Glen Wallace (drums) and Luke Hausermann (bass) are in spooky sync, which drives every track here. This is a well-practiced unit, but more than that, you can tell they're trying to disappear into the song every single time.
Next is "Back on Track," a cheerful song about shitty relationships that's pure John Prine. The upbeat, thumping shuffle would definitely kill a dance floor, too. While the tasty musicianship sells these songs, what really makes an impression is the quality of the songwriting. Both Cutler and Losito have a real gift for turning a phrase. They're also self-effacing and witty without being cute about it — the clear sign of an old soul.
The band credits outsider folk legend Michael Hurley, who was a wandering resident of Vermont for quite some time, as an influence on their sound. That's mostly sonics and aesthetics — until the fourth track, "Don't Tell Me to Smile," a smartly written, storytelling song that is both sweet and venomous. "Don't tell me to smile, yeah, I'll be happy in a while," Cutler sings, "when you're 500 miles away."
Things draw to a close on the title track, an outstanding ballad and absolute highlight. Over a low-key, almost mournful pocket that's reminiscent of prime Cowboy Junkies, the band takes an already excellent song to the next level with a great arrangement and another soaring, lyrical solo from Titus.
As a teaser, the Red Newts couldn't have done much better. While I'd like to hear them take more time in the studio, This Lonesome Town is a solid, promising project, and I'll keep an ear out for future releases.
This Lonesome Town is available at therednewts.bandcamp.com. The Red Newts celebrate their album release with Ponyhustle on Thursday, September 5, at the Olde Northender Pub in Burlington.