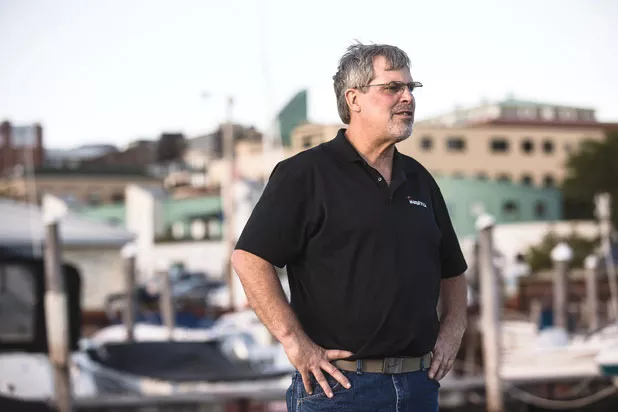 How does the real Captain Phillips rate the movie version of his private pirate drama? "It was worse living it than watching it," the 58-year-old Underhill resident said matter-of-factly last Wednesday on the deck of Burlington's Ice House. Then came a belly laugh — the first of many — that seemed totally incongruous with the Vermonter's harrowing experience as a hostage in the hands of trigger-happy Somali pirates.
It's no wonder Tom Hanks, who portrays Phillips in the new reality-based film from director Paul Greengrass, came to Vermont three times to study the longtime merchant mariner who sacrificed himself as a hostage to save his 18-man crew — then endured five days of psychological torture in a lifeboat.
Phillips may look like your average Joe, but he's not. That guy would be suffering from post-traumatic stress disorder, and Phillips doesn't appear to be — he says he hasn't even dreamt about his high-seas misadventure, which included several mock executions.
His background and training — growing up Irish in the Boston area, attending the militaristic Massachusetts Maritime Academy, guiding giant ships loaded with crew and cargo through the world's most perilous waters — prepared Phillips to survive a life-threatening event, but not necessarily to psychoanalyze it.
That might have made it harder for Hanks. At the New York Film Festival premiere last Friday, which Phillips and his family attended, the actor talked about the burden of playing a true-life character. "You have to load up on an awful lot of facts. You have to read a lot," the Los Angeles Times quoted Hanks as saying. In the event you get to meet that person face-to-face, "You don't want to be the idiot. 'What was it like? What did you feel?' You don't want to ask questions like most journalists do."
On the day of our interview, Phillips was just back from three months at sea and two days out from the celeb-studded, black-tie event. He too made fun of the media — "I have a deadline! I have a deadline!" he mocked the reporters who covered his ordeal — but patiently answered questions about the "incident," as he refers to it, that came to an end when Navy SEAL sharpshooters killed three of the captors with whom Phillips shared a lifeboat. A fourth, who was not in the vessel at the time, is being held in a U.S. prison.
Phillips also had plenty to say about the 134-minute cinematic "story of a guy at sea in peril," as he sums up the Greengrass docudrama. He saw it for the first time at a private screening in Los Angeles, where everyone was worried that he'd have "flashbacks or something."
The captain said he knew his adventure would be simplified and abbreviated for the film format. And he gives props to the director of United 93 and Bloody Sunday for "portraying the scenes on the ship well" — particularly his crew, "and how instrumental they were in ensuring the ship was never hijacked, never controlled, due to their actions."
What does Phillips think of the way Hanks portrayed him? The Massachusetts accent didn't sound right to him, because Phillips doesn't think he has one. (He does.)
But he saw himself in the actor's eyes. "At times, you could see almost into his brain, trying to grasp things. That's the way it was in the beginning with me. Things were out of control. I had to get a grasp of things. I was just trying to figure out a way to slow things down."
Phillips had been a merchant mariner for 30 years, 19 of them as a captain, when four pirates wielding AK-47s climbed aboard his ship on April 8, 2009. The Maersk Alabama was 380 miles off the coast of Somalia, a country known for its losing combination of lawlessness and poverty. In the same week, there were 39 pirate sightings and five other attacks in those same waters around the Horn of Africa.
The pirates weren't after the Alabama's cargo — five tons of which was food aid for the region. "The modus operandi was: Take control of the ship, hijack the ship, control the people and then ransom the people," Phillips explained within view of pirate-free Lake Champlain. "They didn't have the infrastructure to bring it to a port, discharge it, sell the cargo. All they want is the money and then release the ship. Then go get another ship. That was the business plan."
Somali pirates netted millions using this technique, but had generally avoided vessels flying American flags. The Maersk Alabama had the dubious distinction of being the first U.S. ship since the early 19th century to be overtaken by pirates. (Some crewmembers alleged later that Phillips ignored warnings to keep his ship at least 600 miles from shore. As of last year, 11 had filed suit against Maersk for endangering their lives. The company has called their claims "meritless.")
Phillips tells his version of the gripping story in the 2010 book he coauthored with Stephan Talty, titled A Captain's Duty: Somali Pirates, Navy SEALs, and Dangerous Days at Sea. The movie is based on this account, but the director left out some things, including Phillips' short history of the U.S. Merchant Marine. Phillips' book also devotes a lot of ink to his wife, Andrea, played in the movie by Catherine Keener, who had the unenviable task of waiting, worrying and managing the media while her husband was held hostage.
"Very little" of that made it into the film, said Phillips — "maybe four minutes in the beginning of the movie. There's more buildup and background for the pirates than for us."
But if Greengrass extracted all the action from the book, you really can't blame him; knowing how this story ends doesn't make it any less compelling. With a recent security drill fresh in their minds, the crew managed to disable the ship, so the pirates couldn't sail it or call for reinforcements. Phillips used charm and trickery to keep his men out of harm's way, and also to get the invaders to leave in a lifeboat.
His biggest fear: "If one person got killed, there was no reason not to kill all of us. So stopping that first death was very important to me," Phillips said.
But when the captors reneged on a last-minute hostage swap, the captain was caught. The five days he spent in hot, close quarters with the chain-smoking pirate foursome was a "battle of wills," as Phillips put it, but also an intimate, psychological view of geopolitical violence on a human scale.
One of the pirates used his gun to play a variation of Russian roulette with the captain, who likened him to a young Charles Manson. He would point his weapon at Phillips and "just pull the trigger. Click. And smile at me. Oh, he'd do that all the time. He loved doing that," Phillips recalled in the same jovial way he described the ritualized way the pirates prepared him for the first of several mock executions: Chanting, they made him stand on a cloth spread out on the lifeboat floor before hitting him on the head so he thought he'd been shot.
Although he had no formal training in torture-survival techniques, Phillips maintained his dignity, and it worked. He stood up to the pirates, who mostly understood English — even when they called him a lazy, beer-drinking American, denied him water, blindfolded him and refused to give him a pot to piss in. (Phillips didn't require more elaborate toilet facilities because he ate very little over the five-day period.)
The hostage and his captives also talked. They asked Phillips what tribe he belonged to. He responded that he was American. No, they fired back, that's your nationality. What's your tribe? Your people?
"I'm Irish," Phillips said he finally told them.
"Ah, Irish," one pirate said. "You trouble. You a pain in the ass."
"You got that right," Phillips confirmed.
"I wanted to make sure they knew I was their adversary," Phillips said, "but also that I was a person, not just a blindfolded lump of ectoplasm."
In fact, the pirates were trying to keep their unruly Irish hostage under control when one of them discharged his weapon in the enclosed lifeboat. That gunfire led to the long-awaited decision — made by President Obama — to greenlight the snipers. They picked off all three Somalis while Phillips pressed himself against the floor of the boat.
Most people would probably retire after such a close call, or at least avoid the scene of the crime. Phillips has done neither. He was back on the job, sailing in those same dangerous waters, less than two years after the incident — albeit with an armed security team aboard. The latest rotation, which started in June, took him from "Japan to Singapore to Pakistan to Qatar to the United Arab Emirates to Saudi Arabia to Bahrain to Belgium to Egypt," Phillips said, effortlessly rattling off the countries. South of the Suez Canal is Somalia. Today's pirate hot spot is off the coast of Nigeria.
"It can be tough. It's challenging," the captain conceded. But "I love being at sea. There's nothing like it — the openness."
Phillips also likes the "schizophrenic" lifestyle that lets him be a vigilant adventurer for three months — where no reporters can find him — and then a full-time husband and dad in a landlocked state for the next three.
Andrea is an emergency-room nurse and her Italian-American family is mostly in Vermont. But a lot of her siblings have followed Phillips' lead and now also work on the water. Two of Andrea's brothers, David and Mike Coggio, are in the Merchant Marine, and her youngest brother, Tommy Coggio, is in the process of getting his papers. Andrea's sister, Lea Coggio, is a ferryboat captain on Lake Champlain.
It's safe to say all of the local Phillipses and Coggios who weren't afloat on Tuesday night attended the Vermont premiere of Captain Phillips at Williston's Majestic 10 cinemas. It marked the third time Andrea and Richard Phillips have seen the movie about their shared ordeal. In New York, as in Los Angeles, Phillips said his wife "jumped twice and cried at the end. She liked it. I liked it. I thought it was a very good action flick," he said. "Even though you know the story, or most people know the story, there are some surprises in it."
The original print version of this article was headlined "Unsinkable"