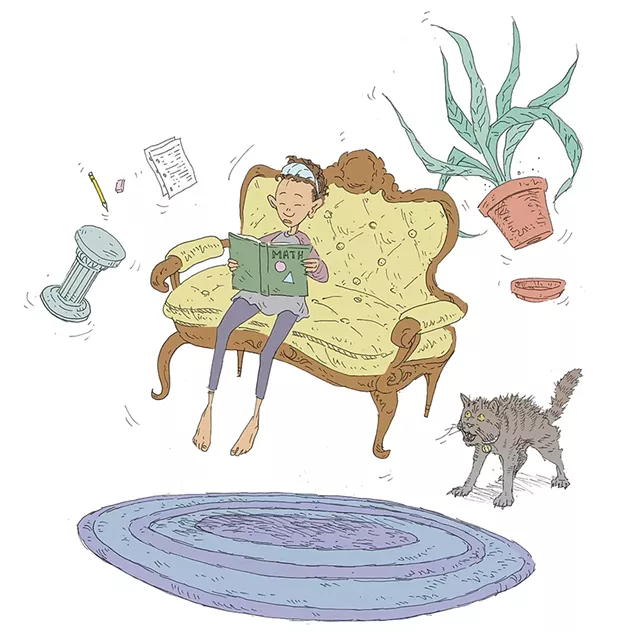 Luke Eastman
Illustration
Richard Bailey is an event compliance coordinator for the City of Burlington who, from 1991 to 2002, fronted a rap-rock band called Dysfunkshun. He has a generous sprinkling of tattoos on his upper right arm, and he does not immediately register as someone who's seen a lot of ghosts. Yet he has spent much of his life in houses where paranormal activity is as routine as flossing.
"Demographically, as an old punk rocker, I'm probably sort of an unusual person to have these kinds of things happen to me," Bailey admitted.
He has one possible explanation. When he was 9 or 10, Bailey had a severe allergic reaction to an iodine injection given during an X-ray and went into shock. His heart stopped; for a minute, he was functionally dead. He wonders whether his brief sojourn to the other side might explain his magnetism for the supernatural, but he's wary of pop theories. "I just think it's something we don't understand, like the Neanderthals didn't understand the dark," he said.
As the pandemic has confined us to our domiciles and the horror show that is 2020 grinds on outside, our malaise seems to have crept indoors. Across the country, paranormal investigators have reported a spike in inquiries; in May, the New York Times dedicated more than a thousand words to the phenomenon of quarantining with spirits.
Thea Lewis, founder of Queen City Ghostwalk, a tour of haunted historic sites in Burlington, believes that in chaotic times we gravitate toward spookiness as a means of coping with anxiety. "Ghost stories provide a structure for our fears," she said.
For Bailey, the pandemic has marked a symbolic return to the way people lived centuries ago — at least in terms of the amount of time we spend puttering around our homes, filling the yawning void with the preparation and consumption of food. "Back then, people didn't travel anywhere. Their homes were the center of their worlds," he said. "I think that that intense pattern of life is why farmhouses, in particular, are so active." (By "active," he means Spiritville.)
Bailey grew up in an early 19th-century farmhouse in West Brookfield. He remembers feeling distinctly ill at ease there, as if he were an intruder. Occasionally, the piano in the living room would play on its own — sometimes melodically, sometimes just one or two repeating, insistent notes.
After Bailey's father died in a tractor accident, some of the strange happenings seemed to bear his imprint. A notebook, opened to a page of his handwriting, once appeared on the kitchen table out of the blue. Bailey's father had collected salvaged doors and shutters and arranged them neatly on racks inside the barn, which he used as his work space. On several occasions, Bailey went into the barn and found the doors and shutters in complete disarray, busted and scattered erratically on the floor, as if they had been hurled in a rage. (His father's 1932 Studebaker, meanwhile, was unscathed.) The barn door was always padlocked; after his father's death, said Bailey, he was the only one who ever went inside.
Bailey; his wife Paula Haskell; their 13-year-old daughter, Gracie; and their goldendoodle, Sir Chuck Dingleberry, currently live in a 1800 farmhouse in Hinesburg. When they first moved in, in the spring of 2009, Bailey found bundles of burned sage and bottles of sacramental wine on the floor of the den. A few months later, Bailey attended the 50th wedding anniversary celebration of the elderly couple from whom they'd bought the house. Their priest was also at the party, and Bailey asked him if it was unusual to have a house blessed upon leaving it. "Not this house," the priest told him.
From the first night, said Bailey, he would see shadows moving across the walls and hear muffled voices and footsteps at all hours of the day. About a week after they moved in, Bailey was sitting in the living room with Haskell when he noticed the silhouettes of people against the wall, walking back and forth.
"I feel like I'm crazy," he recalled saying to Haskell, "but I think I just saw moving shadows."
"Oh, good," Haskell replied. "I've been seeing them, too."
More unsettling things have happened. Once, about five years ago, Bailey and Gracie were in the library, playing chess by candlelight. (Bailey, who has furnished every room with American Federal-style antiques, enjoys getting into the vibe of the house.) Suddenly, a lit candle in one of the wall sconces projected itself four feet into the room and dropped to the floor.
"It was a little scary," Bailey said. "I mean, we don't need that."
He played it cool so as not to freak out his daughter, then 9; Gracie didn't seem particularly fazed.
"When she was younger, we didn't really talk about this stuff," Bailey said. "But as Paula and I started to become more free in our conversations around her, to try to make it more normal, she was like, 'Oh, I knew that.'"
Once, when Gracie was little, she mentioned an old woman who wandered around upstairs; another time, she told Bailey that she saw a man without a face walk into the library. Several years ago, Gracie and a friend were playing in her room when a small, translucent figure appeared in the corner.
"We were in a fairy stage, so we thought it was a fairy," Gracie recalled. "It wasn't anything scary. It was like a child, smaller than us, and we were pretty young at that point."
The only time she ever sort of freaked out, Gracie said, was when she saw a man in a green wool uniform in an upstairs bedroom, standing in front of a mirror. He turned around and looked at her, his expression scared and confused, as if she had startled him.
"At first, I thought maybe it was some kind of echo, but I felt like he heard me," Gracie said.
Bailey doesn't like to conjecture about whether the activity is a kind of loop, a reverberation of the past with no consciousness or agency, or something else entirely. "I always joke that we're the ghosts," he said.
Over the past decade, the ghostly visitations have become almost reassuring in their predictability. They tend to follow a seasonal pattern; the most boisterous period, said Bailey, is late fall through the winter holidays, or what would have been the harvest season when the property was a working farm.
For weeks at a time, one event will happen repeatedly. Most recently, and aggravatingly, the smoke alarms have been going off in the middle of the night for no discernible reason. "I hate to ascribe any personality to this stuff, because I think that's a dangerous rabbit hole," Bailey said. "But that just feels bratty to me, for lack of a better word. Few of these things piss me off, but that really pisses me off."
Occasionally, the resident energies demonstrate something resembling a sense of humor. When Gracie was younger, Bailey and Haskell often called her a "squirmy wormy," a name they'd gotten from a PBS cartoon. One night, after the couple went to bed, Haskell was tossing and turning. "You're a squirmy wormy," Bailey told her jokingly. A few seconds later, they heard a disembodied voice echo softly: squirmy wormy.
Courtesy Of Richard Bailey
The chair on the left moved by itself.
Last winter, Bailey installed cameras around the first floor to record what goes on when they're not at home. In the spring, the camera captured a wooden chair sliding forward four or five inches from its original position. ("I push that thing back four or five times a week," Bailey said nonchalantly.) In another video, one of the folded leaves of a drop-leaf table spontaneously rises, its hinges groaning audibly, then falls back down.
Bailey showed the videos to Lewis, of Queen City Ghostwalk. She offered to send a paranormal expert to investigate, but he declined. "It might sound silly, but I don't want to be disrespectful," Bailey said. "I don't want to, you know, rile them up or something."
Unlike in his childhood home, where Bailey always felt unwelcome, the energy of this house seems more accepting. Perhaps, he thinks, the fidelity of his restoration to the original character of the house pleases its invisible inhabitants. "I felt very much like the steward of this property from day one," Bailey said.
"Richard is such a salt-of-the-earth, honest guy," Lewis said. "I think that the fact that he sees himself as the steward of the house is precisely why the spirits trust him enough to reveal themselves so freely."
Lewis herself has lived in several haunted houses, including one in Burlington's Old North End, where toys frequently moved on their own. She eventually learned that a little boy had died in a fire in the upstairs bedroom, where most of the activity took place.
"We were definitely unsettled by it," Lewis said. "But we also have a lot of relatives who don't do things we like or expect. They're just there, and you have to make the best of it, and the same goes for your spirits."
Even Bailey gets creeped out sometimes, he admitted. Before he retires each night, he does a walk-through of the house to check that everything is battened down. Recently, as he and Sir Chuck were making their rounds, Bailey got the distinct, skin-crawling feeling that something was about to happen. As he was leaving the kitchen, he caught a sudden flicker of movement, followed by a small, sharp clatter. When he turned around, he saw that his wife's Wite-Out dispenser, which had been sitting in the middle of the kitchen table, had projected itself onto the floor.
A strange sense of relief washed over him, Bailey said. He put the dispenser back on the table and went upstairs to bed.